8 cops killed in J&K
Militants attack police camp in Pulwama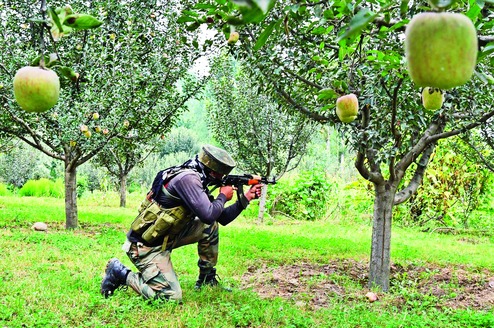 ---
|
Srinagar
|
Published 27.08.17, 12:00 AM
---
Srinagar, Aug. 26: As many as eight security personnel were killed when militants stormed a fortified police camp in south Kashmir's Pulwama district today, the first time in almost a year that terrorists have exacted such a heavy toll in an attack in the state.
The dead include four CRPF jawans and four policemen. The last time militants carried out a major fidayeen attack was in September last year in Uri, in which 19 soldiers were killed.
Two fidayeen who carried out the attack early today were neutralised after a gun battle that went on for several hours. The Jaish-e-Mohammad militant outfit claimed responsibility for the attack.
The camp houses families of police officers, and dozens of members had a narrow escape as they remained trapped for hours in their residential quarters.
Police had a tough time evacuating the families and the attack was mounted only after they were rescued. The militants apparently did not harm the families.
The police said a group of fidayeen barged into the district police lines in Pulwama around 4.30am.
Police sources said the militants took the cover of darkness and forced their entry into the camp after opening indiscriminate fire at the sentry. They took shelter in the residential blocks and fired on the forces.
The police chief of Jammu and Kashmir, S.P. Vaid, said the forces evacuated the inmates and suffered casualties in the process.
The police identified two of the four slain CRPF jawans as constable Jaswant Singh and head constable Dhanawade Ravindra Baban. One of the four policemen has been identified as constable Imtiyaz Ahmad Shaikh.
"All the families were safely evacuated from the complex before the actual attack was mounted," an official said.
The official said two militants were killed but fire was still coming from two blocks, indicating the presence of at least two more militants.
"The body of one of the militants is lying outside a building while the body of other militant is inside," the official said.
One of the buildings was partially damaged after it caught fire in the gunfight.
Today's attack is a setback for the forces who have in recent months carried out successful operations against the militants.
In June, the CRPF foiled a fidayeen attack on its camp in Bandipore. Four militants were killed outside the gates of the camp.
The district police lines is spread over a huge area and it houses family quarters, a counter-insurgency Special Operations Group component, a CRPF contingent and police reserves.
The policemen deployed in the lines had played a key role in containing protests during last year's unrest. Pulwama is the most volatile district in south Kashmir.