6 months after doctor clean chit, no action
On Friday, several news outlets reported that Khan still faces charges of having a private practice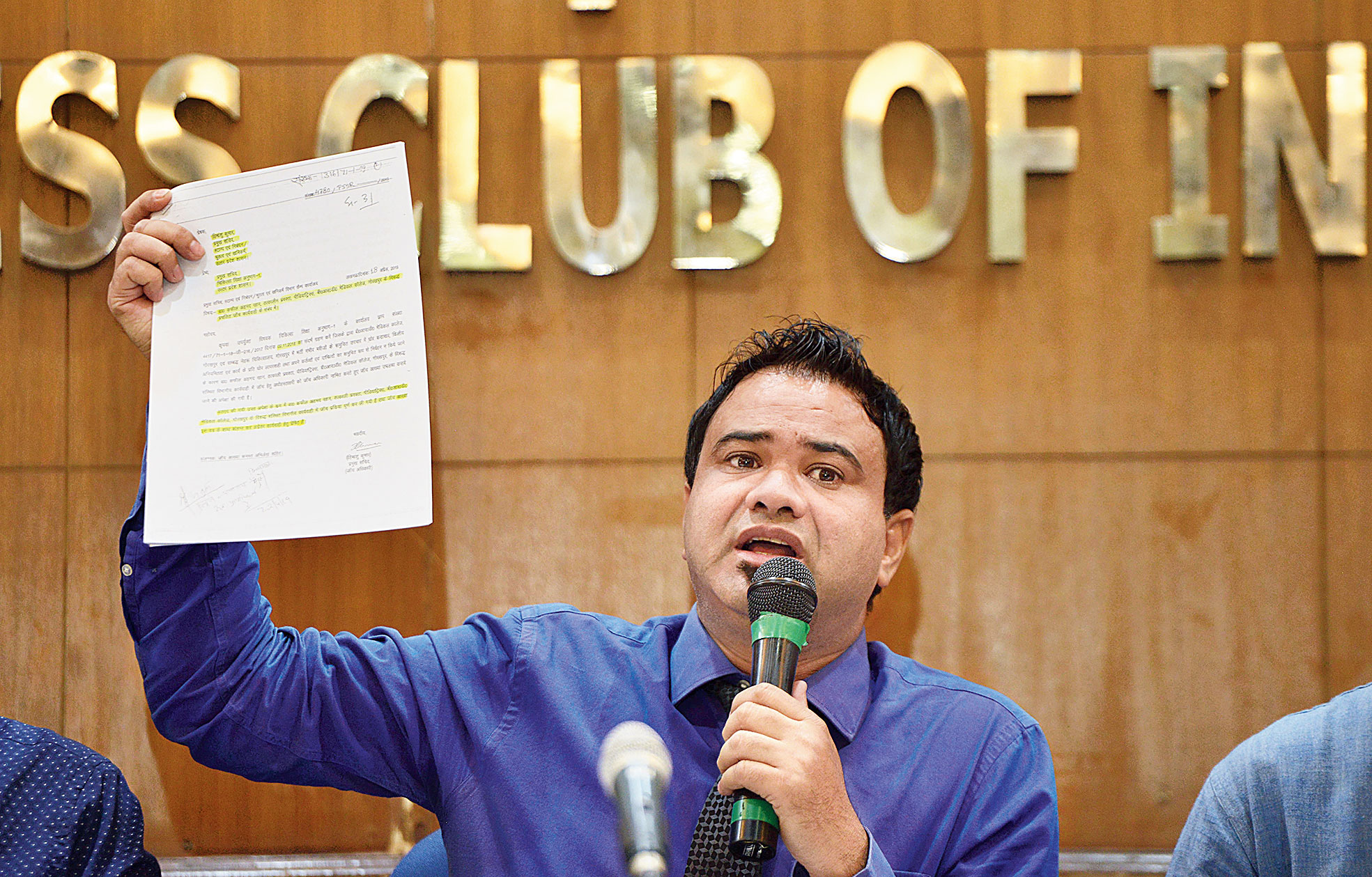 Kafeel Khan at the news conference in New Delhi on Saturday.
Picture by Prem Singh
---
New Delhi
|
Published 28.09.19, 07:52 PM
|
---
Kafeel Khan, the doctor who remains suspended despite being exonerated in an inquiry into his alleged role in the deaths of at least 30 infants after the supply of piped oxygen ran out at a government hospital in Uttar Pradesh in 2017, on Saturday said "the real killers will only be found if there is a CBI probe".
On Friday it was revealed that Khan, who is out on bail since last year after spending nine months in jail, has not been found guilty of any of the charges inquired into by a committee headed by principal secretary Himanshu Kumar. On Saturday, Khan released a copy of the inquiry report, which shows it was submitted to the medical education department on April 18 this year.
"For six months no action was taken on this report because of the Lok Sabha polls, so that Modiji (Prime Minister Narendra Modi) would not be embarrassed by Yogiji (chief minister Yogi Adityanath)…. The supplier (Pushpa Sales) had written several letters from April (2017) onwards to the health minister (Sidharth Nath Singh), the director-general of medical education (K.K. Gupta) and even the chief minister, requesting that pending bills for oxygen be cleared," Khan said.
"The real killers will only be found if there is a CBI probe. The parents of these children must be compensated, and the Uttar Pradesh government must say they are sorry for this massacre. I should be reinstated with honour," the paediatrician added.
The inquiry report has said that Khan, who was on leave on August 10, 2017, had reached Gorakhpur's Baba Raghav Das Medical College after learning about the sudden deaths on the staff WhatsApp group.
"Because of the plaintiff's (Khan's) honest efforts, 500 jumbo oxygen cylinders were received from different companies within two days on 11-8-2017 and 12-8-2017. Although the plaintiff was not involved in the tender/supply/payment/ordering and storage of liquid oxygen of jumbo oxygen cylinders," the report said.
The doctor said Allahabad High Court's bail order had said there was no evidence against him.
"The inquiry has exonerated me of all charges, including criminal negligence and corruption. Why was I punished? My brother was shot thrice (last year) half a kilometre from where the chief minister was…. The inquiry that was supposed to take 90 days has taken two years, that too after I pleaded with the high court to expedite it," Khan said.
The inquiry has exonerated the doctor of charges of misconduct, financial irregularities and dereliction of duty, finding them "baseless and irrelevant".
It was found that associate professor Bhupendra Sharma, and not Khan, a lecturer of paediatrics, had been the nodal officer of the Acute Encephalitis Syndrome ward where the deaths took place.
Khan told reporters: "I called up 26 people, including the district magistrate and the health secretary, that night. I could only call them for help. No one came. After all, these were children of the poor who were dying. Let them die. They thought that journalists would never get to know."
Piped supply of liquid oxygen was restored to the hospital after 54 hours. On Friday, several news outlets reported that Khan still faces charges of having a private practice. PTI quoted Adityanath's adviser, Mrityunjay Kumar, as saying: "It is not right to say that Dr Kafeel has got a clean chit in the departmental inquiry. He has made a wrongful conclusion of the report."
Khan said on Saturday that he became a permanent lecturer at the college on August 8, 2016, prior to which he had been on contract with the National Rural Health Mission in Gorakhpur for three years.
"There was no non-practising allowance for the contractual post, and private practice was not prohibited. This is completely irrelevant to the deaths that happened in 2017, a year after I had ceased to have a private practice," he said.
Himanshu Kumar's report says that although the director-general of medical education had mentioned this allegation, he had neither inquired into this nor mentioned it in the departmental inquiry report.
Lawyer Sanjay Hegde said: "After what happened to Kafeel Khan, every other doctor will wonder: Should I go the extra mile to save a patient? It will happen again if the courts and the media keep quiet."