5 Rafale jets head to India
Of the 36 jets that have been purchased, 5 more will remain in that country for training mission and remaining 26 will be delivered on schedule by the end of 2021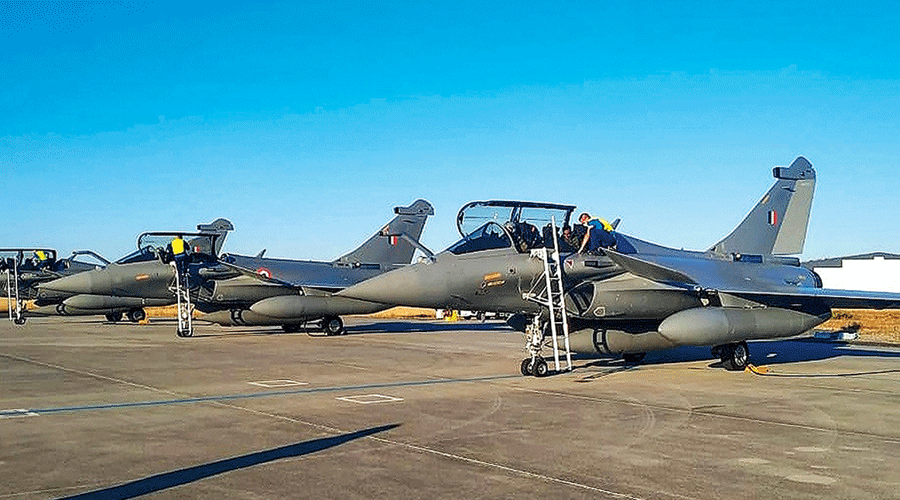 ---
---
The first set of five Rafale fighter aircraft flew out of Dassault's Merignac airbase in Bordeaux, France, for India on Monday to be inducted at the Air Force Station in Ambala on Wednesday.
After the Indian embassy in Paris tweeted about the departure of the Rafale jets to India, the BJP's Twitter handle said the Narendra Modi government accomplished what the UPA could not.
"First batch of 5 #Rafale fighter aircrafts fly out from Merignac, France to India. They will add to the firepower & strike capabilities of the IAF. Modi govt prioritised and expedited its procurement after UPA govts were indecisive despite pressing requirement of the jets,'' the BJP tweeted.
The Congress said it welcomed the Rafale aircraft and pointed out that it was the UPA government that had approved it, but that the party had a problem with the way the contract was handled.
"Remember, from day one, we said that it is a good aircraft. In fact, it was chosen by the UPA government," senior leader P. Chidambaram said.
Of the 36 jets that have been purchased by India according to the deal inked during Prime Minister Modi's first visit to France in April 2015, five more will remain in that country for training mission. According to the Indian embassy, the remaining 26 fighter aircraft will be delivered on schedule by the end of 2021, completing the Indian Air Force's No. 17 Squadron — the Golden Arrows — that was resurrected last year after it was number-plated in December 2011 following the decommissioning of the Russian MiG-21 jets.
In military parlance, number plating is the process by which a unit is reduced to its number on paper with all personnel being posted elsewhere and assets redistributed or phased out.
The unit thereafter remains on paper till it is resurrected with a different role, complete with manpower, assets and location.
According to a statement issued by the IAF, the five jets headed to India include three single-seater and two twin-seater aircraft.