29 die as bus plunges into canal in Mandya
Among the confirmed dead were 13 women and 10 children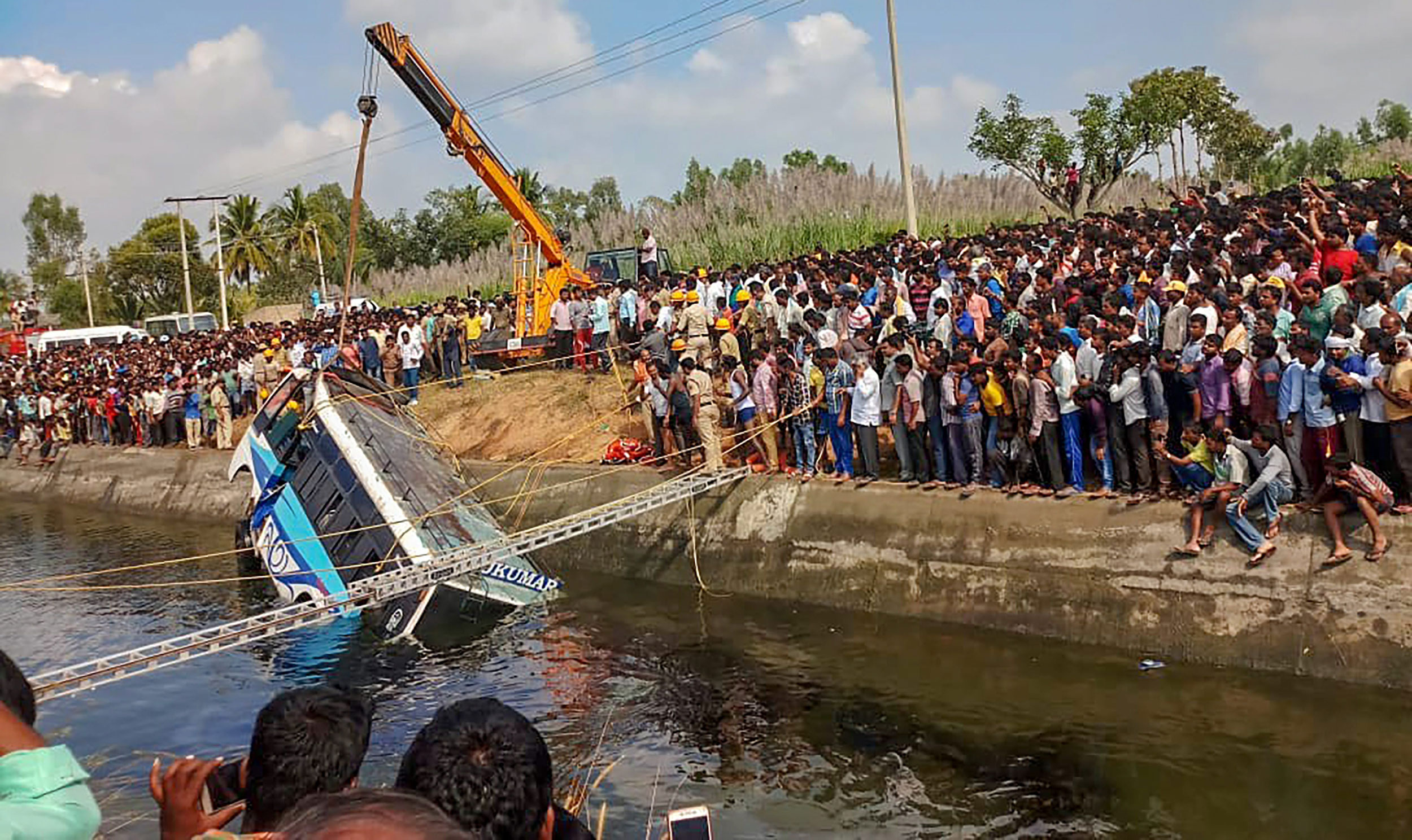 A crane pulls out the bus that fell into a canal in Mandya district of Karnataka, on Saturday.
(PTI picture)
---
Bangalore
|
Published 24.11.18, 09:59 PM
|
---
Twenty-nine passengers, including at least seven schoolchildren heading home after class, died on Saturday when the bus they were travelling in plunged into a canal in Karnataka's Mandya district after the driver apparently lost control while speeding round a bend.
Sources said the vehicle's fitness was also being probed.
"It was terrifying, getting stuck in a bus full of passengers, that too in a canal," Girish, who broke open a window glass as the almost submerged vehicle lay in the 12ft-deep Visveswaraya Canal, told a Kannada channel.
A search was on till late in the evening as Girish and Rohit, 12, the other survivor, told police the private bus had around 35 passengers.
Among the confirmed dead were 13 women and 10 children.
Police sources said the driver and the conductor appeared to have fled the spot in Kanaganamaradi village, without alerting emergency services, after swimming to the shore following the 12.30pm accident.
The sources said the bus skidded around 60ft from the road before coming to rest on its left side on the canal bed, blocking the two doors and reducing any chance of escape for the trapped passengers.
There was no clarity yet on whether the emergency exit was functional.
Girish, a carpenter, blamed the driver. "He was speeding and tried to take a sharp turn. I assume he lost control of the vehicle that was rather old and in poor condition."
He saved Rohit, a Class VII student from a neighbouring village, before alerting local people who called the police to the accident spot.
Rohit, who was at the rear of the vehicle, had managed to push himself out through a window from where Girish pulled him to safety from the fast-flowing canal, the lifeline for sugarcane farmers in the region.
"I saw people struggling to reach windows," the traumatised boy mumbled when some reporters asked him to narrate what had happened.
Chief minister H.D. Kumaraswamy rushed to the site after cancelling events scheduled for the rest of the day and announced Rs 5 lakh as ex-gratia compensation for the families of each of the dead.
Kumaraswamy has ordered the suspension of Mandya road transport officers responsible for ensuring that local buses meet all fitness parameters.
Transport minister D.C. Thamanna, who also visited the spot, said: "It had to be negligent driving since the canal is 60 feet from the road."
As a mark of respect for the victims, the Karnataka government postponed the state film awards event scheduled for Saturday evening.