14 people killed, 15 injured in explosion in Bihar's Bhagalpur
Three families engaged in firecracker and fireworks manufacturing were residing in the three three-storey buildings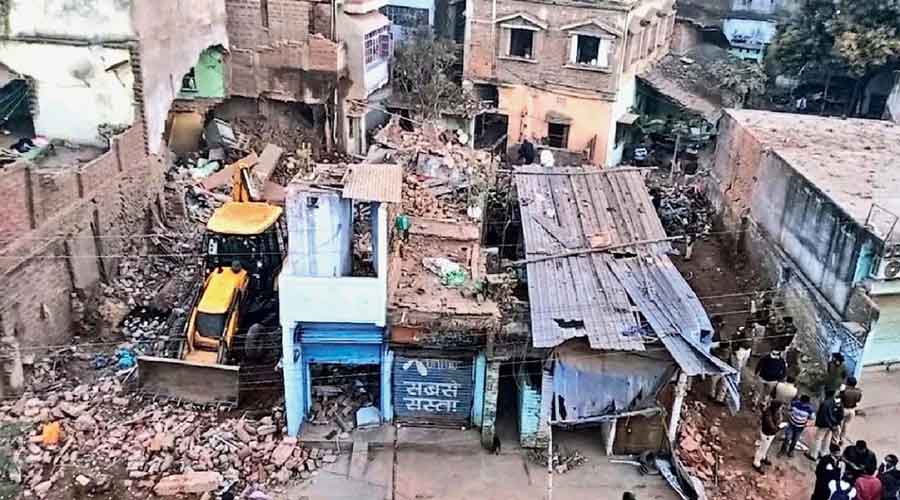 The explosion site in Bhagalpur.
Sanjay Choudhary
---
Patna
|
Published 05.03.22, 01:54 AM
|
---
At least 14 people were killed in a massive blast that tore through three buildings in Bihar's Bhagalpur city, around 250km east from Patna on Thursday night.
The death toll may increase as more bodies are expected to be trapped under the debris of the three buildings that completely collapsed in the explosion in the Kajwali Chak area under the Tatarpur police station in Bhagalpur, which is known as the 'silk city' of the state.
Over 15 people seriously injured have been admitted to various government and private hospitals.
Three families engaged in firecracker and fireworks manufacturing were residing in the three three-storey buildings. A few other houses around the site were also damaged in the explosion. 
CCTV camera footage from the area revealed that the blast occurred a minute prior to midnight and the place was immediately covered in smoke and dust. The sound of the explosion jolted out the entire area from its sleep.
The neighbours rushed out to extricate members of the affected families while police and administrative officials also reached the spot in some time.
On Friday afternoon, Bhagalpur superintendent of police Babu Ram told media persons that 11 persons were killed in the explosion and the "toll could increase further as more bodies could still be under the debris".
"As per our information the explosion occurred in the house of one Lilawati Devi and three buildings collapsed under its impact. Altogether three families engaged in making fireworks and firecrackers used to reside in them. The forensic team and a bomb disposal squad have reached the spot and they are collecting samples," Babu Ram added.
Police officials said investigations are on to determine what caused such a massive blast. They are also probing whether bombs were being manufactured under the garb of fireworks.
The Opposition MLAs cornered chief minister Nitish Kumar-led National Democratic Alliance  government in the legislative Assembly over the Bhagalpur blast and said it was yet another indication of the deteriorating law and order situation in the state.
"How come the police have no information about fireworks or bombs being made in residential areas? Are the police in nexus with people indulging in illegal activities? The chief minister makes tall claims about having done so much for maintaining law and order in the state, but it does not reflect on the ground," Congress MLA Ajit Sharma from Bhagalpur said in the Assembly.
Nitish also took stock of the situation from Bihar chief secretary and the director general of police.
He gave them instructions to ensure proper medical treatment of the injured, probe into the incident and take necessary action.