Your grandmother knows food best, says nutritionist Kavita Devgan
She picks the traditional eating habits that have always been good for your health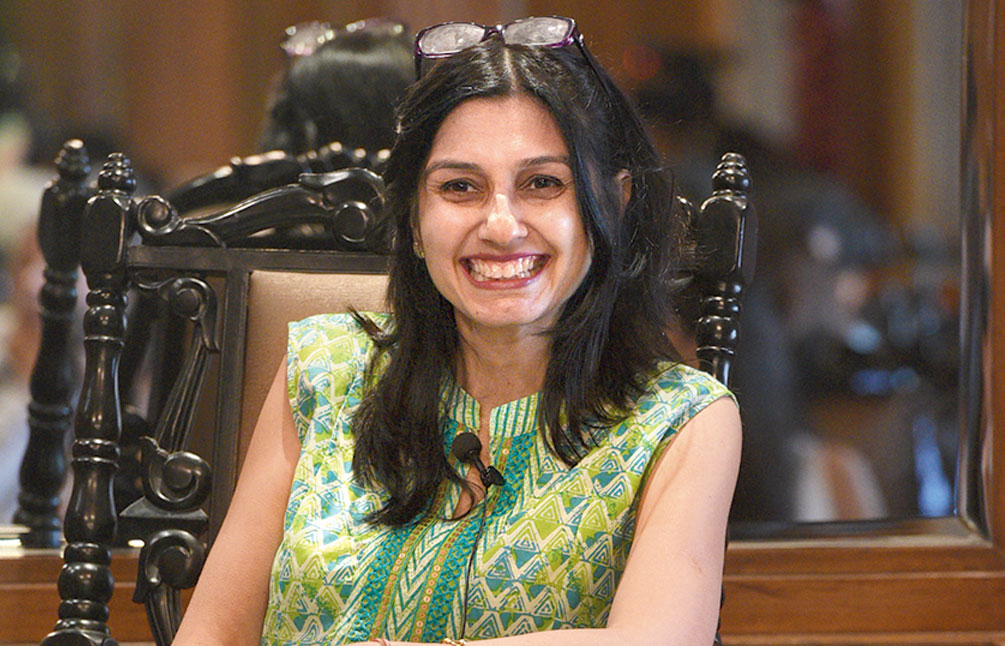 Nutritionist Kavita Devgan
Rashbehari Das
---
Published 10.10.18, 07:54 PM
|
---
Nutritionist Kavita Devgan has recently written Ultimate Grandmother Hacks: 50 Kickass Traditional Habits For a Fitter You. She believes there was inherent logic and intrinsic value in traditional Indian food habits. Excerpts from Kavita speak...
The roots of the book
I started writing a column for a publication and everyone expected me to research and write about cuisines like Mediterranean, Peruvian — which is supposedly the hottest cuisine now — or Greek. I realised that even without consciously thinking about what I wanted to write, I was leaning towards traditional ways of eating. Finally, I thought, why not write about our own traditional Indian cuisine?
When I actually started writing, it was difficult to contain in that one column of 700 words. I just couldn't stop. So that's where the book began.
This book is dedicated to my mother and my grandmother. I'm in awe of their intrinsic nutrition sense. It made it very easy for me to study nutrition. The first chapter on the first day of college and I was like, oh, I already know this!
Morning habits
Morning habits are important, but we don't always know the rationale behind them. Take lemon juice and warm water. It's a winning balance. Warm water is good to have early in the morning, because it cleanses you. And the lemon juice boosts your metabolism. If you add a little bit of cinnamon to it, it balances your blood sugar and makes sure it stays stable throughout the day.
Crushed pods of garlic, first thing in the morning, are also a great idea. There's a full chapter on garlic in the book. It's the best anti-inflammatory food you can eat. It has allicin, which boosts your good cholesterol and brings your bad cholesterol down. It is a detoxifier and a diuretic, so it helps with bloating and water-weight. Just crush it and air it a little to get the health-giving compound.
The deal with dal
For many vegetarians, and even for those who are not vegetarian, our protein content is not really up to the mark. Dal is a very good way of getting it. It's chock-a-block with most of the minerals that we need, which is again lacking in most of our diets. It's an interesting combination of complex carbohydrates and proteins. It's so versatile, you can't really get bored of it.
Don't banish the laddoo
I eat only Indian mithai. There are a couple of rules with them. Firstly, moderation is important. Desserts have always been a part of everyday meals or thalis but you need to look at the portion sizes. They were always tiny. If you have that, it's not going to harm you. You'll be happy and satiated. But nowadays, the serving sizes are much larger. Then, of course, it's bad.
The second rule is the kind of dessert you eat. I'd say, don't even look at the calorie count. Instead, see if it is giving you any goodness at all, or if it is just maida and sugar, and then make a choice. The third thing, which is a little difficult to practise, is to make our own desserts at home. Jaggery is a great option for sugar, as is pure honey.
Friends with fat
Cutting out fat completely is a terrible idea, because your hormones will stop functioning and wreak havoc in your body. You may lose weight, but you will end up with 10 other health problems.
We need a good balance of different kinds of fats. There are saturated fats, polyunsaturated fats and monounsaturated fats and you need all three of them, but you need a little more of the last two. It's a good idea to keep changing oils, or to use a combination of multiple ones.
Seedy matters
Seeds are really underrated, but they're just as beneficial as nuts, with the same good fats, vitamins and minerals. It's also important to eat the fruit with the seed and the peel, and vegetables too. Even potatoes should be eaten with the peel, because that's where most of the minerals are.
For the love of milk
I am lactose intolerant, which is very sad, because I love milk. I believe milk is important, even for adults, unless you can't handle it for health issues. It is a wholesome food that gives you calcium and phosphorus for your bones, Vitamin D when it is fortified, and protein, and these are the four pillars for your bone health. Considering the kind of diets we follow in this country, it's a very elitist thing to say, just cut milk out of your diet.
If you can't drink it at all, you can have alternatives. I make sure I have a lot of curd, buttermilk and paneer.
Cheating is justified
It is absolutely okay to have cheat days. Everyone, both physiologically and psychologically, needs a break. It helps you to stick to the diet through the week, because even if you're not having the burger or the pizza during the week, you know that you can have it on the cheat day. Also, if you completely cut off high-calorie foods for a long period of time, your hormones go completely out of whack. So even if you don't eat, you stop losing weight.
Taste is king
Earlier, a lot of emphasis was laid on taste. I've never seen my mom make something just for health, because she knew that nobody would have it for the second time!
If the food is tasty, it's also easier to follow a diet. If the food is appealing and tasty, then your gastric juices work better, you digest the food better, and you will absorb the nutrients better. If you're eating something insipid and just dumping the nutrients, the benefits are nowhere near as much.
Rotate your greens
We have such a huge variety of greens in the country, why do we end up eating just palak? I love palak, everyone should have it. Try and get a different set of nutrients from different greens. The best way to cook greens is on low heat, quickly, and without much oil. It has moisture in it and it cooks in that moisture.
Cheering for ajwain
I'm a huge proponent of ajwain. I had a weak stomach, so I worked on it and I had it all the time. All these simple things, like boiling it and having that water if you're experiencing some discomfort, or mixing it with jaggery and having it for indigestion, or even just by itself as a preventive, it's very good for you.
Juice all the way
There's kokum juice, amla, phalsa and so many other options in our Indian diets, but nobody really drinks them anymore. If we had all these options ready at home, we would not even look at soft drinks. And they're not too difficult to obtain.
Attitudes towards food
With so many people, especially children, going and sitting in front of the TV, the old habit of eating meals together as a family is dying out. Just that one meal teaches the whole family so many things — sharing, talking, bonding. If you're eating alone, you're either eating too much, or eating the wrong food.
This is a food book, primarily, and most of the chapters are about food. But there is a lifestyle and a mind section as well and my absolute favourite chapter is the one in which I talk about, can food really change you as a person? The kind of food that you eat, can that make you a certain kind of person? I believe that this needs to be studied much more. The kind of food that you eat affects your entire being.
Nutritionist and author Kavita Devgan talked about Ultimate Grandmother Hacks, with Esha Dutta, owner of Burnt Garlic at An Author's Afternoon — presented by Shree Cement and Taj Bengal, held in association with t2, Prabha Khaitan Foundation and literary agency Siyahi — at the New Alipore star hotel.