That stubborn belly fat
The 'cut off' value for waistline in women is 35 inches in women and 40 inches in men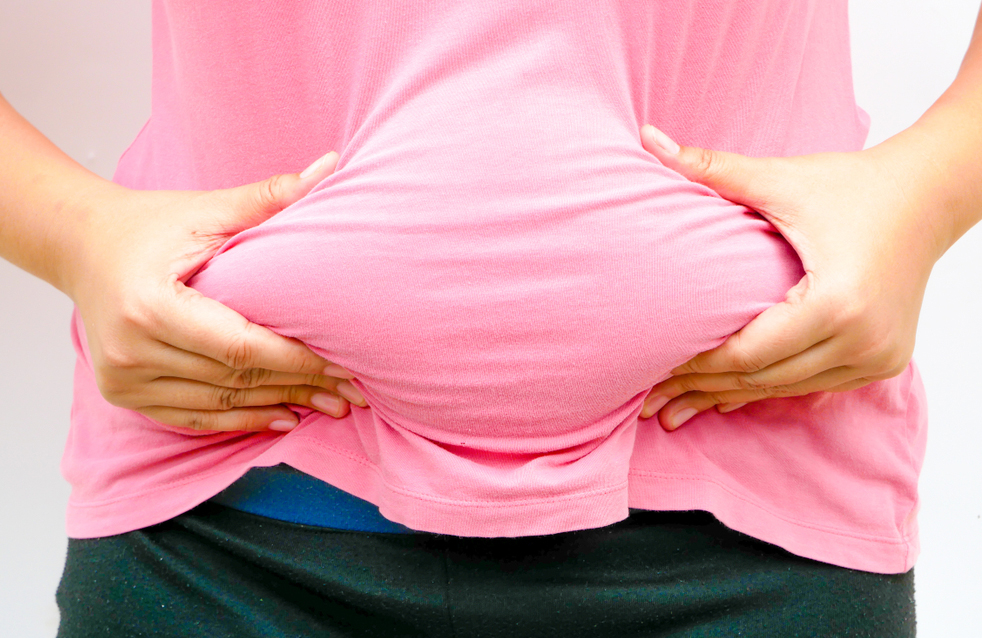 ---
---
People are conscious of their appearance and many are irritated with their potbelly, that unappealing unmistakable sign of age and prosperity. A potbelly appears when there is a mismatch between calories consumed and spent both during daily activities and with exercise. Extra calories are stored as fat.
Subcutaneous fat is deposited all over the body under the skin. It forms "love handles", "thunder thighs," big hips or arms that look like rolling pins. It can be pinched up and held between the fingers. Although it contributes to overall obesity, it is not as dangerous as the "visceral fat" deposited around the internal organs of the abdomen and around the heart. This fat cannot be pinched up but it contributes to an expanding waistline and a potbelly. The "cut off" value for waistline in women is 35 inches in women and 40 inches in men. If your waist measures more than this there is a significant amount of visceral fat present.
Visceral fat acts as an extra endocrine organ that is responsible for the synthesis and secretion of several hormones. These extra hormones control appetite, reduce sensitivity to insulin and contribute to inflammatory process mediators. In short, excess fat around the internal organs increases the risk of insulin resistance, type 2 diabetes, high blood pressure, sleep apnoea, colorectal and breast cancer.
Weight tends to creep up as we get older. Women have less visceral fat than men until menopause, after which there is a reversal. Their waist expand and weight increases. Muscles efficiently utilise calories. Muscle mass also gradually decreases with age, unless weight and strength training are actively incorporated into a regular exercise routine. People need 200-300 calories less in their 50s than they need in their 30s. Although there can be a genetic predisposition to gain weight and have visceral fat, this can be tackled with caloric restriction and a healthy lifestyle.
The intake of food should be reduced after the age of 55 years to between 1600-2000 unless you are extremely active physically. This should preferably be unprocessed food without added fats, chemicals or sugar. Have balanced meals with proteins (12-15 per cent), carbohydrates (50-60 per cent) and fats (30 per cent). Eat 4-6 helpings of fruits and vegetables a day. Eat till the edge of the hunger goes away and not until you are full.
Stress in the workplace or at home heightens the body's "flight or fight" response releasing indigenous cortisol. This contributes to the expansion and efficiency of the adipose tissue with increased deposits around the abdominal organs. Stress can be reduced with three or four sessions a week of yoga. If this is not possible, deep breathing is one of the best ways to lower stress in the body. Breathing exercises are also a good way to relax, reduce tension, and relieve stress.
Getting rid of that obvious pot belly is not an easy thing. Dieting alone will reduce the weight but will also make you lose muscle mass and the body becomes less efficient at burning calories, the weight slowly creeps up again. Aerobic exercise alone will not get rid of that pot belly. Sit-ups will improve posture and core strength so that the belly is less obvious. It will also help with the control of blood pressure and diabetes.
Advertisements on the media periodically suggest magical solutions for belly fat. To date, no pills or supplements have been scientifically proven to reduce visceral fat. Fad diets, supplements or medication do not work in the long term.
The way to succeed is the time trusted. It is a strategic efficient combination of caloric restriction, aerobic exercise, stress reduction and adequate sleep (7-8 hours a night).