Get swinging if a kettlebell championship is on your mind
Besides rigorous physical training, a lot depends on mental preparation so as not to get overwhelmed when competition day arrives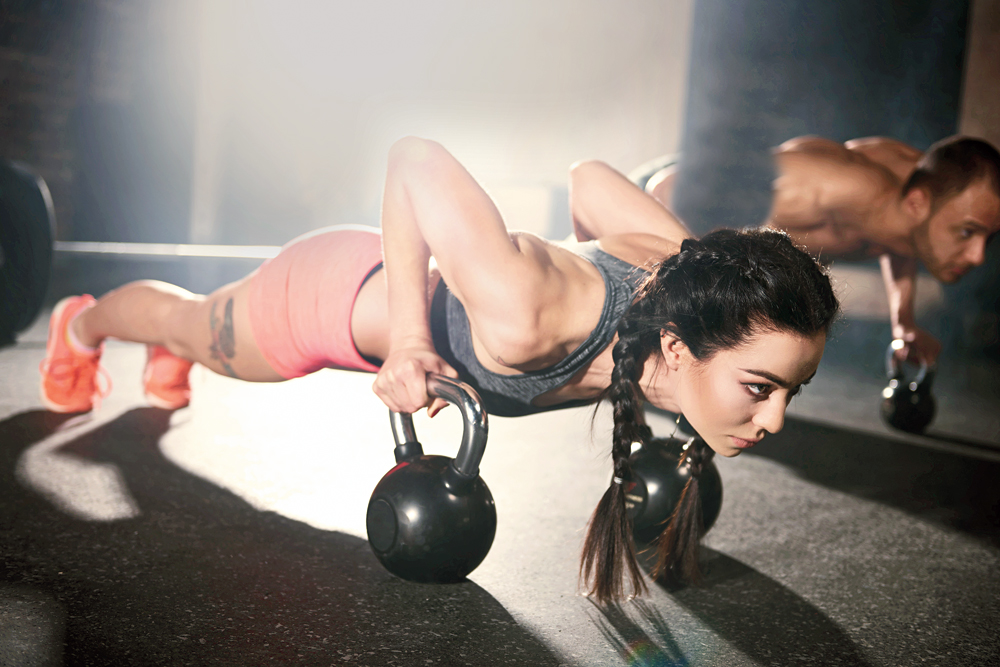 Endurance training, like kettlebell, results in a lot of wear and tear of the muscles. For proper recovery, quality carbohydrates, protein and fats are required, besides plenty of sleep and hydration
(iStock)
---
Published 13.07.19, 01:27 PM
|
---
The sport of kettlebell is increasingly becoming popular to the point of several competitions and international meets being held in India. It's very important for athletes to find the correct way to prepare and approach competitions. Besides rigorous physical training, a lot depends on mental preparation so as not to get overwhelmed when competition day arrives. Here are a few ways to shape your training schedule.
First steps
Set a realistic goal. Most athletes make the mistake of aiming too high, taking on tasks that are difficult to achieve initially. A realistic goal helps one to train without feeling stressed out. Further, this way, one progresses better.
Aiming for big numbers or going for heavy weights too soon may not yield the best results. Apart from physical limitations, it's important to acknowledge other variables, like training time, nutrition, recovery, family time and work life. Set small targets to maximise your goals.
Let's prepare
Programming
When preparing a programme, a gradual increase in volume is a must for the body to adapt to a high number of repetitions. One must not load too much too soon. Assuming you have got the basic techniques in place, it's time to focus on adaptation, even if its slow. Besides competition-specific lifts, it's very important to focus on compound exercises like lunges, squats, deadlifts, presses and pull-ups/push-ups. The ratio between KB sport and general exercises should be 60:40 when starting a programme.
As you adapt and get stronger over the weeks and get closer to the competition, the ratio of KB-specific exercises should gradually increase and the rest of the exercises should be at a very minimum to allow optimal recovery. Remember, it doesn't harm to take a step back and rethink if something is not working out for you.
Four to six weeks before a competition, try a test set and see where you are. This will help you understand whether you need to make changes to the existing programme. A general kettlebell programme usually lasts anywhere between 12 and 14 weeks but that is not written in stone. The amount of time you need depends on your current fitness level and the time you can dedicate to training.
Consistency
This element can pay rich dividends during competitions. It's important to trust the process and the programming done by your coach (or yourself, if you are self-coached). Kettlebell programmes generally follow a periodic progressive cycle (weekly/monthly), so missing out on sessions will only delay progress. Unless you are ill or injured, don't skip training sessions before a competition. You are the best judge of a situation.
Adequate recovery
Nutrition is one of the most important aspects for an athlete. Endurance training, like kettlebell, results in a lot of wear and tear of the muscles. For proper recovery, quality carbohydrates, protein and fats are required, besides plenty of sleep and hydration. If your competition is in the morning, make sure you have your meal at least two to four hours before lifting. Also, avoid any kind of extreme dieting if you are serious about performance.
Getting ready
Prepare your costume and gear
Before lifting, make sure you have your gear in place, like belt, shoes and clothing. Make a checklist if you think it would help you organise things.
Warm-up
Closer to the time of lifting, select a corner/spot for yourself. Start with basic joint mobility warm-up, followed by few reps of lift-specific warm-ups to get your heart rate moving. If you have your own warm-up routine which you are used to, follow that and avoid trying anything new on competition day. Proper warm-ups prior to lifting can make a big difference.
Be calm before taking the platform
Avoid discussing too much about your set or goal or make comparisons with other athletes. Keep your focus on the end goal and remember your training. The atmosphere at the competition can be pretty overwhelming, so one should take extra care to not get too affected by the same. Try listening to music or reading a book if possible or anything else that works for you to maintain your cool and keep the nervous energy in check.
Keep in mind
Before starting any physical activity or programme, do take the doctor's approval.
Make sure you train under a qualified kettlebell sports coach and preferably someone who has already played the sport.
Focus on technique first and then numbers and weights. Go slow if need be, don't rush. Be patient.
Focus on proper recovery though right nutrition, hydration and sleep.
Samrat Sen is a qualified fitness and kettlebell master coach. He is also the head coach and founder of CoreFit