E-cigarettes effective but carry risks
An e-cigarette produces an aerosol by heating a liquid that contains nicotine along with flavours, other chemicals to generate the aerosol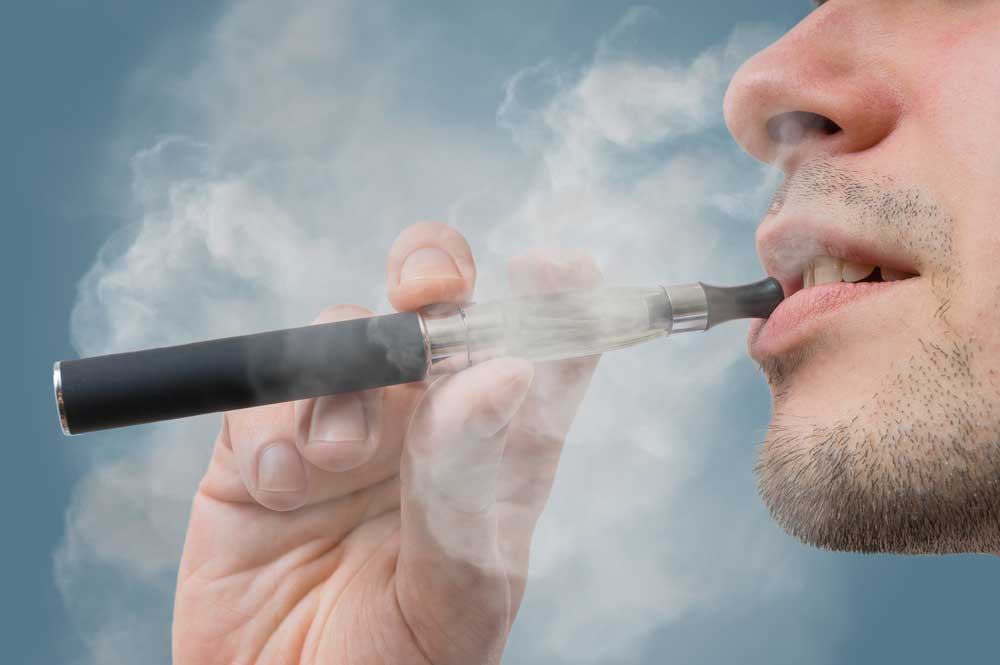 In the US, the use of e-cigarettes has increased among young people by 900% between 2011 and 2015, the American Heart Association said.
(Shutterstock)
---
New Delhi
|
Published 03.02.19, 10:27 PM
|
---
Electronic cigarettes are twice as effective as nicotine-replacement therapies such as patches or gum in helping people quit smoking, an independent research study released on Wednesday said, while another suggested increased risks of strokes and heart attacks.
A study led by researchers in the UK that tracked 886 smokers has found that 18 per cent of e-cigarette users were smoke-free after a year compared with 10 per cent of participants who had used other nicotine-replacement therapies.
However, a separate study by medical researchers in the US has found that e-cigarettes increase the risks of strokes and heart attacks and bolstered arguments in favour of regulatory action to ban e-cigarettes.
The US study — the largest study to date to examine health impacts of e-cigarettes — has found that e-cigarette users have a 71 per cent higher risk of stroke, a 59 per cent higher risk of heart attacks or angina and 40 per cent higher risk of coronary heart disease compared to non-users.
The health ministry had last year sent an advisory to all states seeking a ban on the manufacture, trade and sale of e-cigarettes as already done by seven states — Bihar, Uttar Pradesh, Jammu and Kashmir, Karnataka, Kerala, Mizoram and Punjab — in 2016 and 2017.
The advisory had drawn criticism from a consumer group called the Association of Vapers of India that had cited evidence suggesting that e-cigarettes are substantially less harmful than combustible cigarettes.
A typical e-cigarette produces an aerosol by heating a liquid that contains nicotine — the addictive drug in regular cigarettes, cigars and other tobacco products — along with certain flavours and other chemicals to generate the aerosol, according to a document on e-cigarettes by the US Centers for Disease Control.
The UK-led trial is the first to test the efficacy of modern e-cigarettes in helping smokers quit.
"Although a large number of smokers report that they have quit smoking successfully with the help of e-cigarettes, health professionals have been reluctant to recommend their use because of the lack of clear evidence from randomised controlled trials," Peter Hajek, professor at the Queen Mary University of London, said in a media release.
"This is now likely to change," he said. The findings by Hajek and his colleagues were published in The New England Journal of Medicine on Wednesday.
The researchers distributed the 886 smokers into two groups — members of one group received e-cigarettes, and the others received nicotine-replacement therapies, including patches, gum, lozenges and sprays of their choice.
All participants also received personal behavioural support and counselling for at least four weeks.
The study found that participants in the e-cigarette group experienced less severe urges to smoke at one and four weeks post quitting. They also reported lower levels of irritability, restlessness and inability at concentration at the first week of abstinence than those in the nicotine-replacement group.
"This landmark research shows that switching to an e-cigarette can be one of the most effective ways to quit smoking, especially when combined with face-to-face support," Martin Dockrell, tobacco-control programme lead with Public Health England, said.
The Association of Vapers of India had said last year that a ban on e-cigarettes would deny a potentially harm reduction tool to many who would otherwise continue using cigarettes.
In the US study, a team of medical researchers at the University of Kansas, Wichita, probed a database of about 400,000 respondents — about 66,000 regular users of e-cigarettes and about 343,000 who had never used them.
The American Heart Association said on Wednesday that the findings of the US study would be presented on February 6 at the International Stroke Conference in the US.
The results come amid concerns over the increased use of e-cigarettes over the past decade. In the US, the use of e-cigarettes has increased among young people by 900 per cent between 2011 and 2015, the American Heart Association said.