Zoya Akhtar, Janhvi Kapoor and Vijay Varma on their tryst with horror in the Netflix film Ghost Stories
It is a standard horror story, with a twist in the tail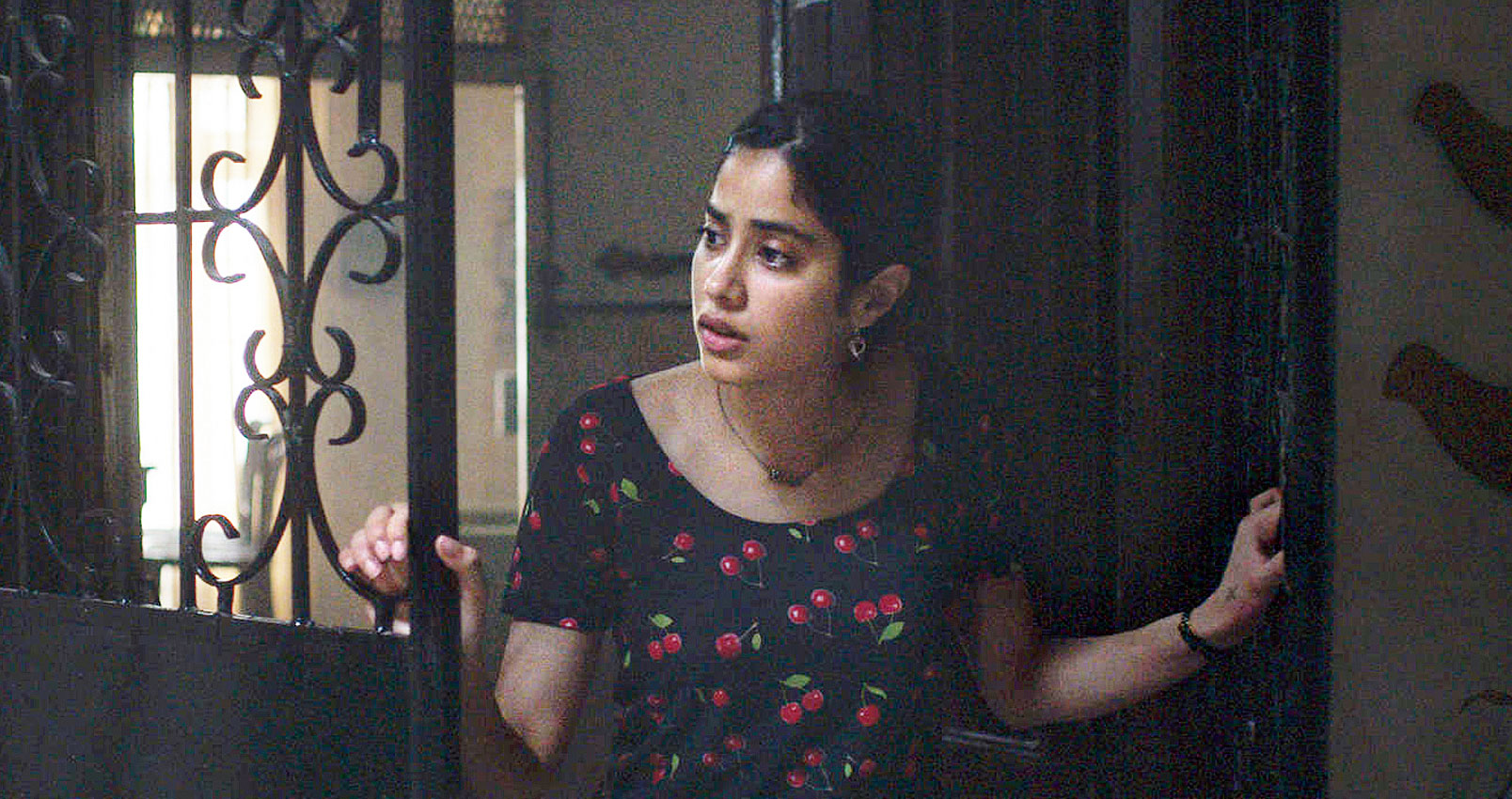 Janhvi Kapoor in Zoya Akhtar's segment in Ghost Stories, now streaming on Netflix
(Netflix India)
---
Mumbai
|
Published 07.01.20, 01:27 PM
|
---
Zoya Akhtar's short in Ghost Stories has Janhvi Kapoor landing up in a creaking old house to play nurse to an infirm woman. What follows next is a standard horror story, with a twist in the tail. In the run-up to the release of the four-in-one film on Netflix, t2 spent some time in Mumbai chatting with Zoya, Janhvi and Vijay Varma who also features briefly in the film.
Zoya says that she's had a love-hate relationship with the horror genre. What's it been like for the two of you?
Vijay Varma: Only love! I am a fan.
I do get scared, but I do enjoy the high of it… it's a thrill. I think I am a thrill seeker (laughs).
Janhvi Kapoor: Ya, it's the same for me, though I wouldn't really say that I am a thrill seeker. I seek the thrill in my films.
Vijay: And Zoya watches horror like this (peeks through the fingers of his right hand)
Zoya Akhtar: Well, I do enjoy it, to some extent. The ones that leave a mark — whether it's The Shining, The Omen or Rosemary's Baby or The Sixth Sense — are the ones that cut closer to the bone. I love the cinematic experience of the good horror films, but then I am not comfortable to sleep alone for a couple of days! (Laughs) I hate that feeling of being scared. So even if it's a good film, the aftermath is a bit rough for me (smiles).
Vijay: For me, that was Paranormal Activity…
Zoya: Oh my god! Paranormal Activity! I had a friend come over and stay with me for a few days after that. It really freaked me out!
Vijay: You know what freaked me out the most in that film? There was that scene of someone sleeping and there was someone else standing in front of him and staring at him for four hours straight!
Zoya: We'll talk about this later, Vijay! (Mock sulks)
Vijay: But honestly, it was The Blair Witch Project that was the 'OG' (Original Gangster, meaning exceptional and authentic). Paranormal Activity is nothing compared to that. The Blair Witch Project is a landmark tribute to the surveillance camera, found-footage genre.
Zoya, what made someone like you who's not very comfortable with horror, choose to work in the genre?
Zoya: Yes, it's not my first space of choice. I wasn't actively looking to do something in the genre. But yes, one day I was inspired to write something in this space and that turned into Talaash (a 2012 film starring Aamir Khan, Rani Mukerji and Kareena Kapoor Khan). I didn't direct it, but I did co-write it (with the film's director Reema Kagti). I had dabbled in this space, but not actively. But when the opportunity arose in the form of Ghost Stories, I decided to take the plunge.
For the three of you, what were the biggest challenges of working on Ghost Stories?
Vijay: It wasn't really a challenge for me. I was very well prepped and so I didn't have any difficulties in approaching the character or even during shoot. I was familiar with the team… the process is very well laid out at Tiger Baby (Films) and Excel (Entertainment). It becomes a smooth ride because you are already so well prepped… and then the discoveries happen during the shoot, which is always special.
Zoya: I think the biggest challenge for me was to find a location that I really liked. The exteriors of Bombay are beautiful and the streets are amazing and the gullies are mind-blowing. But if you are looking for a house, then it's a nightmare. That was a huge challenge to first find a kind of house that seemed like a little oasis of calm in the middle of so much chaos and then shoot six days and nights there.
I also found it tough to create a soundscape for the film. It's a very different zone, where sound and music are key to the story. I had to pay a lot more attention to that, considering the sound of this film is very unique. I worked with very good people — Baylon Fonseca (sound engineer) and a new kid called Sid Shirodkar — and that was great, but this soundscape was very new for me.
Janhvi: There were challenges like there are in every film. But I was cushioned by such a great team. There was her (looks at Zoya) and such great actors, that it made me feel safe, in a way.
Vijay: Working on this has been very inspiring.
Janhvi: I think the timing of when I was working on this film was a little hectic and stressful. It was between two other projects and I was constantly worried if I would be able to do the kind of justice to it that I wanted to do. I was paranoid about that, but I think it's turned out okay (smiles).
What do you think needs to be done to further the horror genre in Hindi cinema?
Janhvi: I think Stree was a good horror film, to be honest.
Vijay: Even in the '90s, there were patches of good horror work, particularly from Ram Gopal Varma. Raat, Bhoot, Darna Mana Hai, Darna Zaroori Hai, Vaastu Shastra… he did them all. Then Tabu did a film called Hawa that I really liked.
Janhvi: I also liked Bhool Bhulaiyaa…
Zoya: Our audience really likes horror. But you have to deliver a good product…
Vijay: You have to scare them. If it's a comedy, people have to laugh… if they don't, then it falls flat. So horror has to scare, plain and simple. There's no substitute for it.
Zoya: Honestly, I am open to doing more in this genre, provided I am able to come up with a genuinely scary story. I am waiting to be scared myself! (Laughs)
Vijay: We should do something like Parasite (a 2019 South Korean film). For me, that's also horror…
Janhvi: Dude, I watched Parasite! It's amazing… the second half just goes into such unexpected places. I loved it!
Zoya, any particular kind of horror film you would want to make?
Zoya: Not exactly that, but something like Rosemary's Baby… it's just creepy on so many levels. The Shining, of course, is the bible of horror filmmaking, especially the last 20 minutes. I like The Sixth Sense… that's a film with a twist that no one ever saw coming. But somehow, Rosemary's Baby has always been special for me.
Janhvi: I haven't watched it.
Zoya: Oh, you must! Also, the first Omen, The Exorcist… that's the kind of horror I want to attempt.
Vijay: I have a special place in my heart for zombie films. Stuff like Zombieland, The Walking Dead… those are my kinds.
Zoya: Not mine! (Laughs)
Janhvi: I would really love to be a part of something like The Sixth Sense. I thought The Exorcism of Emily Rose was super scary. I was up the whole night after watching that.
Zoya: Oh, and Madhumati! To answer your previous question, that's a brilliant film that we've produced…. Though it's not purely horror…
Janhvi: It was very haunting….
Zoya: 'Haunting' is the right word for it. I loved that film. You really feel it. The way Bimal Roy has directed the ending is so, so beautiful.
Vijay: I remember when I watched Raat as a kid, I was so scared that I had fever for two days! There's a sequence where the woman is possessed and her kid, who was my age, was just staring at her and he was so scared. And that scared me.
Janhvi: I remember in school, they made us watch Makdee, which was quite scary.
Zoya: It's not scary! Come on!
Vijay: In recent times, Hereditary was very scary. Oh my god! I was so scared…. So hardcore.
Zoya: One film I really, really have loved is The Rocky Horror Picture Show.
Vijay: The Amityville Horror bhi kaafi scary hai.
Anything that you have tried watching but couldn't finish?
Zoya: The Ring (laughs). And also stuff like Texas Chainsaw Massacre… too gory for me. I just cannot watch that kind of thing.
Janhvi: House of Wax was on TV the other day… I stopped watching midway.
Zoya: Yeah, I couldn't get through that one too.
Vijay: For me, a serial killer story is more scary and more problematic to watch than a ghost story. That's because the horror is in and about humans… Dexter, I can't watch, ever!