Zee5 series State of Siege: 26/11 brings the horror of the 2008 Mumbai terror attack to the web
We speak to the second in command of the 51 Special Action Group — the unit of NSG that carried out the operation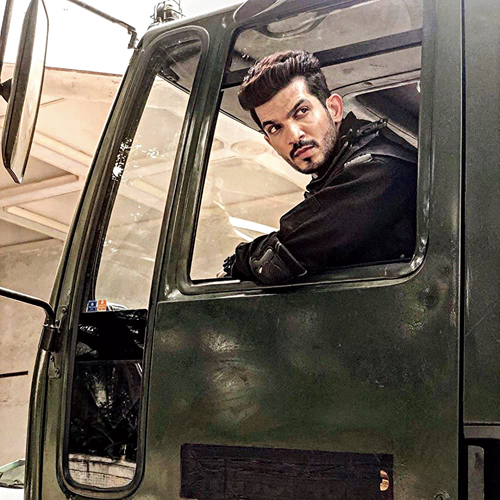 Arjun Bijlani as Major Sandeep Unnikrishnan in State of Siege: 26/11, now streaming on Zee5
Sourced by the Telegraph
---
Published 23.04.20, 01:51 PM
|
---
Even as Mumbai struggles to contain its count of Covid-19 cases, here is a throwback to a day more than 11 years ago when the country's financial capital was besieged by a terror attack and how it emerged victorious after 60 nerve-wracking hours, thanks to the heroics of our National Security Guard (NSG). Zee5 is telling the story of one of the world's greatest counter-terrorism operations through its eight-episode series State of Siege: 26/11.
The Telegraph spoke to Lieutenant Colonel (retd) Sundeep Sen, the second in command of the 51 Special Action Group — the unit of NSG that carried out the operation — who guided the production team.
Sundeep Sen
How did you help out the web series team?
Initially they wanted me to give them an idea about NSG and how special forces operate, the dress the commandos wear, the guns to be used, the drill…. Gradually I got more involved, with the cast members even asking me what was going through my mind at specific moments of the operation, I did not expect so much enthusiasm. Everyone, from the lead actors to the junior artistes to the ones playing the terrorists, were charged up and proud to be part of the show.
Is the show based on the events or is it a fiction with the backdrop of the attacks?
The show is based on Sandeep Unnithan's book Black Tornado: The Three Sieges of Mumbai 26/11. There is nothing fictional though they have heightened emotions in some situations to make it more interesting for the viewer.
Does the show start on November 26, 2008?
It starts with the Pakistani terrorists... how small boys with low IQ are indoctrinated into jihad.
Did they shoot on location?
They could not shoot at either Chabad House (a Jewish centre) or Taj Mahal Palace Hotel (two major points of attack) but they found similar locations. Most of the shoot happened outdoors.
Did those moments come back when you were on the sets?
Nothing came back. It's all inside me (laughs). It was the first big counter-terrorism operation in our country from which the special forces across the world learnt a lot. I was part of every moment of the planning and execution, right from when we were flown over to Mumbai from Manesar, Haryana. The actors who played the commandos were kids when this happened. Yet everyone in the country remembers who was where on that day.
Have you seen the series?
No. I saw some of the rough cuts. But I did not ask to see the edited thing as I want to enjoy it at home like other viewers.
What are your views on the films made on the event?
I liked Hotel Mumbai. The scenes were close to reality, you got to get into the minds of the hostages. There is depth in the handling. I did not like Ram Gopal Varma's film (The Attacks of 26/11). I was there when he came for a recce at the Taj after the operation ended. The web series will be different from both as it is the first time the story is being told from the NSG's point of view.
What are your favourite anti-terrorism films?
Films like Lone Survivor and Black Hawk Down are close to reality. I don't like films where the hero does 360-degree somersaults and kills 10 enemies all by himself. The war is on the screen in people's bedrooms now. You can watch real footage. A chap driving a tank and destroying a city alone will not work any more.
Arjun Bijlani
Arjun Bijlani plays Major Sandeep Unnikrishnan, one of the heroes of Operation Black Tornado who was decorated with an Ashok Chakra posthumously. He speaks to The Telegraph about his digital debut.
When did you shoot for the show?
We started in September and continued till December. It's a big canvas show with a big cast. Even our director and DoP were from Hollywood, so it took time. There was some patchwork left but luckily we could finish that before coronavirus hit India. Still we were a bit upset that all our promotions got cancelled. We were supposed to travel to so many cities! But public health is more important. Log agar ghar par rahenge toh safe rahenge aur, I hope, apna show bhi dekhenge.
Films have been made on the subject before. How is your show different?
We are telling the story from the point of view of the NSG. People must know how our brave commandos fought and saved Mumbai.
You die in the show. How did it feel?
I have died before (laughs). In Ishq Mein Marjawan, I died twice and came back also. In Pardes Mein Mila Koi Apna too, I have died. But it's a different feeling to become a martyr for one's country. It is the worst feeling to see someone go away in front of you... someone with whom you have trained, shared your food and spent every waking hour. Yet you cannot show your emotions as you are in the middle of a fight. That takes a lot of courage.
How did you prepare for the role? Did you google him?
No. It wasn't like we were making a biopic. It was on the chain of events. It helped that Lt. Col. Sundeep Sen was with us. He knew Major Unnikrishnan. The major used to train the NSG commandos. So I needed to know how he was as a person, how involved he was, how he made sure his commandos were fit, mentally and physically... I asked him all that.
What did you learn on the show?
I picked up how the commandos walk, train, handle the weapons…. We were using MP5 submachine guns and Glock pistols that the commandos use.
Was the experience different from doing TV serials?
Our director Matthew Leutwyler and DoP Richard Henkels were from Hollywood. So the treatment given to a scene or how a shot is taken is way different from what we are used to. They were a class apart in the way they wanted the story to be told. On TV, there is always time constraint as we make daily shows and the story unfolds as we shoot. Here we got a bound script at the start.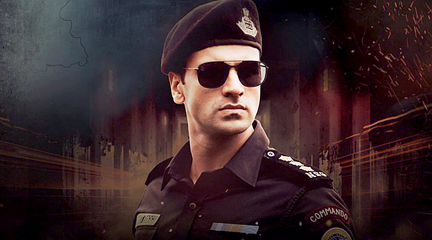 Vivek Dahiya
Vivek Dahiya, best known as the dashing Inspector Abhishek Singh in the Ekta Kapoor production Yeh Hai Mohabbatein, plays Captain Rohit Bagga in the web series. The Telegraph chats with the man who happens to be Mr Divyanka Tripathi.
You have played policemen before. How was it playing an army man?
All those were roles in fiction. Here we had to stick to the actual events. My biggest worry was how to fit into the shoes of a soldier. My grandfather was in the army but we never discussed that part of his life. I had never spoken to a soldier who was on the war front. Col. Sen was our mentor. He helped me groom for the character.
What did the grooming involve?
I learnt how to hold a weapon, how to keep the body straight, rest the weapon on the shoulder, move with the weapon.... A weapon weighs about 7kg. The body of the gun was real but it was disarmed. We used dummy bullets. My character had gone home to marry. He was at a family dinner when the news flashed on TV. He just gets up and leaves. When the call comes, he says he is already on the way. He is the youngest of the lot.
You are known for your fitness in the industry. Did that help?
We had to wear dungaree as our drill costume. The NSG wears this when going for an operation. It has grenades and arms hidden inside, holding 15-20kg of additional weight. They wear black mask, black goggles so that they are not visible at night. Covered head to toe, they cannot be identified either.
We shot partly in summer. The hostages in Chabad House were kept on the fourth and fifth floors. The director didn't want cuts in the scene. So we were doing a long shot in a single take. Things don't go right in a single take. For that 30-40 second sequence, we had to do 15-20 takes. And we had to run up and down every time. That's when physical fitness comes handy for an actor. Some others were completely drained. I felt for them. I feel it's important for an actor to be fit, not just visually appealing.
Did you shoot on location?
We found a building that looks exactly like Chabad House in Madh Island which is let out for shoots. During the operation, there were soldiers sitting in opposite buildings from where they were shooting at the terrorists and the terrorists were also returning fire. So the building had to be filmed from both outside and inside.
Finally, this would be your digital debut.
Yes. I am used to doing lead roles in TV serials. Here I have one or two scenes in each episode. I still chose to do it as I have a lot of faith in the project. The director has shot it beautifully.