'Younger' Neena
'People are stuck with your age and then don't give you work'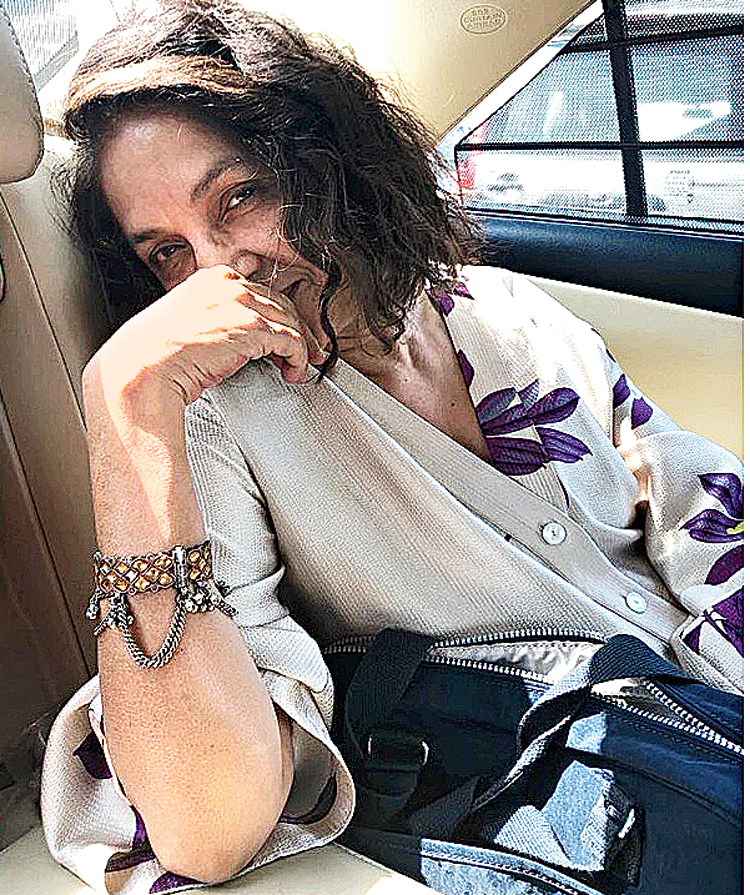 Neena Gupta's bob on Instagram
(Picture taken from Instagram account/ neena_gupta)
---
Published 10.02.20, 12:52 PM
|
---
At 60, Neena Gupta doesn't look her age and she has her kitty full with projects. After playing a middle-aged housewife dealing with an unexpected pregnancy in Badhaai Ho and more recently a loving mother in Panga, she'd next be seen in Shubh Mangal Zyada Saavdhan on February 21. The Woods caught up with the actress for a chat.
The Woods: First, this new bob haircut is really suiting you...
Neena: Amazing, no? I went to the parlour to get my hair colour done in the morning and I was really irritated with my hair, it had become so thin! Immediately after the haircut, I came for the interview, I haven't even enjoyed it yet. I just posted the picture on my Instagram right after I came out of the parlour, I haven't even seen what people are saying yet. But now I'll have no tension of tying up my hair before going out, you know?
You do not look your age...
(Laughs) I know but it's of no benefit vis-à-vis my work. People are stuck with your age and then don't give you work. Older men work with younger girls but the vice versa doesn't happen. Gajraj Rao was looking older than me (in Badhaai Ho) even though he's much younger to me.
And now that the much-loved Badhaai Ho pair is back again with Shubh Mangal Zyada Saavdhan, how does that feel?
It was great fun but our roles are very different from Badhaai Ho. Gajraj and I are playing husband and wife but it's very different. We used to laugh a lot because the film is so funny. All the actors had a sense of humour, the director (Hitesh Kewalya) had a sense of humour. I don't think I've laughed so much in my life ever. It was so funny!
How has the working equation with Ayushmann Khurrana evolved since Badhaai Ho?
We are like friends. When we sit down, I can chat about anything with Ayushmann. Whenever we are on stage for maybe some award show and he's the emcee, he always says, "You're too hot to be my mother" (laughs). I really feel like he's my son, you know? He's a son, a friend and sometimes I even ask him if I should do a certain film or not. He has told me, "Mere se puchh liya karo. Galat subject mat lena." He's just like how a son scolds a mother.
Do you think the topic of same-sex love being portrayed in a commercial film will finally start a dialogue?
It will make a little difference because these things will take centuries to go from our blood, our DNA, since we have always been told that this is a 'bad thing'. But the way they've tackled this film is very interesting. You won't even understand that haste khelte message de diya. If tomorrow somebody asks me, I'd say that this is a family film. If they say, 'But it portrays homosexuality', I'd still say it is a family film. That's the beauty of it. The way he (Hitesh) has written and directed this particular topic is very interesting.
What kind of questions did you have for Hitesh about your role?
I had just done Badhaai Ho and I also did Gwalior with Sanjay Mishra. I've been doing quite a bit of realistic work. But this wasn't realistic, this was a bit farcical. So, when I did my first sequence, I did it quite normally like how I'm talking to you now. But he said: 'No, this should be a few notches up. When someone talks to you loudly, you reply loudly too.' He gave me the logic and I finally got my sur and I didn't question him again after that. He knows the whole film and I realised that the dialogues are written in a meter. There are punches and if you change anything, then the punch goes.
How difficult is it to act in the comic genre?
It's very difficult. It's like a thin thread and you can go wrong just like that!
Any funny anecdotes from the shoot in Benaras?
We were laughing all the time while saying the dialogues. There's a pigeon sequence that we shot for four days where we had to fly the pigeons. It was such a fun sequence.
Has life changed for you after Badhaai Ho?
Yes, it has. Badhaai Ho was the turning point. It was like my break and it has changed a lot. I'm so busy, I'm getting good work. And I'm happening on Instagram (laughs)!
So, what's next?
I've completed a film called Gwalior with Sanjay Mishra, a web-series called Masaba Masaba for Netflix, The Last Color and two short films. I'm also shooting for Nikkhil Advani's film with Arjun Kapoor and I've an amazing role in it.