He ain't Ajeya
It makes one wonder whether Ajay is teetering on overconfidence and must accept that he needs the skills of professional writing and must also heed well-meant advice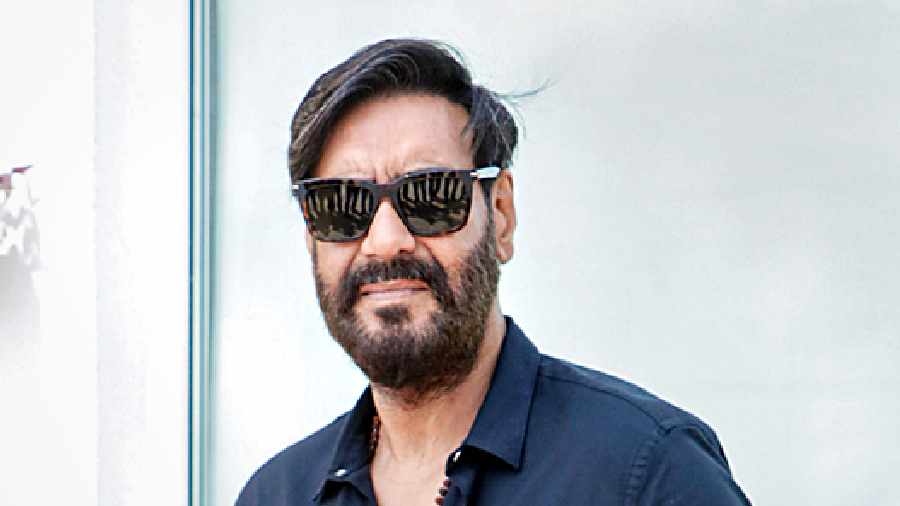 Ajay Devgn the director has a lot of catching up to do with Ajay Devgn the actor
---
Published 08.05.22, 03:52 AM
|
---
It hasn't been one of Ajay Devgn's best weeks. The crash landing of Runway 34, his third directorial attempt, is not the sole reason. Though looking at its lean collections, his earlier title Mayday would perhaps have suited it better. The film is indeed in need of rescue. If the six-day collections of a Rs 85- crore film stand at Rs 21 crore, shoulderto-shoulder with Tiger Shroff's calamitous Heropanti 2, Devgn's film does qualify as an aviation disaster.
In comparison, KGF: Chapter 2 collected Rs 8 crore on May 4, with Runway and Heropanti managing only Rs 2 crore and Rs 2.5 crore, respectively. At the end of a 21-day run, KGF2 stood at a sturdy Rs 381.25 crore for only the Hindi version, crossing the 1,000 mark if one were to look at its total collections.
On Monday, there were pathetic attempts to put out trade news that Runway held steady at Rs 2.5 crore while Heropanti 2 had crashed with only Rs 1 crore. But at the end of the week, they were both vying for bottom-rung rankings with competition only from Shahid Kapoor's Jersey, which too was an unqualified failure.
Meanwhile, nobody would have heard of a costly new film, Acharya, which had a Hindi version in the theatres last week. Made on a budget of Rs 140 crore, it starred veteran Chiranjeevi with his son Ram Charan, the superstar who toplined RRR. One would think that riding the RRR wave, Ram Charan's next would have brought in viewers by the droves. But nosediving from Day 2, Acharya is a clean box-office write-off.
What do we learn from these figures? One, the crazy collections of three South films, Pushpa, RRR and KGF2, are no indication that the South is supreme and has taken over the all-India box office. Otherwise, Acharya would've registered at least an exciting opening weekend. By the way, Jersey was also the remake of a Telugu film and look where it went.
Therefore, the first takeaway is that Hindi cinema is not doomed, its place has not been taken over by products from any south Indian state.
The second lesson is that Tiger Shroff has remained static. His debut film Heropanti was unimpressive cinema but with flashing fists and flying feet, he'd arrived like a crisp new dawn. However, in the intervening eight years, Tiger hasn't understood that flashing fists and flying feet can't hold the attention of his audience unless they come wrapped in a sound script. Hrithik Roshan-starrer War, which showcased him well, remains one of his rare successes in recent years.
The third point of the week is that Ajay Devgn the director has a lot of catching up to do with Ajay Devgn the actor. One had just begun to applaud him for Gangubai, RRR and Rudra, three successes that showed the actor unconcerned about the length of his role or the format and platform, when he skidded on the runway. It makes one wonder whether Ajay is teetering on overconfidence and must accept that he needs the skills of professional writing and must also heed well-meant advice the next time he decides to helm a film.
Most of all, Ajay goofed when he uncharacteristically waded into the "Hindi is the national language" controversy. If Kiccha Sudeep, a popular actor from Kannada cinema, remarked on the status of Hindi, it was completely out of character for Ajay to take him on.
In one of his superbly argued pieces, Shashi Tharoor not only pointed out with pin-sharp accuracy that nowhere does the Constitution give Hindi the status of the national language, he also called Devgn "cartographically challenged".
When he'd silently watched Saif write an open letter to Kangana and had kept his counsel when Ms Ranaut had indicted him and Sanjay Dutt, the heroes of Rascals, for bad behaviour with her, whatever made Ajay go into territory that really had nothing to do with him? Now that motormouth Kangana has decided to give him company and has made the same faux pas about Hindi being the national language, hope Ajay's wincing.
Bharathi S. Pradhan is a senior journalist and author