What women kneedFitness tips for the ladies
Read more below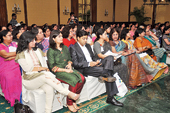 ---
---
The crowd at the FLO fitness workshop at The Oberoi Grand. Picture by Pabitra Das
Women are three times more likely to get arthritis than men, and to shed light on this painful issue, FICCI Ladies Organisation (FLO) organised a workshop on June 23 at The Oberoi Grand. Both young ladies and elderly women were present to hear the three specialists — Arun Mullaji, orthopaedic surgeon from Mumbai, Vikash Kapoor, director of Medica Institute of Orthopaedic Sciences, and Shabnam Agarwal, physiotherapist at Belle Vue Clinic — talk about arthritis, its prevention and cure.
"There are a host of reasons why women suffer more. Women tend to get osteoporosis in their 50s. It is partly genetic. Also, their muscles are weaker than men and lack of vitamin D due to reduced sun exposure, especially among housewives, are contributing factors," said Mullaji. Women in the 40-60 years bracket are the main victims.
A quick and relatively pain-free knee replacement procedure called "the express knee surgery" was explained by Mullaji, where the muscles remain untouched. "It's a computer-aided surgery, therefore highly precise and recovery is smoother," he added.
Typical symptoms of arthritis in its nascent stage include knee pain, stiffness, difficulty in climbing stairs, swelling and deformity of the joint. Surgery is the last resort, before which patients need to be screened thoroughly.
A few exercises were recommended by physiotherapist Shabnam for arthritis patients, with initial supervision like isometric quadriceps in full extension and straight leg raise.
Knee & ME
● Avoid weight overload on the knee joint
● Weight loss of 1kg reduces a 6kg load on the knees
● Use kneecaps
● Get exercise – yoga, cycling, swimming…
● Maintain correct posture
● Get enough sun for vitamin D production
COOLING OFF:
A slight drizzle set the mood for the Pool Party at Aqua on Saturday. The crowd, made up mostly of PYTs, took a dip in the pool, played water volleyball, cooled off in the jacuzzi or just lounged around. Caribbean-style finger food were served and spirits flowed freely while DJ Dharam set the music going at The Park poolside. Picture by Rashbehari Das
A buffet launch
What: Corporate Buffet.
Where: The Essential, The BigBoss Hotel, Rawdon Street.
When: Monday to Friday, 12.30pm to 3.30pm.
On the menu: You can start with Coconut and Carrot Shorba or Spring Chicken Soup. Move to an Indian spread if you like your dal and rotis. The Murg Chettinad and Fish Balchao are tempting. If Continental is your choice, try the French Bean Soup and Grilled Fish with Lemon Butter sauce.
Pocket pinch: Rs 600 (for two).