What we call regional cinema is probably the better cinema in India — Shekhar Kapur
He has recently created Brides Of The Well, an animation short that highlights the global water crisis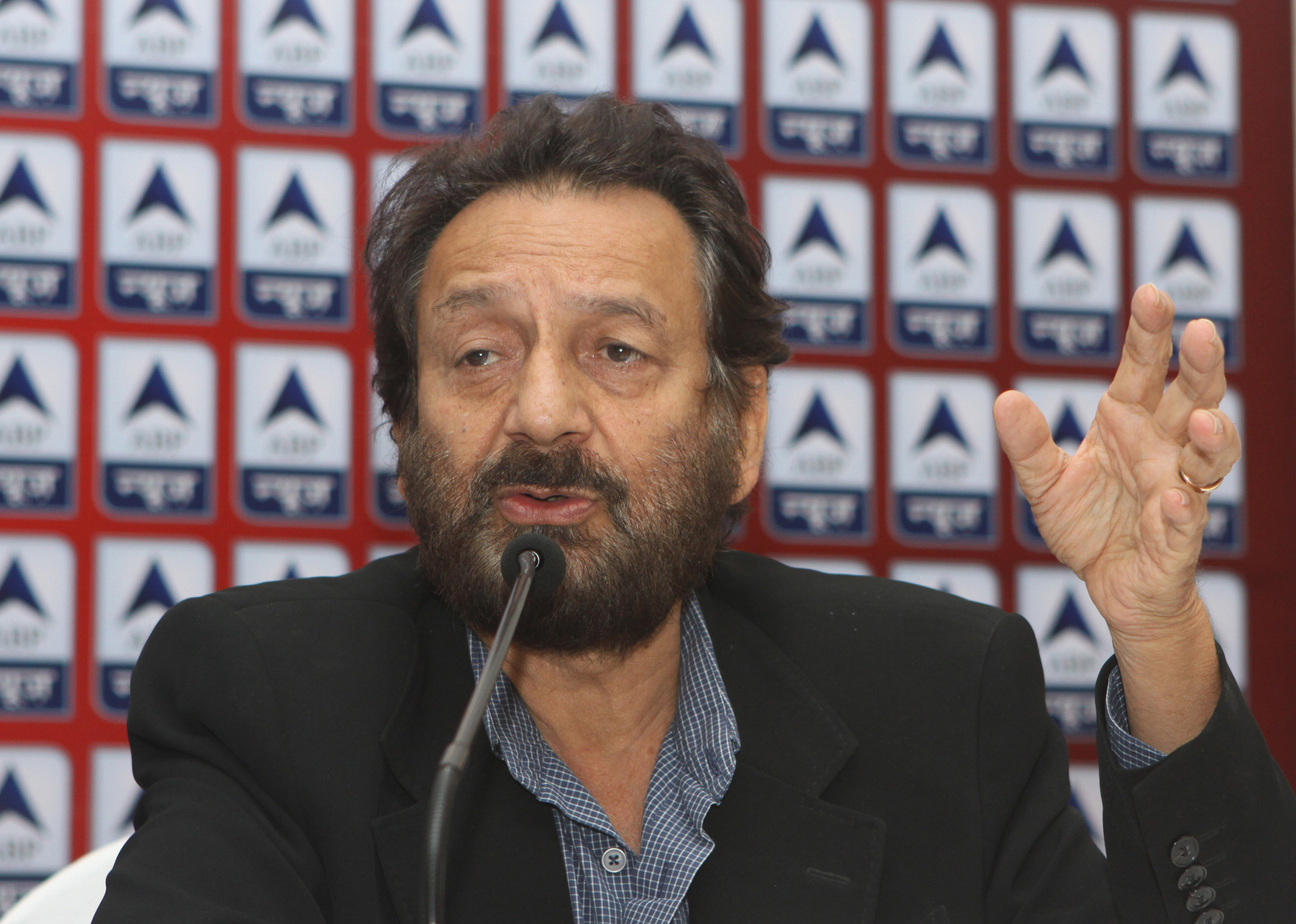 ---
---
Shekhar Kapur has long been a champion of water conservation and has recently created Brides Of The Well, an animation short that highlights the global water crisis. Released on October 11 to mark International Day of the Girl Child, the short is an adaptation of a story written by the Holly-Bolly filmmaker. t2 caught up with Kapur for a chat.
What prompted you to make Brides Of The Well?
I work a lot with water organisations. I had a short story called Brides Of The Well written on my website. WaterAid read that story and asked me if I could make an animation film.
Was it written from your observations of life in India?
If you go to the rural areas you'll see that they are always trying to get water. The water levels have gone down and the wells and rivers have run dry. They need to walk during the day to get water. It affects education. You cannot talk about industrialisation without water issues.
Water is a fundamental and basic problem in our society. The reason why we don't talk about it is because the decision makers get water in their taps. In my house in Juhu, I don't have any water problem like the people in the slums have. And they pay more for water. It's tragic and a huge social problem.
How much do you think an animated short can help people understand the issue?
It has to reach the decision makers. It's a fictional story but Brides Of The Well also talks about the caste system. We need to go back to understanding the implications of water, the loss of water and what's going to happen. WaterAid is one of the biggest water charities in the world and now they're showing this film all over the world. People are telling me, 'In a very short span of time, you've managed to tell a very good story'.
Your futuristic film Paani has been in talks for years. Why hasn't it got made so far?
I was supposed to make it with Yash Raj Films but we had a difference in opinion. So I decided to go on my own. Now I'm considering it as a web series.
Is Sushant Singh Rajput still a part of the project?
I think Sushant has kind of gravitated away. He's become older and changed. I'll make Paani with a very young person.
You've been away from Indian cinema after Bandit Queen in 1994. Planning to return anytime soon?
I don't want anything more right now but to return and make films here. I tried it with Paani. There is a malady in Indian cinema right now — people are going more for quantity than quality. Elizabeth was my first film outside India and it got nominated for nine Oscars. I just want to work with people who are committed, who have a passion for excellence. I want to play with the A team. I don't want to play with the B team and I'm not saying that India is the B team. But there's a tendency here to be part of the B team. Now hoping Netflix will come in and the Indian standards will rise… they are rising and I'm very tempted to come back and make something here now.
You've been a part of the jury for the National Awards. What's your take on regional Indian cinema?
I was so impressed. The whole media is about Bollywood stars. I'm so glad Bahubali broke through that. Even beyond Bahubali, there are some films of sheer brilliance that just keep getting ignored. I watched this little film called Village Rockstars which now has gone for the Oscars from India. I was stunned. There was this Bengali film Nagarkirtan for which Riddhi Sen got the Best Actor award... absolutely brilliant film. I did it very reluctantly but when I did it, I was so happy because it made me come out to the jury and say, 'Look, what we call regional cinema is probably the better cinema in India'.
You recently posted on Instagram about the funny cockroach scene from Mr. India and how Sridevi was scared of cockroaches…
(Laughs) There was absolute fear! Even after decades, Mr. India is still watched. Audiences love characters and that's why people keep going back to watch Mr. India.
The fundamental problem with Indian cinema now is, 'Okay, let's make a big film'. Mr. India wasn't carried by stars, it was carried by really interesting characters.
I gave Sridevi a moustache and made her look like Charlie Chaplin and she carried it off. She was most amazing. She watched Charlie Chaplin all night, the next day she came and performed it. She had an innate sense of the comic that I've not seen in any other actor.
Will there be a Mr. India reboot?
Maybe, but it has to be a different story. It's not just because Sridevi or Amrish Puri are no longer there. It's because you cannot compete with a legend. I think I must make another film like that for the Indian audience because nobody has done it again! That's what really surprises me.
Your daughter Kaveri is a budding singer. What does fatherhood mean to you?
She and I have really deep, philosophical conversations. I find that I'm reviewing and looking at the world through her eyes. Of course she is protected, of course she's vulnerable… but every time I talk to her, she has already thought about it very deeply. She gave me a song yesterday and said, 'Daddy, all the other songs are nonsense. Listen to this one'. And it was absolutely brilliant. Sometimes I say, 'Where do you get these words from? What did I do to you? Where is this depth coming from?' And she said something very beautiful — 'If I started questioning where it comes from, it'll stop coming'. She and I are becoming best friends now.
What's the best advice you've given her?
The world is no longer about advice. It's about, 'How can I support you in what you want to do?' Yesterday we had a long chat and the only advice I gave her was, 'You're entering a business that's very uncertain but remember that everything is uncertain. There's no life without uncertainty, there's no adventure without uncertainty, there's no love with uncertainty. Uncertainty is the fundamental basic of who we are as human beings'.
Your films Elizabeth (1998) and Elizabeth: The Golden Age (2007) are Academy Award-nominated films that focused on anti-colonisation. Do you make it a point to have a message in your movies?
Yes, and even Paani has a very anti-oppression message. In my heart, I feel that we live in a very oppressive world. Whether it was Elizabeth, The Four Feathers or Elizabeth: The Golden Age or Bandit Queen or Paani, my films always will be about making anti-oppression statements.
Is the third film in the Elizabeth series happening? Apparently it's called Elizabeth: The Dark Ages...
Yes, but it's based in the future. It talks about the crumbling of Europe and the fall of the West. It's going to be a series and work has already started.
Are you working on a TV series based on Cleopatra?
I've been writing Cleopatra and I'm pitching it as a series. Everything that has ever been written about Cleopatra has been from a Roman point of view. She was a great seductress and she was famous for having an affair with Antony and Julius Caesar. I'm saying that it's not true. She was a great administrator and a very sharp politician. And the reason Antony and Caesar were famous was because she had an affair with them. My Cleopatra is a retelling of the history of that time from Cleopatra's point of view.
You directed the American TV series Will that premiered last year based on the fictional life of William Shakespeare in his early 20s. Will there be a Season 2?
We are talking about a second season but unfortunately the writer Craig Pearce has got really busy. Contrary to popular belief, if William Shakespeare was alive today, he'd be a rapper. His appeal was not initially with the intelligent, it was with the mass audience, with the street people. And his language, that people now say, 'Oh, it's too Shakespearean'... it was the slang of that time. People used to love it! He used to walk down the street and people would shout out his lines behind him.
You tweeted after the recent demise of Stan Lee that you had the opportunity to work and spend time with him. What was he like?
He had such an agile young mind. He understood storytelling more than anybody else that I've ever known. The idea of using mythology to tell stories, he understood it. Superheroes are about normal people developing superpowers, so he knew it was about people who could lose power also.
Is there any contemporary Hindi filmmaker whose work you like?
I like Anurag Kashyap's work. Rajkumar Hirani is very good, he tells great stories.
Who is your favourite filmmaker of all time?
Akira Kurosawa. He believed in the same thing that I believe, the idea of using mythology. The way he directed his plot… his camera, his art direction, his production design, it's like he's telling you the story also with the plot.
Do you have any regrets?
Of course I do. I wish I made more films in India.