Shah Rukh Khan's Pathaan is review-proof
The film is an event, a party, a reason to celebrate, a way for audiences to go back to cinemas in the way they haven't in a post-pandemic world... and a way to welcome back a beloved superstar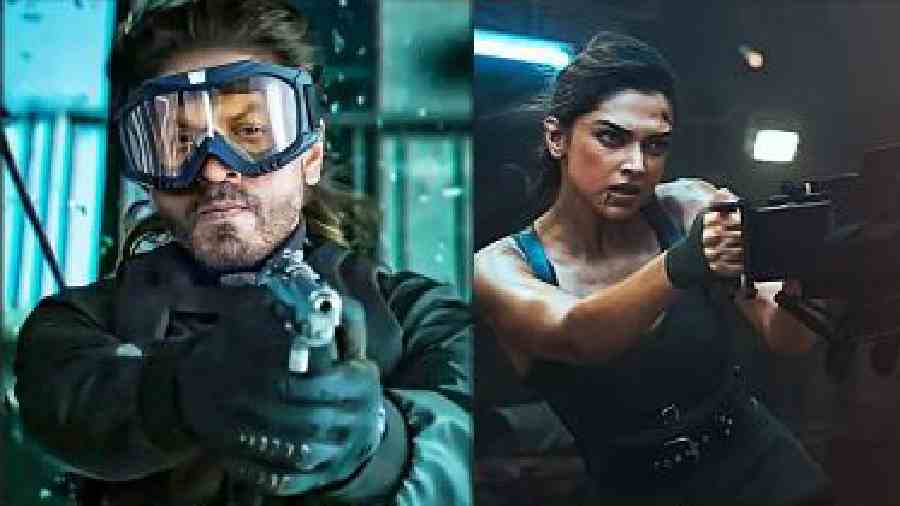 (L-R) Shah Rukh Khan, Deepika Padukone in Pathaan
---
Published 26.01.23, 04:30 PM
|
---
To begin with, Pathaan is review-proof. That's an honest, and more importantly, non-sarcastic admission coming in from someone who has watched and reviewed a Hindi film almost every Friday for the last 16 years. For Pathaan, whose number of shows and count of screens across the world are being increased even as I write this, is no longer just a film. It's an event, a party, a reason to celebrate, a way for audiences to go back to cinemas in the way they haven't in a post-pandemic world... and a way to welcome back a beloved superstar.
And what a comeback it is! Shah Rukh Khan — all guns blazing, spouting meta lines, doing all-out action but not missing out on a touch of romance — brings back both charm and charisma, the kind that we have missed on our screens for a long time. In the way only he can.
But beyond all the fights and stunts, the songs and scenic locales, the 007-inspired gadgetry and the desh-bhakti daredevilry, what I enjoyed the most about Pathaan is how self-aware it is. Or at least, the man who plays Pathaan is. SRK plays a superhero in the way bona fide super agents, in the best tradition of Ethan Hunt and James Bond, are meant to be. He dangles from helicopters, sprints atop a train, throws himself (and many others) off buildings, punches his way through a gang of Goliathgirthed men, fires a few guns at the same time... but it's never without acknowledging that it isn't a smooth ride. Pathaan is bloodied, bruised and bashed up badly — both literally and metaphorically — making us believe that being an agent is hard work, and not really about walking out of a burning car unscathed.
More than once, Pathaan talks about getting on in years, with director Siddharth Anand — who is also credited with the story — merging reel with real and directing a cheeky nod at the age-agnostic reign of our superstars. That blows up in the superstar cameo from Salman Khan in what is perhaps the best interval block seen in a Bollywood film in years. In what is not a spoiler, Salman's super spy Tiger joins Pathaan for a jaw-dropping action sequence inside a train — and then above it — with the two giving us some remarkable moods and moments that alone make the ticket price worth it. From Tiger screaming out a memorable '90s line (Karan meets Arjun, minus Rakhee) to the two discussing their dislocated bones and broken backs and, in a meta move, chomping on painkillers even as they talk about the perils of the job. That — and the post-credits scene, which we won't spoil for you but challenges the best (yes, we are talking Avengers) — show us that our 57-year-olds (from "Bhaag Pathaan bhaag" to "Bhaag Laal bhaag") — are still gold when it comes to delivering  "entertainment, entertainment, entertainment".
Speaking of gold, the very concept of Pathaan — the film and the person — stems from Kintsugi, the Japanese art of repairing broken pottery by mending the areas of breakage with powdered gold. Kintsugi is mentioned more than once in the film, and in a smart, backhanded way (Abbas Tyrewala writes the dialogues, Sridhar Raghavan fashions the screenplay), Pathaan not only talks about the broken pieces of the man that need mending, but also about a splintered country that's calling out to be joined together. To have Pathaan make any more of a political statement would be expecting too much from a film of this genre, but Deepika Padukone, lithe and lissome in a saffron bikini in Besharam rang, almost invited as many cheers as Shah Rukh Khan's entry did. That was surely a statement, political or not, from the audience.
The rest of Pathaan calls for a suspension of disbelief, prodding you to just lean back on your seat and become a part of the rollercoaster ride playing out in front of you. There is, of course, a bit of Bond, a whole lot of Bourne, some Jack Reacher and huge doses of Mission: Impossible, with the film packing in a spectacle crowded with one action set piece after another. There is a jaw-dropping bike chase on ice that, despite the surprisingly average VFX, is carried forward by the sheer energy of SRK, Deepika and John Abraham, who like Dhoom, makes for a formidable adversary. His Jim, like almost every film in this genre, is an agent gone rogue and now functioning as a mercenary on hire. If Shah Rukh towers in Pathaan with his personality, John does so with his physicality. It's a part that suits him, and he bites into it with relish, making even a ridiculous line like, "Be powerful, be rich or be a laash" palatable.
So does Deepika, who rises above her somewhat sexist entry (a male agent is introduced through an action scene, a female agent gets a sensuous song) to give us a woman with both mystery and agency. Whether it's skating expertly on ice or firing a Gatling gun like a pro, Deepika aces it, giving us as good an action heroine as Katrina Kaif in the Tiger films.
Which brings us to Pathaan being the latest entrant in what is the burgeoning Yash Raj Films spy universe. The Easter eggs are smartly planted in — besides Tiger's cameo, there is more than a passing mention of Kabir, Hrithik Roshan's man-on-fire in War, the RAW-piggybacking-on-ISI-piggy-backing-on-RAW angle, as well as action scenes embedded with the same DNA as both those films.
Pathaan works best when it functions as a spectacle film. There is a mention of the abrogation of Article 370 in Kashmir, some suits and ties walk around looking pensive and the pandemic has given Bollywood a whole new world of virus warfare (the one in Pathaan has the silliest name possible) to make films on. Some of it works, the rest of it is passable.
But this isn't a film where anyone — not even the critics, and that's perhaps a first — are walking in expecting a story that makes much sense. Everyone has just signed up for a jolly good time, and that's what Pathaan delivers.
So catch a show of Pathaan today, tomorrow, this weekend — or maybe every single day — for what is guaranteed to be a carnival in cinemas. Our "centre forward, opening batsman, opening bowler, wicketkeeper and four slips" — as he is described in the film — is back. And the party has just started!