Twenty-seven years after the release of Dilwale Dulhania Le Jayenge, Yash Raj Productions gave us fans a chance to rewatch the romantic saga on the big screen. Most of us Gen Z fans of Shah Rukh Khan haven't had the chance to watch his early 1990s to 2000s films in the theatres with the crowd hooting and screaming. For someone like me, who was born five years after the theatrical release of the film (in 1995), the screening of DDLJ at cinemas on November 2 to mark Shah Rukh's birthday is an event that certainly was not to be missed.
The Experience
One of the best bits of catching Aditya Chopra's Dilwale Dulhania Le Jayenge on the big screen is the experience itself. For the past one year, movie-goers have been less than thrilled because of the diminishing crowd and the underwhelming experience of watching a film on the big screen. It was only with Brahmastra that the crowd had started to pour in again. Therefore, entering a movie hall packed with audiences of all ages was no less than a goosebump moment.
From the start of the film till the end credits, the INOX auditorium at Quest, Kolkata, erupted into cheers and hoots at every iconic scene. Shah Rukh's entry got the biggest hoots from everyone, including me. It's been almost four years since we saw him on the big screen in a lead role.
From middle-aged couples to groups of friends and youngsters, the hall was packed with people screaming at pivotal moments, singing along to the songs and chanting the dialogues. It was almost surreal to be part of something like this.
How does the film hold up in today's time?
Dilwale Dulhania Le Jayenge might just be the film that holds up in the age of modern romance. The charm of holding hands, running though mustard fields and fasting for your lover is a part of old-school romance from an age gone by. And that is exactly what works for the film in this day and age.
You root for the love birds to come back running into each other's arms. You miss the innocence of the romance when Simran kisses Raj on the cheek and he blushes with a dimpled smile, in one of the more overlooked scenes.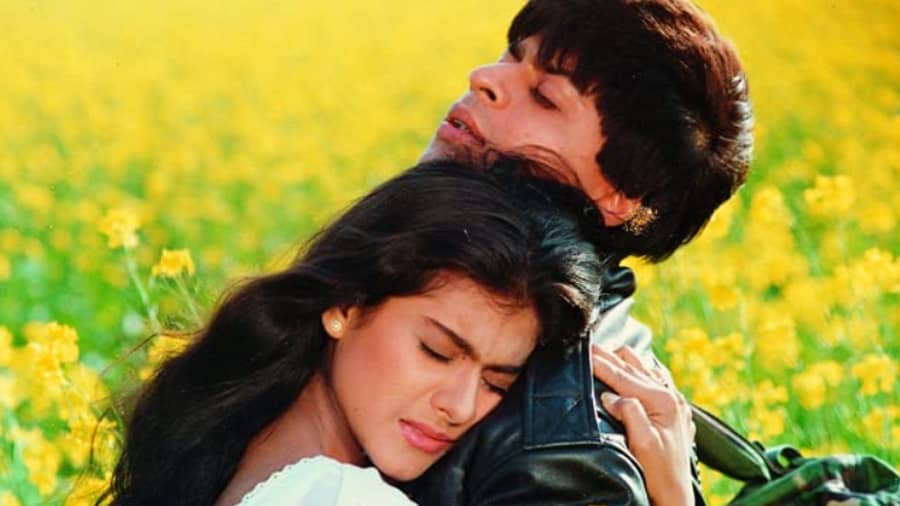 IMDB
Raj – the romantic hero or not?
One of my biggest gripes with Dilwale Dulhania Le Jayenge is the creepy behaviour Simran (Kajol) has to face during her initial meetings with Raj (Shah Rukh). The charming hero of the film isn't a guy I would want to look out for, given the way he teases Simran.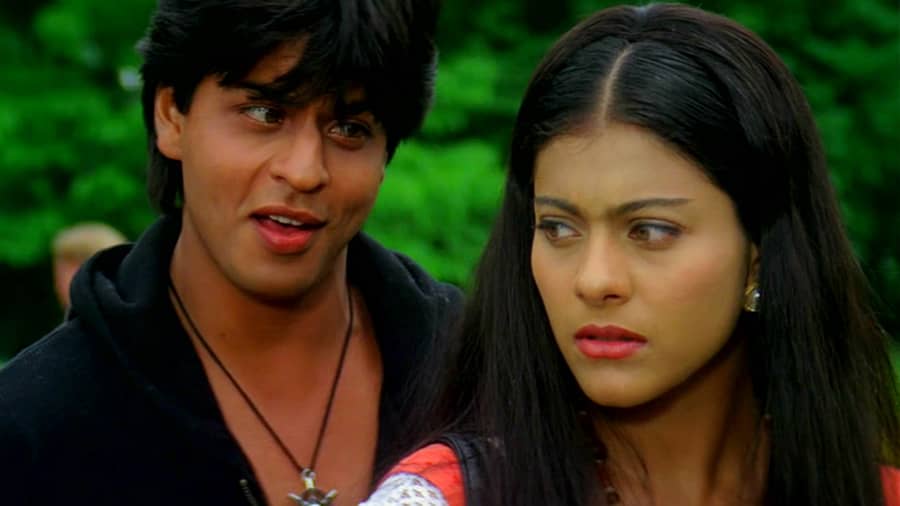 IMDB
Raj, however, redeems himself in more ways than one as the story progresses. His first meet-cute with Simran slowly becomes a part of the goofy nature of the character itself. Most of his antics grow on Simran as well as the audience.
Shah Rukh truly acts through his eyes. In some of the most romantic scenes from the film, it is Raj's eyes that do the talking.
One of my favourite scenes from the film is his first meeting with Simran's younger sibling Chutki (Pooja Ruparel), who is certainly one of the most fleshed out characters in the film. Raj calls her 'Ms Rajeshwari Singh', as a sign of respect which in turn makes Chutki like him immediately.
Kajol's Simran is a girl we cheer for
Simran never lets her guard down and makes it clear that she is disgusted by Raj's behaviour towards her. It is this firmness in her character that changes Raj from an unapologetically carefree person to someone who accepts his mistakes and makes up for them.
Simran, unlike Raj, isn't a subtle lover. She goes out of her way to fake fainting just for Raj to give her a sip of water after her karva chauth fast. She also puts a Band-Aid on her left hand's ring finger to ensure that Kuljit cannot put the engagement ring on the correct finger. Simran's devotion towards Raj stems from the fact that he is a man who has changed into someone who doesn't just love her but respects her enough to not elope with her.
Kajol looks beautiful in her skin with minimal makeup. Her Simran doesn't try to abide by the beauty standards of the society and becomes an icon when it comes to breaking stereotypes.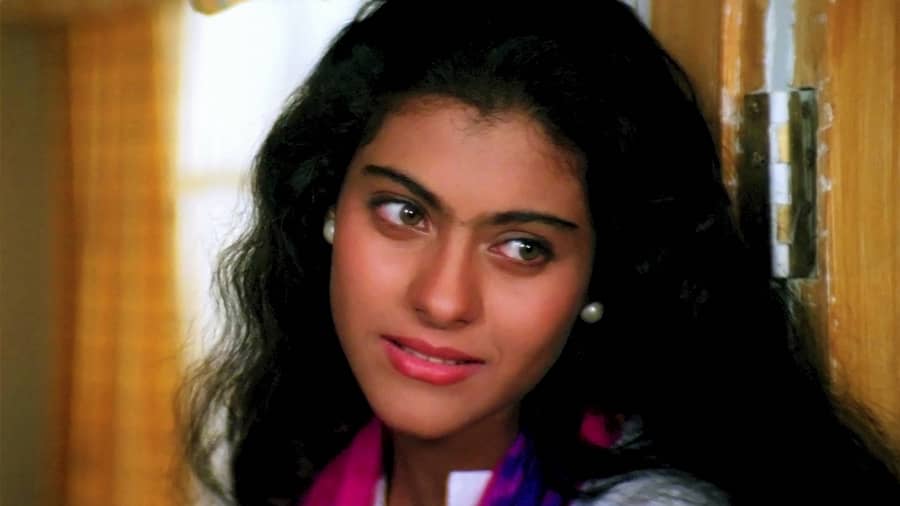 IMDB
Mere khwabon mein to Mehndi laga ke rakhna, the songs are evergreen
The Dilwale Dulhania Le Jayenge songs never fail to give a rush. Most of us grew up jiving to Mere khawabon mein. Mehndi laga ke rakhna, on the other hand, remains one of the most used songs in weddings.
My favourite is Tujhe dekha toh, sung by Lata Mangeshkar and Kumar Sanu, even if just to watch Simran run into the arms of a leather jacket clad-Shah Rukh.
The songs also hint at the events about to unfold. Raj sings le jayenge dilwale dulhaniya le jayenge while accidentally holding the hand of Preeti (Mandira Bedi) and Simran retorts with kahi pe nigahe kahi pe nishana.
Rewatching Dilwale Dulhania Le Jayenge on the big screen is an unforgettable experience. A houseful crowd cheering for Shah Rukh makes you realise his impact as a romantic hero who doesn't have to beat up goons to make you fall in love with him.