Webinars across time zones pay tribute to Soumitra Chatterjee
Bengal Heritage Foundation in UK paid a stellar tribute to the 'man of the masses'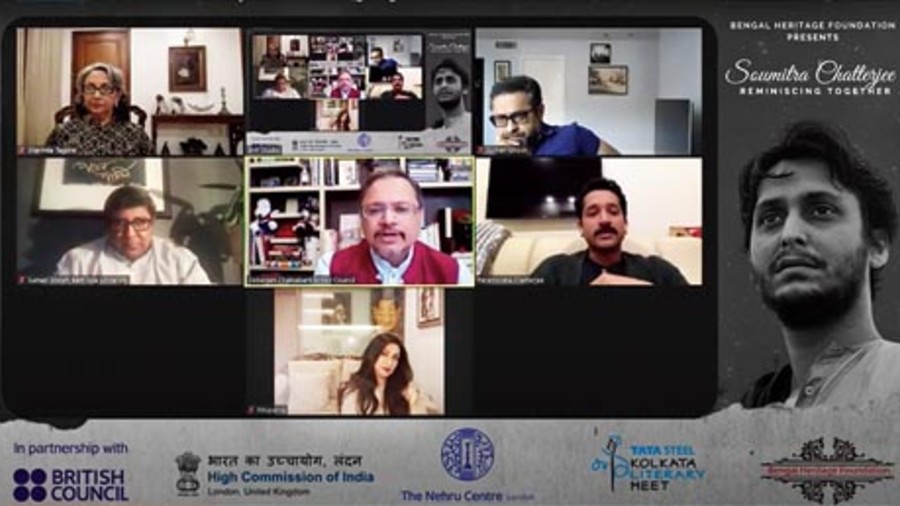 A glorious tribute to the actor over an online session went on for two-and-a-half hours because nobody in the audience wanted it to end
Sourced by the correspondent
---
Published 03.12.20, 12:48 AM
|
---
Living away from your homeland begets a sense of longing for objects and people that strictly contribute to your definition of home. For Bengalis around the world, these objects and people can often be named with ease and, needless to say, actor and intellectual Soumitra Chatterjee formed the very definition of this list.
As the world mourns the demise of this stalwart on November 15, Bengal Heritage Foundation paid a glorious tribute to the actor over an online session that went on for two-and-a-half hours because nobody in the audience wanted it to end. Held in association with the British Council, the High Commission of India in the UK, The Nehru Centre London and Tata Steel Kolkata Literary Meet, the session was titled 'Soumitra Chatterjee: Reminiscing Together'.
Bengal Heritage Foundation comprises Bengalis in the UK who strive to preserve Bengali art, heritage and culture — interests that define being Bengali as one would readily say while complying to stereotypes. Part of their Think Tank series of webinars led by Bidisha Datta, this session managed to get together people who have worked in the past with Chatterjee at different phases of his life and career.
While there was Sharmila Tagore, his first heroine, speaking about her experience of watching Manik-da (Satyajit Ray) and Chatterjee create magic on the sets, there was Parambrata Chattopadhyay, who had the privilege of directing Chatterjee for his last film, his biopic named Abhijaan. There was Suman Ghosh, director of Podokkhep, which won the National Award for best film and also won Chatterjee his National Award for best actor, and there was Rituparna Sengupta, who self-admittedly played his daughter innumerable times in Bengali potboilers since time immemorial. Participants joining in from various places including India, the UK, the US and Singapore made this session a true testament to the star who chose to redefine the idea of stardom as we discovered in the course of this session that was beautifully moderated by Debanjan Chakrabarti, director of British Council East and North-East India, and Suman Ghosh, professor of media at Bath Spa University, UK.
In this era of social media noise, for an online session across time zones to have garnered thousands of views and hundreds of likes and shares with over 500 comments, is a sign of how Chatterjee's presence on-screen and off it left an indelible mark in everyone's minds. The session was introduced by Gaitri Issar, the high commissioner of India in the UK and had Barbara Wickham, minister of cultural and education affairs, British High Commission in India, and director, British Council India; Amish Tripathi, author and director of Nehru Centre London; Malavika Banerjee, director of Kolkata Literary Meet, and Koushik Sen, actor and thespian.
A few common words kept resounding throughout these short introductions to the actor, to the goosebump-inducing soundtrack of Ray from Feluda in the background — charming, intellectual, cool, curious and generous. Amish, who studied and spent a considerable amount of time in Bengal, spoke about being introduced to the star when he watched the picturisation of Feluda after having read the translated novels by Satyajit Ray. "In my mind, the personification of Feluda was Soumitra Chatterjee. I watched Sonar Kella and, as a child, my first thought was 'Man! What a cool guy!' And this led to a flurry of comments from viewers in complete agreement!
Be it getting engrossed in a session on North-Eastern literature at KLM to sending Koushik Sen's father a letter inviting him to be a part of Shyambazar Theatre and kickstarting his acting career, Chatterjee was a man of the masses. Reflecting on his contribution to films and theatre, Sen said, "He believed in professional public theatre, even at the lowest phase in the late '80s. When bad quality productions were becoming the norm, he created some stellar work because he believed in it."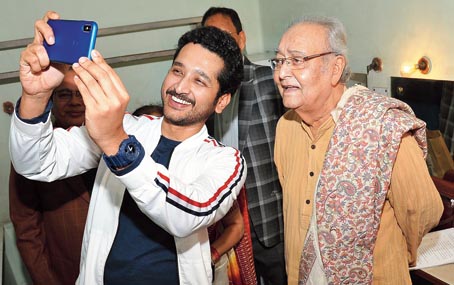 "He was a man of intellectual ferment," began Parambrata Chattopadhyay who admitted to facing difficulties using past tense to refer to Chatterjee, so unacceptable is the stalwart's demise. Having studied and spent copious amounts of time with the late actor for his biopic, Parambrata reflected on the legacy of the author that must take into account the large diaspora of Bengalis in Bangladesh who justifiably claim him as their own.
Chatterjee's earliest influences went beyond the scope of voracious reading and extended to his seniors and peers like Shakti Chattopadhyay, Sunil Gangopadhyay, Sisir Bhaduri, and his conversations at Coffee House, but his biggest influence remained Tagore. The walls of Chatterjee's study had portraits of Raja Ram Mohan Roy and Rabindranath Tagore, and while that raised questions about the absence of Satyajit Ray, there was a plausible and heart-warming reason behind that. "It's no wonder that he didn't have a portrait of Satyajit Ray in his study because he was not a man who lived by his professional fame and accolades that he had accumulated over the years. He lived by the intellectual core of his existence and the fundamental ideas that made him an artist," explained Parambrata.
Sharmila Tagore reflected on her on-screen pairing with Chatterjee, the positive reception of which continued over decades, despite them not having acted in too many films together. "We began our journey with Apur Sansar when I was 13 and he was 23 and the complete fortitude, optimism and joy with which we faced life seemed to have struck a chord with the audience, which resonated for decades in both the Bengals. And that continues to live on, so much so that Apu and Aparna in their collective imagination is the most romantic pair, only after Romeo and Juliet perhaps" she said.
She went on to talk about the 'committed actor' that Chatterjee was who would be found helping out on sets with dialogues, even if he didn't have a scene to shoot and would build a complete backstory in his mind of a character he chose to play. A thoroughbred professional, off the set he was a riot, agreed both his co-stars Sharmila and Rituparna. While addabaaz was the adjective used by Sharmila, Rituparna spoke of endless conversations over 'muri makha' post-shoot. He could recite and he could regale his audience with anecdotes so time spent with him was always special.
When director Suman Ghosh was asked why he chose to cast Chatterjee in his films, he joked "Parental pressure" and then went on to describe how Chatterjee was the only option at a certain point of time, so much so that there were films written and made keeping him in mind. Sharmila was also asked about the dreaded Uttam vs Soumitra debate while journalist Naman Ramachandran spoke about his worldwide fame, something he surprisingly never strove towards.
The glorious session is available, replete with anecdotes and information, on the Bengal Heritage Foundation social media pages and if you have loved the man, poet, actor and author at any point in your life, this is something you definitely wouldn't want to miss.