Ask anyone in Los Angeles about the "desert", you may get smacked by two very different answers. The Long Island-sipping life of Palm Springs or the untamed, raw beauty of Joshua Tree. The extreme beauties are channelled through Patricia Arquette's character Peggy in the new Apple TV+ series, High Desert.
Peggy can be loveable, unbearable, the friend that we need, the neighbour whose life we want to peek into and the family member we don't want to talk about. When we first meet her, she is busy with federal drug agents raiding her family party. Her husband, Denny (played by Matt Dillon), is seen shoving packets down the drain faster than Lorraine Bracco in Goodfellas.
The scene rolls down a few years and we discover a new Peggy, one with all the flaws we are used to seeing in people (and in ourselves). Nobody wants her around but she can't be just wished away. Peggy is smart, clings on to drug-infused memories, but she is also a caring, determined person. There's something fresh about Peggy that is usually not seen on the screen.
"It is sort of loosely inspired by one of our writer's sisters. And then I had loved and known a lot of different addicts throughout my life, many unfortunately passed away. I loved them but they were very complicated people. You could never really talk sense to them. They had a little different way of looking at things. Peggy also was put into a parental position when she was just a kid. So she's got this whole hustle going. She doesn't want to really look at her own pain.
"Then she's got Denny in her life… the love of her life is as messed up and complicated and confused and wonderful as she is. We got Matt Dillon to come in, and he just made this material even better, and it was just thrilling with each actor to see what they brought," says Patricia Arquette over a late-night call.
Truthful representation
The Academy Award winner was brilliant in the 1993 film True Romance, written by Quentin Tarantino. In it she is joined by Christian Slater, playing newlyweds on the run from the mafia after stealing a shipment of drugs. High Desert is a completely different gig.
Her character Peggy has to resist the urge of falling back into drugs, ensure mortgage is (more or less) paid on time, deal with the loss of her mother, handle a job that's not up her alley and then she takes it on herself to become a poor version of Sherlock Holmes for almost-broke private investigator Bruce Harvey (Brad Garrett).
The first few episodes have Arquette all the way before Denny (Matt Dillon) steps in. Peggy wants to divorce the manipulative husband but, then again, he understands her well. Further, she needs his help to pull a fast one over one Guru Bob, a man with a forged Picasso and Cezanne.
"I know a lot of people like this. I kind of could relate to these people; seem very real to me. Denny is Denny and Peggy is Peggy… I don't know anybody exactly like them but it's very truthful. Because these characters are based on somewhat real people, I thought it was very truthful in that way. That's why I like the material and script and the characters," says Dillon.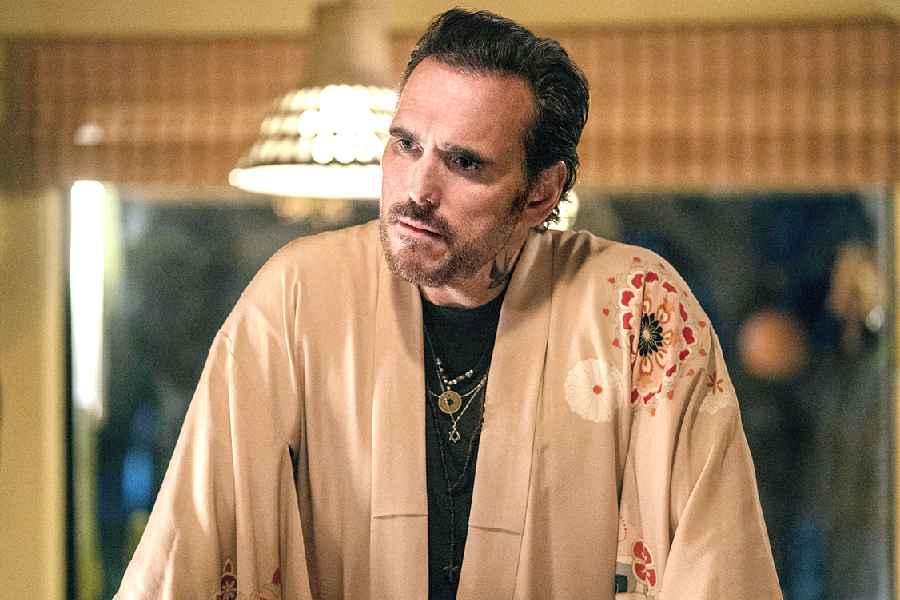 Matt Dillon in a scene from High Desert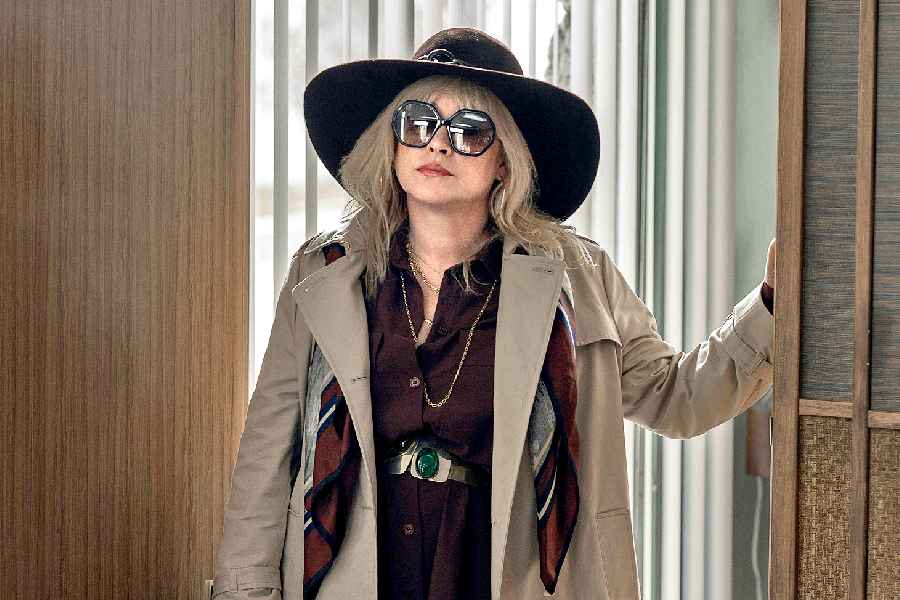 Patricia Arquette plays the role of Peggy
At times you may be reminded of Better Call Saul but High Desert is a completely different game. The flashbacks Peggy has of her mother, her way of dealing with loneliness and her attempts at keeping her siblings happy make High Desert a brilliant watch. There are farcical elements but they are weaved in brilliantly to complement some heavy themes.
"They say there's not a lot of difference between cops and robbers. That adrenaline junkie kind of way of living in that kind of wildness… those are these kind of people; they make their own reality, their own moral code. They decide to kind of redistribute wealth. It's crazy but also they're all trying to survive. All of these characters are looking for love and some kind of a way. While these people are very flawed and weak in their own right, in some way, they're addictive and bounce back. They also want to take care of others. They're just complicated," says Arquette.
Complicated and mirrors life
Another standout point about the show is how Peggy's character is drawn. We are usually used to seeing a drunk guy on screen, who can also be heroic. Rarely is a woman character seen in the same mould. Peggy is in the midst of a post-psychedelic chapter in her life.
"I think she has a flaw and addiction, an illness that she's not always mastering and she's trying to do it in her own kind of way because part of the beguiling lie of addiction is that you're smarter than everybody else. So she's trying to manage things in her own way. She does have a beautiful heart and she does want everyone to do well. She has strength and she is a leader. They're both leaders. But they have these integral flaws within them that are self-sabotaging. I love it that women are starting to see characters more and more like this that are complicated, imperfect, and all of these things; I love Peggy and I love her energy," says the 55-year-old actress.
In many ways the show captures the problems and issues seen across the US. American families are more diverse than ever before, making it more baffling. US unemployment figure is down but do these jobs pay enough? Substance abuse continues to build headlines.
"I think the show is very current. It takes a kind of humorous look at things and it's not a heavy-handed message that it delivers. I like that the characters are based on real people. They're not like composites of some message or some symbolic thing. I can't play a symbol, you can't play a symbol, you have to play real people. Of course, it reflects addiction; that's an ongoing problem. I think we all want our characters to have flaws and obstacles and things that they have to at least try to overcome; that's where the tension is. And that's what we're going through in this sort of a messy world. It's a dysfunctional family. I think most families are somewhat dysfunctional, in my experience," says Dillon.
Arquette is quick to add the economic angle. At the moment, there is a canyon separating what people think about the economy and what data says about the topic. Many believe that the jobs that are on offer don't pay enough to live on. Corporate profits have shot up, but wages remain flat. She says, "There are shadows in society right now. Addiction? Yes. Economics? How am I gonna hustle to keep my family house? I already got a job. Now I got to get another job. How does anyone stay above water? Those kinds of things. These are common human stories also. There's love and there are dumb mistakes throughout this whole thing for all of these different characters. Those have been a part of comedic storytelling throughout human history."
Talented actors can make a show shine if the narrative can break the mould, which it does in the case of High Desert, created by Nancy Fichman, Katie Ford and Jennifer Hoppe, and directed by Jay Roach. Arquette is warm and a bundle of energy while Dillon is a confident dude who can make any character appear real.
"Watching Matt in the dining scene was incredible. As an actor, there are a few moments in your life on a set where you go: 'Oh, my God, what're you doing?' That was like one of the great experiences for me," says Arquette. Her co-actor too has the kindest of words for her. "I always wanted to work with Patricia. I was blown away with what Patricia was doing throughout and she is really committed."
As the ball lands in Arquette's court, she delivers a powerful forehand. "I always wanted to work with him…. He's such an honest actor. I kind of feel this thing with Matt: We could have grown up on the street riding bikes together, we could have known the same people, we grew up at the same time and kind of knew some similar types of people."
If you are looking for one reason that will make you watch the show, it's the liveliness of Arquette. She is the candle that never burns out.
"There's a lot of love in this story. There are elements of it that reminded me of my sister, Alexis (she died in 2016). I wanted to celebrate Alexis too; her style and love of things and living a little bit on the fringes. Those were all things that I really wanted to celebrate too. I love this love affair that Denny and Peggy have with each other. It's very deep."