Village Rockstars: Defiantly a feminist film
In our lookback this week, we focus on the gutsy yet subtle film streaming on Netflix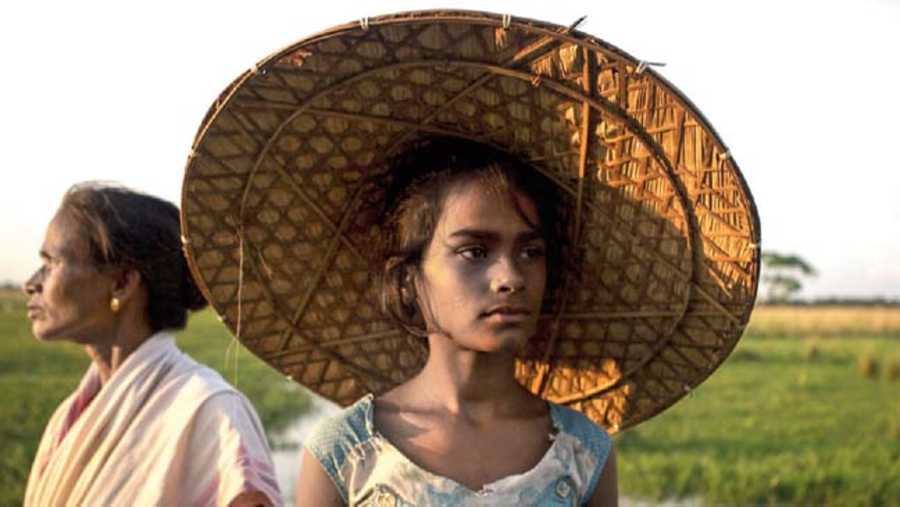 ---
Published 05.08.21, 12:23 AM
|
---
The 2017 film Village Rockstars, directed by Rima Das, is a first for many reasons. A large part of the regular audience may have missed this independent film made on a shoestring budget by a debutante Assamese director, featuring mostly non-actors. But, Village Rockstars demands your attention. It is the first Assamese feature film to have won the National Award for Best Film. It also is the first Assamese film to have been sent to the Academy Awards as India's official entry in the Best International Feature category. Despite the burden of national and international recognition, this is one film that represents India in an unusually calm, unhurried manner, that is as intimate as it is expansive.
At the centre of it is Dhunu (Bhanita Das), who helps her widowed mother (played by Basanti Das) with her daily chores. She climbs trees and picks out betel nuts, hangs around with a couple of boys from her class, plays with her goat Munu and learns to swim. But her dream is to own a guitar some day and have her own band. Until that happens, she makes a guitar for herself out of styrofoam.
Director Rima Das lets these instances flow along with such integrity and honesty, it seems as if nothing much is happening at all.
But beneath the calm surface, there lies a stark attention to detail in the way the inhabitants of Chhayagaon village survive through poverty and disaster. One particularly moving scene just follows Basanti as she makes her way from the market to her hut, when it starts to rain. She has to cross a stream and she tumbles, but gets up immediately, accustomed to the vagaries of the place. There is not a single hint of fear or helplessness in her stature.
When the village floods, the only embankment made of bamboo is washed away, and the newly planted crops are submerged before harvesting season. Dhunu recollects how her father drowned in one of these floods many years ago as he did not know how to swim. Following these scenes, we see Basanti teaching Dhunu how to swim. It is important for Basanti to teach her daughter how to swim as swimming becomes the metaphor for survival in a world that is unforgiving and hostile, where all dreams do not come true.
Village Rockstars is also a defiantly feminist film where the political undertones of being a woman is served up from an early age. Dhunu's circle of friends consists of the local boys, with whom she climbs trees and roams around through the day. When the women from the neighbourhood complain about her 'reckless behaviour' and instruct her to mend her ways, it is Basanti who comes to her daughter's rescue. She scolds her but does not dictate her to conform to any rules to please anyone else. Das directs these scenes just as any other scene, without any dramatic tension and scrutiny, underscoring a powerful act of defiance against patriarchy to powerful effect.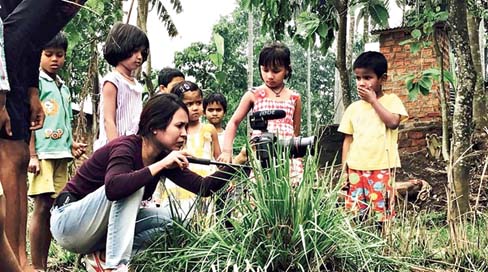 When Dhunu gets her first period, the women of the village pull her inside her home and instruct her not to leave. "She can't see a boy and is not allowed to eat rice," they say. She is made to wear a sari and put vermillion on her forehead, and other customs follow. She stays inside, unable to understand what is happening, silent as ever. When her period is over, she reclaims her freedom and climbs the tree again, in her same crumpled frock. This entire segment unfurls without making a dramatic statement about empowerment. It pays off superbly, as Das shows her audience to treat these customs without any importance, and move ahead with what life has to offer. Infusing any dramatic rendering into these acts of patriarchal customs would have shaken the defiance that envelops Village Rockstars so imperceptibly.
Village Rockstars is an important cinematic work that has a firm hold on its roots and dares to confront it in the most subtle way. Dhunu's livelihood is threatened both by her environment as well as her position in society. The floods damage the crops every year and drown half of the village, and she is relegated to the confines of her neighbourhood where she has to 'fix' her behaviour. But she manages to overturn both — learning to swim and going against the diktat to not climb trees or play with boys. In doing so, Das brings alive a deeply rooted location and culture that rings universally true in its daring.
Village Rockstars is streaming on Netflix