Vasan Bala's Monica O My Darling is a whodunnit and much more
Frontlined by Rajkummar Rao, Radhika Apte and Huma Qureshi, the movie gives a hat tip to the stalwarts of Indian noir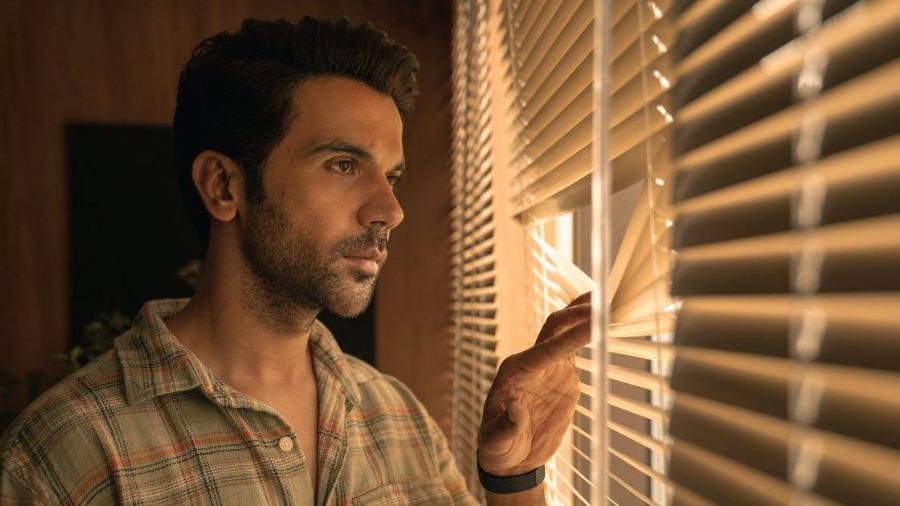 Rajkummar Rao is in top form as a techie with a rags-to-riches story.
IMDB
---
Calcutta
|
Published 11.11.22, 08:05 PM
|
---
Netflix's Monica O My Darling, frontlined by the trio of Rajkummar Rao, Radhika Apte and Huma Qureshi, is fun on so many levels! It gives a nod to Indian noir stalwarts like Vijay Anand and Sriram Raghavan, casually throws in pop-culture references and, to our delight, sizzles with foot-tapping melodies and smoking hot visuals from time to time.
How the plot thickens
Jayant Arkhedkar (Rajkummar Rao) is a self-made techie working at a big firm. He helps develop a state-of-the-art robot and soon makes his way to the boardroom, much to the chagrin of the company owner's son, Nishikant. But Nishikant's sister, Nikki (Akansha Ranjan Kapoor), falls in love with Jayant, who is already smitten by his colleague Monica Machado (Huma Qureshi). 
After a brief fling, Monica informs Jayant that she is pregnant with his child and blackmails him for money. Jayant's tribulations begin when he becomes part of an elaborate conspiracy to knock off Monica. As a series of bodies start to pile up, an eccentric cop, ACP Naidu (Radhika Apte), enters the scene.
Power-packed performances
Monica O My Darling is headlined by some of the finest actors of the industry who raise the bar with their performances in this neo-noir drama. Rajkummar Rao is in top form and slips into Jayant's character effortlessly. Huma Qureshi leaves a solid impression as the gold-digger secretary who can go to any length to bring home the bacon. Monica is surely one of Huma's most accomplished performances till date. Radhika Apte has limited screen presence, but pulls it off with her effortless comic timing.
Clues for cinephiles
Monica O My Darling is a testament to Vasan Bala's love for cinema as it keeps the viewer on their toes. With frequent references to other thrillers and noirs, the movie invites you to jog your memory and smile at the visual allusions. Jayant switching cities to execute a murder plan will surely elicit memories of Sriram Raghavan's Johnny Gaddar (2007). The Khandala room sequence is a hilarious follow-up. There are femme fatales exuding their lustrous charm while dancing to cabaret numbers from the 1960s and '70s. The eerie score that sets the mood is //a// hat tip to Hitchcock's Psycho (1960). 
Suave writing, smart cinematography set the mood 
Monica O My Darling is more than just a whodunnit. It's an intense joyride packed with twists and turns. It has perfectly adapted Japanese author Keigo Higashino's mystery novel Burutasu No Shinzou to the Indian context. Yogesh Chandekar's writing did the magic. Despite a plethora of murders and gore in the script, he lightens the mood by sprinkling the screenplay with copious amounts of humour. A key character in the film mutters, "Dheel nahin dene ka, tight rakhne ka." That is exactly what the makers have delivered.
Swapnil S Sonawane's cinematography and Mansi Dhruv Mehta's production design drum up the noir-quotient of the film. Abhilasha Sharma's costumes capture the mood of the dark comedy. Atanu Mukherjee's sharp editing skills add pace to the narrative, enabling the audience to keep their attention for over two hours.
Songs sung true
Achint Thakkar's music is one of the highlights of the film. The retro compositions are instant earworms. Yeh Ek Zindagi sung by Anupama Chakraborty Shrivastava is the perfect ode to Asha Bhosle. Farsh Pe Khade and Bye Bye Adios, Love You So Much and Suno Jaanejaan will definitely make you sway and swing.