Uunchai: Sooraj Barjatya's comeback film is his most gutsy yet
Uunchai, starring Amitabh Bachchan, Anupam Kher, Boman Irani, Sarika and Neena Gupta, is running in theatres in the city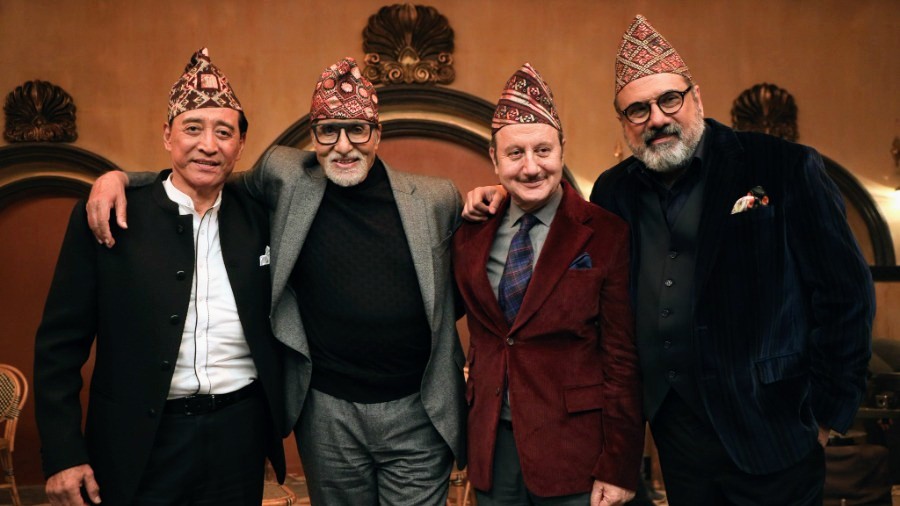 ---
Mumbai
|
Published 11.11.22, 07:58 PM
|
---
Sooraj R. Barjatya's Uunchai is unlike any Rajshri film, yet it's very much a Rajshri film. Unlike the director's previous films, it's not set inside a studio. Instead, the director has ventured into the wilderness of the Himalayas. 
The story is about a group of old friends — Amit, Om, Javed — going on a trek to the Everest Base Camp (EBC) to fulfil their late friend Bhupen's last wish. There's a thing about travelling or a journey; the farther you go, the closer you get to yourself and your loved ones. Around this time last year, I went on a Himalayan trek in Uttarakhand, a climb of almost 13,000ft. So, this film served as a major throwback to that trek. The EBC is at around 17,000 ft. This is a daunting task for anyone, let alone people in their 70s.
The stakes are high, for the trek and for each character's journey. Every character has a backstory and space in the film. Leading the pack is the monumental Amitabh Bachchan as celebrated author Amit Shrivastava. Anupam Kher as Om Sharma runs an old bookstore. Boman Irani as Javed Siddiqui runs a boutique shop for women's wear. Danny Denzongpa plays Bhupen, a retired government officer. Bhupen has been trying to convince the other three to climb to EBC but they keep postponing the plan. Till Bhupen's death becomes a realisation for Amit first, who then convinces Javed and Om to embark on the journey.
I won't reveal more about the plot because I hate giving away spoilers. But, this is the 'most plot' a Sooraj Barjatya film has ever had. Most of his films, by his own admission, have been about moments and characters. That's what I meant by the first sentence of this review. The director has maintained his core beliefs and values while venturing out of his comfort zone. And boy, has he gone out with total conviction and control. The sequences shot in the Himalayas are breathtaking. Equal credit must go to the director of photography, Manoj Kumar Khatoi. The visuals give you a feeling of being in the Himalayas. Even the chroma shots are done nicely. These shots include the portions of Bachchan, who couldn't climb that high due to health issues.
The women in the film have smaller roles but they have their own space and identity. Neena Gupta plays Javed's wife Shabina. Gupta and Irani make their chemistry work as husband and wife. Parineeti Chopra, the youngest of the lead cast, plays Shraddha Gupta, a tour guide. Parineeti, like in most of her films, has an affable screen presence. But the role that I liked the most was that of Mala Trivedi, played by Sarika. Mala is separate from the group. She has an aura of mystery about her when she is introduced to the group. As her story unfolds, we get to know more about her. Mala's backstory is one of the most achingly beautiful stories I have seen recently. While I'm writing about characters, I must mention that the acceptance of self, the shallowness of a celebrated identity, which you will see in Bachchan's character, is praiseworthy.
Here's another example of what's changed in Sooraj Barjatya's filmmaking and what hasn't changed yet. The atmospherics have changed, the blocking of his scenes has changed, and the pitch of actors' performances in his films has changed. What hasn't changed though is his attention to detail. The continuity of looks, which in this case means how the looks change as the characters progress through the trek — the tanning and dryness of the skin, bruises on the face because of the cold, and the fatigue in the  body language — everything is done in great detail.
Amit Trivedi's music keeps the mood elevated. I liked Keti ko and Ladki pahadi in particular. The story by Sunil Gandhi is heart-warming. But stories are not enough in films. A film requires a good screenplay. The screenplay (Abhishek Dixit) here is simplistic and takes its own sweet time to unfold. At times, one might feel that certain scenes could have been written more cinematically – use the 'show, don't tell' principle. In certain scenes the characters speak to describe what's already been seen. The dialogue (again Dixit) is natural for the most part. In some moments you may think that the characters are saying a line written by a writer — in other words, "dialogue maar raha hai". But I guess that's how families and relatives are. We are a little filmy and borrow sayings that we have read or heard.
I have discovered a new lens to watch family dramas. I treat them as if I am dealing with a family in real life. I like them in parts; I tolerate them in parts; I laugh at their silly jokes and cut some slack for something that didn't quite work out for me. That's the way I could enjoy Jugjugg Jeeyo better than I would have if I had not changed my lens to watch the film differently. 
Uunchai in that regard is a superior film. It is simplistic, yet nuanced. The resolutions to the problems come more easily than expected. But families are like that, no? We are not overly dramatic people who want to give each other a tough time intentionally.
Fortunately, Uunchai is not a melodramatic film, which is usually the case in films involving old people. Neither is it filled with too much niceness. The differences in interpersonal relationships are dealt with from a humane perspective. In a 'reverse of Baghban' scene, Bachchan tells his old friends not to be mad at their kids for not inviting them to a party. When they were young, they didn't take their kids to all the parties or movies that they went to. In any other film, this scene would have become a rant. But the good ol' goodness of Rajshri films makes this scene an introspection. There are many such moments of smiles and light-heartedness. But the film left me equally heavy-hearted in some of its crucial scenes. Overall, Uunchai is much more than a family entertainer. There's something for everyone in the film.