Tumbbad is a chill-fest
Touching upon various genres and spinning a story that blurs the lines between fantasy and horror, Tumbbad is not an easy watch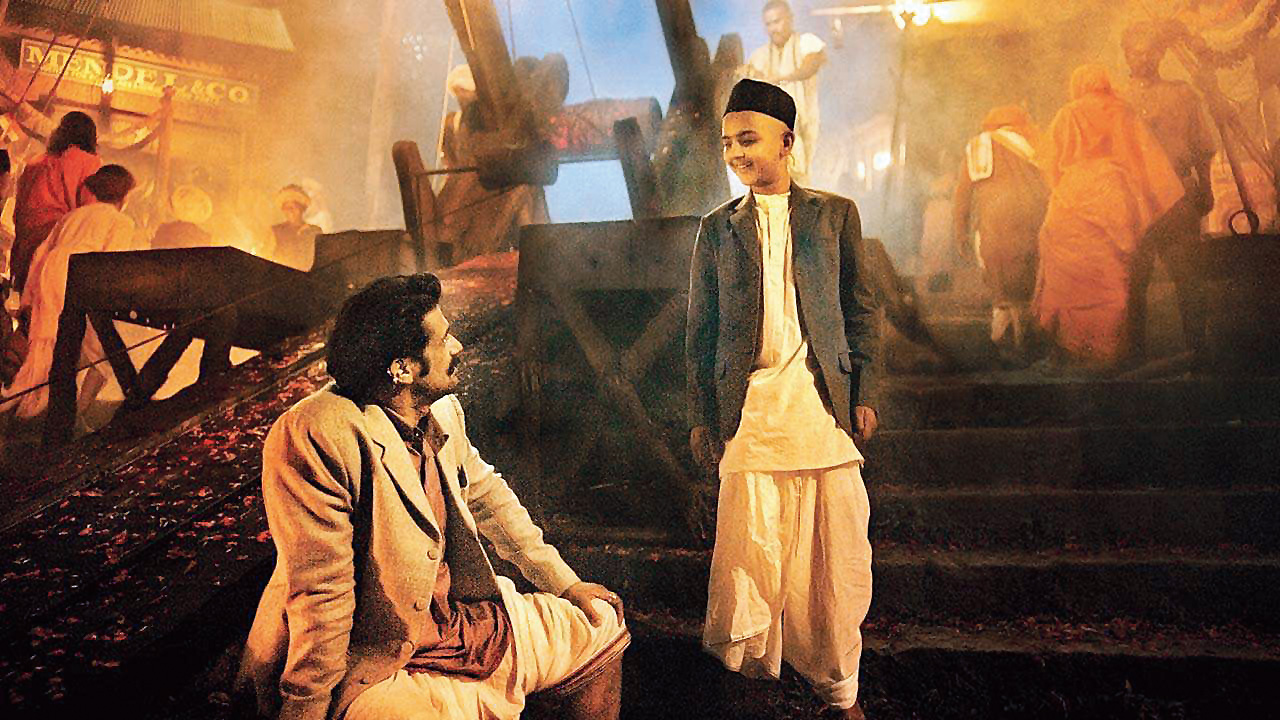 A still from the film Tumbbad which releases on Friday
Agencies
---
Published 11.10.18, 02:46 PM
|
---
A heady blend of mythology and mystery, horror and history, Tumbadd is a visually rich experience that transports you to a world of fantasy and folklore. It's also a morality tale — the film starts off with Mahatma Gandhi's famous words: "The world has everything for everyone's need but not for everyone's greed" — and spans a tumultuous period in India's history, from 1918 to the time following its Independence in 1947.
Painting a world that seems to belong more to the storyboard of Guillermo del Toro's films than Bollywood, Tumbbad's first hour, replete with elements of magic realism, sets the tone for the rest of the film.
In the village of Tumbbad, ensconced somewhere in the heartland of Maharashtra, a God called Hastar guards an ancient treasure in the dark recesses of the earth, wreaking havoc on anyone who tries to get hold of it. For centuries, the village's Rao family has been guarding the treasure zealously, but has had to pay for it. The truant God has claimed many from the family, including their grandmother who's now been reduced to a demon — a chilling amalgamation of visual effects and make-up — and can only be kept alive by feeding her when she sleeps.
Directors Rahi Anil Barve and Adesh Prasad create a feeling of dread from the start. The horror tropes are classic — it rains incessantly in Tumbbad and there is a constant play of light and shade — but the film uses atmospherics with novelty. The result is a chill-fest that will make your jaw drop in parts, but will also make your stomach churn.
Touching upon various genres and spinning a story that blurs the lines between fantasy and horror, Tumbbad is not an easy watch.
Forced to leave his ancestral home after a horrific episode with Hastar in which he loses his young brother, Vinayak (Ship of Theseus man Sohum Shah) returns to Tumbbad as a young man. Consumed with greed, Vinayak is willing to plunge to any depths to get his hands on the treasure, constituting primarily of gold coins. In a scene that will make your skin tingle, Vinayak discovers that his grandmother is still alive below the earth, but driven by avarice, he doesn't think twice about killing her before laying his hands on a part of the gold.
Every time he goes back to Tumbadd to bring home some gold, it manifests in Vinayak's lifestyle — bigger house, his fingers dripping with rings, more trips to the brothel — but the fun and laughter goes out of his life. Vinayak's self-destruction finally leads to an end that's horrific but also packs an important life lesson.
Quite unlike anything we've seen in Hindi cinema, Tumbbad has no references and scores with its newness in both storytelling and structure. Divided into three chapters, the film has a strong socio-political context, often sidelining the horror to talk about everything from patriarchy to the position of women. However, even at 114 minutes, the pace is indulgent and the monsters, though intriguing at first, soon lose their creepy factor.
It's a strong central performance by Sohum Shah and Pankaj Kumar's evocative cinematography that make Tumbbad stay with you.