Top 10 Anime websites Of All Time - Ranked 2021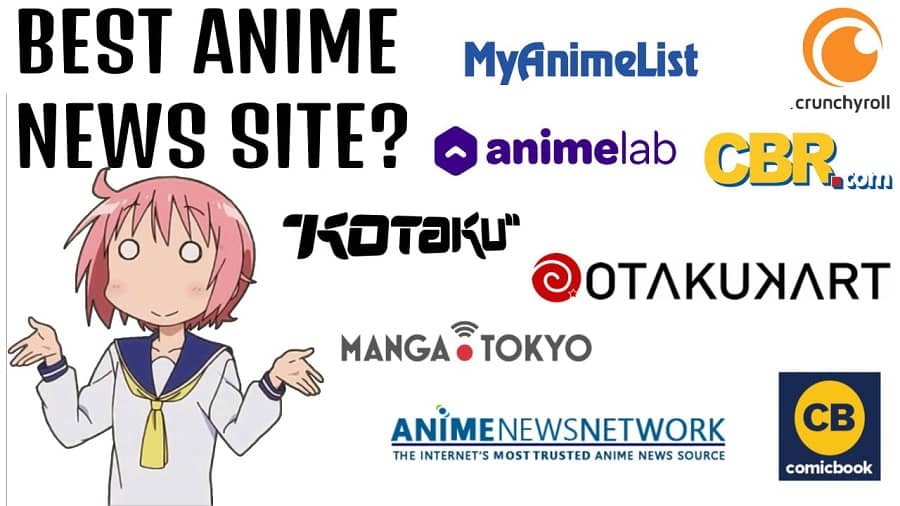 ---
Published 07.07.21, 03:30 PM
|
---
News Network
One of the most famous and well-known official sources for all anime news ANN or Anime New Network sits in the number one position. Started back in 1998 by Justin Sevakis and fellow otakus, the site is based in Canada. The team is also behind a themed magazine titled 'Protoculture Addicts', which covered large mainstream anime and manga. Later in 2008, this sister project of the ANN team came to an end following a downfall in the American Anime market. This didn't stop the ANN team from progressing with their original project of Anime News Network. The site now offers an Encyclopedia level knowledge base and Updated news for its fans. The company operates on various regional-based site which caters to specific audience form the United States and Canada, Australia and New Zealand, and Southeast Asia.
Otakukart
Otakukart is a brand new Anime News Oriented website that was started back in 2015 with the name "AnimeBlog." The company later grew itself and now provides up-to-date information on every anime and manga available. Otakukart is based in India and was started to give voice to Indian Anime Fans as prior to this, there was no formal representation of Indian Anime Fans. The company caters to its fans online with new information and recommendation and works on the ground to help the community. The company has been really active in the donation and welfare of covid affected part of the Indian Community. Recently Otakukart has expanded its audience base and now offers information on Anime, Manga, Manhwa, South-Asian Drama, Hollywood news and has also acquired SportsNews and Automobile News websites.
Crunchyroll Blogs
Started as an illegal streaming site Crunchyroll, Inc. has now become an American distributor, publisher, production, and licensing company focused on streaming anime in the region while also producing famous titles like "The God of Highschool" The company also has its own news blog officially on their site where they update about everything going on the anime industry. Founded in 2006 by a bunch of Otakus University of California, Berkeley students, the company now has become a titan in Anime Industry. The company offers over 1,000 anime shows, more than 200 Kdramas, CDramas, and Tdramas to users, and more than 80 manga titles as Crunchyroll Manga, although not all programming is available to the worldwide audience due to licensing restrictions. Crunchyroll passed one million paid subscribers in February 2017 and has over 3 million paid subscribers as of 2020.
MyAnimeList
MAL or MyAnimeList is amongst the most famous site among the otaku community. They provide a schedule for each anime alongside providing up-to-date information on anime, manga, and manhwa. The site also provides recommendations based on voting providing top 10 lists as well as a watchlist to die-hard fans. It's not only a News source for fans but also a sort of Social Networking Platform dedicated to Anime & Manga Fans. The site was started back in 2004 by Garrett Gyssler and was maintained by him. Later, in 2008 the site was bought by CraveOnline, which was owned by AtomicOnline but soon, this operation was passed onto DeNA as they purchased this website from CraveOnline in 2015. Post that, the site partnered up with Anime Consortium Japan to enable streaming on their platform via Daisuki, Hulu, and Crunchyroll.
AnimeLab
A streaming service providing fans a legal way to stream their favorite anime alongside that, they also have their blog section where they provide up to date info and news. Originally started under the brand name MadMan the company began to take shape in early 1996. In 2014 AnimeLab started taking shape with originally having just 50 anime series with around 700 episodes. Later major Anime distributors like Siren Visual made a deal to stream their series exclusively on AnimeLab. Just like Otakukart - AnimeLab is also working on ground level to help its community. The company has a tie-up with the Australian Red Cross to promote Blood Donation drives.
Manga.Tokyo
From the 'land of rising sun' itself, Manga Tokyo covers every single update that comes out of Japan. Under the leadership of Tetsuya Okamura, the company has been rising to success. The website was founded back in 2015 under the umbrella of Gradus INC, a company that aims to give the world up-to-date information to fans right from the heart of the anime world, i.e., Japan. The online site is dedicated to bringing fans the fastest update from Anime, Manga, and Games. They also cover Otaku events and concerts happening in Japan, along with reviewing the latest anime shows and events.
Otakumode – TokyoOtakuMode
Tokyo Otaku Mode of TOM shares with the world the latest Japanese pop culture news through its Facebook page, which has over 20 million likes and sells products related to Japanese games, anime, manga, and fashion through its website, the Tokyo Otaku Mode Shop. TOM strives to be the fastest source for delivering world-famous Japanese pop culture content around the globe. Founded in 2012, the company started just as an Anime Shop delivering anime joy to everyone around the globe. The company only recently has made progress on their News&Blogging site. The website provides updated news from Otaku World also provides an in-depth guide to various Anime shows and Manga.
Comicbook – News
ComicBook[dot]com is another well know comic news-based website. It started its journey covering general comic book news along with reporting on science fiction, gaming, and, more recently, anime. The website was acquired by ViacomCBS, which is multinational mass media conglomerate corporation formed after the merger of CBS Corporation and Viacom Entertainment. Comicbook[dot]com has also been accompanied by sister site Popculture[dot]com, and both sites now cover intensive updates from otaku culture. The websites closely follow the manga, anime, and east-Asian entertainment updates.
CBR – Anime
CBR network or Comic Book Resources is a Canada-based website dedicated to covering comic book-related news and updates. The website was started back in 1995 by Jonah Weiland. The website features content written by industry experts and fans. It's a mixture of a geek community meeting with professional critiques to give fans an unbiased and truthful view. In 2016 the Comic Book Resources was sold to Valnet INC, which also owns another famous site, 'ScreenRant.' CBR, along with comic-book news, has also shifted its focus on Anime and Otaku culture, seeing the rise in the otaku fan base. CBR lists and rankings are one of the most famous identifiers for the company, and fans love the theories presented by the company.
Kotaku
Kotaku is a news and opinion website which focuses on Gamers and Gaming but also has been into Otaku culture and update. The company is under the umbrella of Gawker Media. The website provides daily Anime and Gaming Updates to fans.