Tollywood 2022: 4 best Bengali films of the year and some that made a mark
Anirban Bhattacharya's Ballabhpurer Roopkotha, Prasun Chatterjee's Dostojee and Ishaan Ghose's Jhilli lit up an otherwise dismal year for Tollywood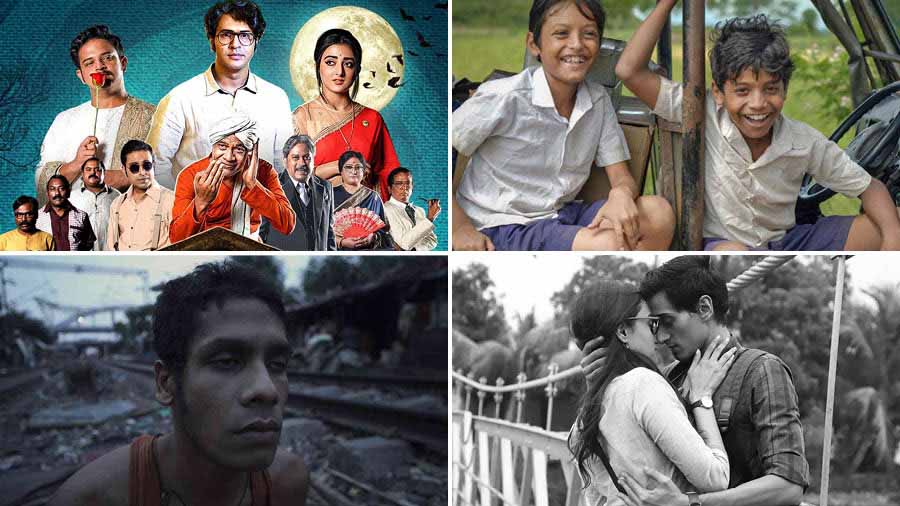 ---
Calcutta
|
Published 29.12.22, 04:24 PM
|
---
It was the best of times, it was the worst of times. And one Bengali film in 2022 epitomised both. Aparajito, the story of the making of Satyajit Ray's Pather Panchali, became a monster hit, infusing much-needed cheer into a despairing industry grappling with commercial failures. At the same time, the film symbolised what is wrong with the industry when it comes to imaginative storytelling. Of the 75-odd films that released during the year, only a handful made the cut in terms of the art and craft of filmmaking. 
I was hampered by the unavailability of some of the bigger films, for example, Parambrata Chattopadhyay's Abhijaan and Sandip Ray's year-end Feluda offering Hatyapuri, in theatres in Delhi/NCR or on OTT. Repeated requests for Vimeo screeners elicited no response either. And in some cases, one had to make do with Torrent downloads of the films.
The Best 
The state of the industry can be gauged from the fact that I found it difficult to conjure a list of even five good films that made the cut and that could hold a candle to some of the fascinating ones from the south. The industry struck a purple patch with three films in the last quarter – Ballabhpurer Roopkotha, Dostojee and Jhilli – that lit up an otherwise dismal year. But that was just about it.   
Dostojee (directed by Prasun Chatterjee): A moving tale of friendship between a Hindu and a Muslim boy playing out in a Bengal village, and set against the backdrop of the destruction of the Babri Masjid, this was for me the film of the year. Stunningly shot – sample, for example, the sequence where the two boys, Palash (Asif Shaikh) and Safikul (Arif Shaikh) – the performances of the year too – sneak out at night to catch fireflies – Prasun Chatterjee's lyrical film is the kind of cinema the industry should aspire to instead of overblown franchises, lame thrillers and nostalgia-inducing drivel thriving on tired tropes. Audiences went gaga about Aparajito bringing back memories of Satyajit Ray and his debut. However, for the discerning viewer, there was no doubt which of the two evoked Pather Panchali and the films of the master more eloquently.
Ballabhpurer Roopkotha (directed by Anirban Bhattacharya): That a mainstream actor-star, Anirban Bhattacharya, fast emerging as a beacon of hope for the industry, could come up with such a winning narrative without casting himself, and within the limitations of modest budgets and with a non-star cast, shows it is possible to entertain the audience without flogging a dead horse. All it takes is imaginative writing and execution, and a willingness to break the tyranny of playing safe. Ballabhpurer Roopkotha was fun, engaging and intelligent, and its box-office success gives one hope for the industry. 
Jhilli (directed by Ishaan Ghose): Another remarkable debut feature, this is the kind of film that Bengali filmmakers no longer have the aptitude or vision for. Set in the dumping grounds of Dhapa, Kolkata, Ishaan Ghose's almost unbearably real film is an experience as hallucinatory as the narcotic substances that help Bokul (Aranya Gupta), a rag picker, cope with what life throws at him, and as raw and mind-numbing as the experiences of those around him – Ganesh (Bitan Biswas), Guddu (Sayandeep Guha), Shombhu (Shombhunath) and Chompa (Sourav Nayak) – 'the misfits of society whose voices remain unheard … but they do exist', to whom the film is dedicated.
X-Prem (directed by Srijit Mukherji): Interestingly, the three best films of the year came from directors making their first films. The old guard and established names more or less came a cropper – as the list of bad films will show. However, Srijit Mukherji made a welcome return to form with this Eternal Sunshine of the Spotless Mind-inspired tale, an out-and-out love story with a twist of sci-fi that tackles issues of what memory is, in particular what it entails when we talk of romantic memory. 
Here is probably his most atypical film to date (barring of course the quirky Nirbaak), and it is rewarding to see the filmmaker take a leap of faith with a non-star cast, a new composer (Saptak Sanai Das – this for me was the film soundtrack of the year), shooting it in black and white, and with almost all of it playing out in English. Srijit also came up with some delectable poetry. The whimsical note that permeates the dramatic story, and Arjun Chakrabarty's performance, made X=Prem one of the best of the year. 
The Honourable Mentions 
Though Avijatrik, Akash Ongshoto Meghla and Mahishasur Marddini were all completed in late 2021 – in fact I watched all three late last year – the three films had a limited theatrical release in 2022. All three made a mark either with their scale (Avijatrik) or their structure and vision (Akash Ongshoto Meghla and Mahishasur Marddini). 
Subhrajit Mitra's Avijatrik has justifiably won a couple of National Awards and the filmmakers here need to be applauded for daring to make a sequel to a classic like Apur Sansar, and giving it a life of its own. It moved me, particularly for its awesome cinematography and the brilliant background music (by Bickram Ghosh) that deserved the National Award as much as the cinematographer Supratim Bhol. The film also has Arjun Chakrabarty deliver one of the top performances of the year. 
Set almost exclusively in one location, a haunting old-world mansion, playing out over a night, and experimenting freely with form and structure, Mahishasur Marddini is not only Ranjan Ghosh's bravest film till date but also a work that is as contemporary as it is timeless, as local as it is universal in the concerns it addresses. I watched it four times over the year – in screenings at various media schools – and couldn't help but marvel at the filmmaker's conviction every time.
Joydeep Mukherjee's intensely political directorial debut Akash Ongshoto Meghla is a haunting look at life in a metropolis. Giving the film its heft is the fractured narrative and a quartet of splendid performances – probably the ensemble piece of the year – by Rudranil Ghosh, Rahul Banerjee, Damini Benny Basu and Ankita Chakraborty. As also its understated nature, the humanity that underlies the telling. It's a bleak world. And there's nary a ray of light. But Joydeep tells it almost in a matter-of-fact manner, without underlining anything.
Saibal Mitra's A Holy Conspiracy – a never-before-and-never-again coming together of two legends, Naseeruddin Shah and Soumitra Chatterjee – is that rare contemporary film. One that addresses burning issues facing our nation – fanaticism, religious bigotry, superstition and pseudo-science – without beating about the bush, without sugar-coating it in any way, without pulling any punches. And to watch Naseeruddin Shah and Soumitra Chatterjee feed off each other – for that alone Saibal Mitra deserves our gratitude and that alone will ensure the film's place in posterity.
Shantanu Ray Chaudhuri is a film and music buff, editor, publisher, film critic and writer. These are his personal views.