"There isn't a better time than right now to be a female actor"
Young faces Prajakta koli, Zayn Marie Khan, Zoya Hussain, Monika Panwar and Aadhya Anand weigh in, during a chat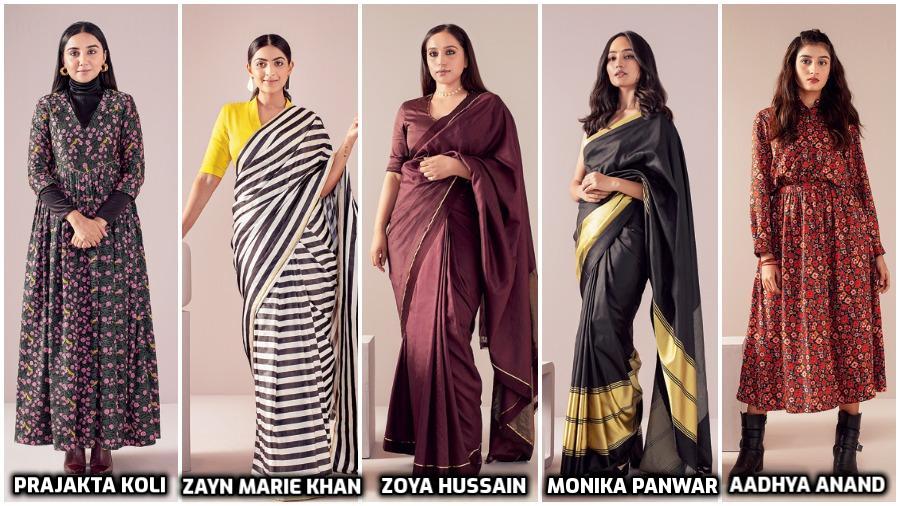 ---
Published 24.03.21, 12:25 AM
|
---
Courtesy Netflix, some promising young female actors, who are progressively making their presence felt on screen, came together for a freewheeling chat with The Telegraph. We chatted with Zoya Hussain (Mukkabaaz, Haathi Mere Saathi), Prajakta Koli (Mismatched), Zayn Marie Khan (Mrs Serial Killer), Monika Panwar (Class of 83, Super 30) and Aadhya Anand (Bombay Begums) on what goes into being an actor in these times, the pitfalls of the profession and what keeps them going.
In terms of opportunity, visibility, level playing ground, what do you make of the times in Indian entertainment that we are living in, especially for female actors?
Zayn Marie Khan: There was a point, about five years ago, when I thought if I wanted to continue being an actor, considering the kind of parts that were available and what I was auditioning for. I feel like there isn't a better time than right now to be a female actor, at least so far, and I am sure it will get better. Now there are so many roles that I actually get to choose from, and I feel I want to do everything that's coming my way right now. 
Zoya Hussain: I would like to second that. Five years ago — even if it was a good film— the female actor's character graph was inconsequential to the plot of the film. What we, as female actors, get to do is so much better now, without a doubt. But there is still a long way to go. I think we can definitely do better and make women feel like real people on screen, and not just a frill or an add-on. But I do think that it's better than ever before.
Monika Panwar: During the time of parallel cinema, I really used to envy and think, 'Main uss time pe paida kyon nahin hui?' I wanted to play those kind of characters and work with those kind of directors. The advent of streaming platforms has brought on characters with arcs and complexities.
Prajakta Koli: I like how, content-wise, the lines are very blurry now. The beauty now is that there is a big pool of content and that's all that our audiences are asking for. So I think a big up to the audience for consuming content that is new and fresh and revolutionary.
A lot more definitely needs to be done. As actors do you think you are limited in propelling the narrative of better female parts forward because you are, after all, not involved in creating content?
Zoya: I think we can do quite a bit. Even two years ago, I would ask, 'Why am I saying this dialogue? It doesn't make sense. Why is my character only reacting? Why am I not driving this?' I was called difficult, troublesome and opinionated, and somehow, being opinionated was a bad word. Now that's actually changed. Now, directors want to do what's best for their film as a whole, and women are now half of it, if not more (smiles). I think what we can do individually and together is to just put out our opinions, kindly and empathetically... it doesn't have to be a fight. But we need to ask for equal pay, equal opportunity, equal treatment.... And the men also need to support it... people in positions of power, people in charge of making decisions have to support it.
Monika: I think we have come a long way. We have left a lot of the stereotypical female characters behind. These days, the writers are also conscious about how they are writing female characters. Even if it's that of a common girl, there is an effort to impart depth to the character. Even if she's chopping vegetables, her mind is ticking. Ab aisa thinking nahin hain ki aap se pyaar kiya jayega, aap sundar banein raho, aapko kuch nahin karna, hero aake aapko villain se bachayega.... I am so happy it's no longer like that.
Zayn: I am just looking forward to a time where it's not surprising that there are real women on screen. A time when people will not be surprised by, 'Oh wow, here's such a strong and complicated female character who is not negative, but is grey in a beautiful way'. I am actually at a point where I am annoyed that it's surprising.
Do you naturally gravitate towards projects that are envisioned, written or directed by women?
Zoya: I don't think any of us, growing up, were made conscious of the fact that we were girls. I can speak for myself and I think for everyone else in this room that I didn't grow up with the conscious feeling that, 'Oh, I must tell women's stories. I must fight for this and that'. I think the older you get and the more experiences you have from an external point of view that makes you realise, 'Oh, everybody doesn't think like this... everybody was not brought up this way, everybody's schooling wasn't like mine....' And with this realisation, you come to a point where your role and your responsibilities become a by-product of that.
Zayn: We don't really want to tell stories about women. We want to tell stories about human beings who have so far been portrayed not as they are, and have been undermined both in society and in the stories that we tell. We need to tell 'human being stories' properly, and with the right lens.
Growing up, what influenced you into wanting to become an actor?
Prajakta: It's a very funny story. Since I was a kid, I have been a big movie fan. I am very filmy, in my head there's always a movie playing (laughs). When I was very young, if I did something wrong and was scolded for it and I found myself tearing up, I would go, 'Okay, I must not waste this!' I would go in front of a mirror and enact a scene that needed emotion and tears (laughs). And somewhere at the back of my mind, I realised I needed to hold on to this. Those moments when I loved performing when nobody was watching made me realise that I want to keep doing this. I grew up when there was no YouTube and there were only movies, TV and radio. I fell in love with the art overall. And there was a time when I didn't even have to know the language. My father used to get a lot of CDs of movies in different languages... back then, we used to even love watching Korean movies without subtitles. I think the expression that came out through cinema that really spoke to me.
So, you were a fan of all things Korean before the rest of the world discovered it...
Prajakta: I was the OG of Korean pop! (Everyone laughs)
What about the others?
Zayn: I didn't know I wanted to be an actor till someone put me on stage. Everything flowed, it was just like music. I knew when to do what because the audience was there as my barometer. It just felt so natural and beautiful. And it made me realise that I had been a drama queen my entire life for this reason. After that, I just couldn't quit.
Zoya: I am not from a film family and grew up away from city life. I was in boarding school and it was important for us to play a sport, play an instrument, or dance or sing or write. I grew up with that conditioning. I actually played the flute and I trained in jazz and blues. I switched to theatre because I was painfully shy and introverted and was shoved into it because I couldn't play sports anymore. So more than anything, it was a need to creatively express myself.
Aadhya Anand: It all started when I was seven. I was playing the protagonist's daughter. I have just loved being in front of the camera, and I have been fascinated by the whole process of film-making. How so many people come together to create something so expressive and beautiful. And that's what made me say that I wanted to do this, I didn't have any second thoughts about it. 
Prajakta: I wish I was like this (looks at Aadhya) when I was 13!
At 13, you were 'saving' your tears and acting in front of the mirror!
Prajakta: I was rehearsing! (Everyone laughs)
Monika: Just like Zoya, I was quite shy. I realised that I wasn't comfortable in front of people, but the moment I stood on stage, I never felt uncomfortable with people's eyes on me. That's the day I told myself, 'Okay, this is my safe place'.
Do you ever question yourself on choosing this profession?
Zayn: About thrice a day! (Laughs) But one of the reasons I was nervous about becoming an actor and so were my parents (Zayn is the daughter of film-maker Mansoor Khan) is this thing called shelf life. You can't choose to get married, you can't choose to have a baby because then that's the end of your career. And beyond a certain age, is there really a career for you? And when I started acting, there wasn't. But I am so glad that I held on and I kept going because now there is. And I love that Netflix is showcasing women of different ages, and not as mothers of lead characters. Women are being showcased as people with their own lives, their own loves, their own issues. Somehow, on screen, we have had the tendency to forget that older people can have interesting lives and that the world doesn't really revolve only around young, beautiful people.
Zoya: We have always looked at the West and said, 'Wow, look at Meryl Streep!' But let a Meryl Streep happen over here! Let a Kate Winslet happen over here! In your 20s, you are just figuring things out. It's only when women are in their 30s, 40s and 50s, that they come into their own... you know who you are, you know what you want to do.... And that's normal, we should encourage this. It's only when you gain experience are you able to portray that experience. We, unfortunately, are conditioned to know acting from films, but one's biggest reference should actually be life and each other... we must encourage that. My fear has not been that much because I know that if I can't act, I will write. The need is to express. But I wouldn't have been able to say this with so much confidence even two-three years ago. 
Prajakta: We do have a Suhasini Mulay, we have a Neena Gupta, we have a Boman Irani.... We have these wonderful performers that we can look up to. Of course, there will always be a slight fear somewhere but I think that's diminishing very, very fast.
Has there been a recent performance, by a male or female, that has reinforced your decision that this is where you are meant to be?
Monika: I recently watched The White Tiger and Adarsh Gourav (who played the protagonist Balram Halwai) was amazing! Adarsh, if you are reading this, I love you! (Laughs) There are some performances that don't let you sleep and this was one such.
Zoya: I recently watched Marriage Story and it devastated me in the most beautiful way. Even while I was howling, I was so happy because it's so real. It's not the best film ever made or the best performances ever, but it's so impactful. I hope we can make something like this, something that is driven purely by text, screenplay and actors.
Zayn: For me, it's not a performance, but a person, and that's Olivia Colman. I recently watched a lot of her work back-to-back and she has the ability to melt and just be a completely different person. The goal of my life is to achieve this at some point.
Prajakta: I haven't watched a lot of content recently. But I remember watching Neena Gupta and Gajraj Rao for the first time together in Badhaai Ho and I was blown away. That was quite a moment.
Aadhya: I really look up to Deepika (Padukone). She is a completely different person on screen. What she brings to the characters she plays truly inspires me. Her presence is just something else.