There is nothing fresh in the opening episodes of Killing Eve Season 4
New showrunner Laura Neal, whose writing credits include Sex Education, retains the standard tropes of dark humour and dreamy soundtrack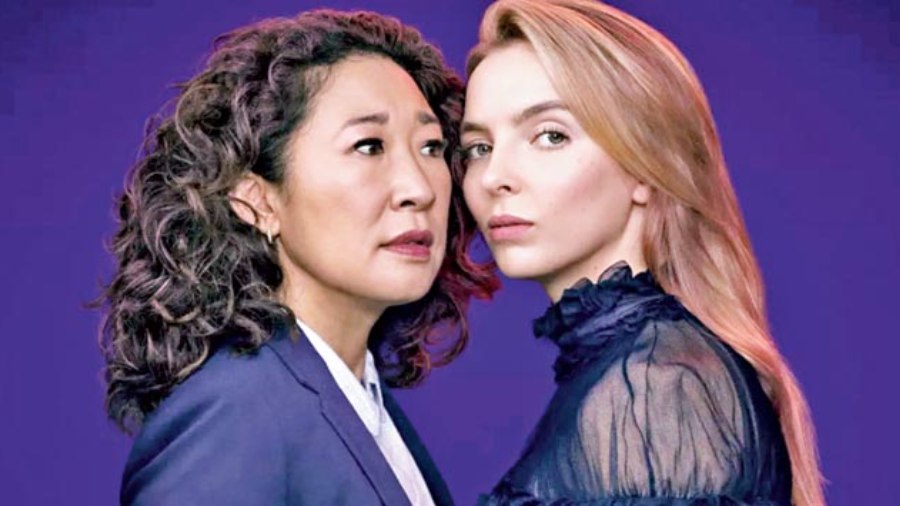 Sandra Oh and Jodie Comer in Killing Eve, now streaming on Amazon Prime Videos
---
Published 02.03.22, 07:21 AM
|
---
Season 4 kicks off with a change. A few monumental changes, in fact, all of which thrust familiar characters in situations which can best be described as 'against type'. Eve is no longer the Eve we knew. Or is she? Villanelle has left her dark past behind. Or has she? The two are no longer obsessed with each other, the core of which powered the dilemma and dynamics of the previous three seasons. Or are they?
Killing Eve S4 starts off with no mention of that momentous Season 3 finale in which Eve and Villanelle parted ways on a bridge in London, each stealing an over-the-shoulder glance at the other as they walked away in different directions. It was a telling moment in the show's history, with the two finally accepting their obsession, and perhaps even emotional dependence, on each other.
In the first two episodes of Season 4 that dropped on Sunday, the two are shown operating in different realms. When they do meet, it is with disdain. At least in case of one of them.
The opening moments of Episode One play out in Moscow, with a leather-clad biker on a Ducati vrooming in to fire a bullet into the palm of a key character. No, it's not Villanelle. Villanelle (played by Jodie Comer), the psychopathic assassin whose off-kilter methods and unorthodox sense of humour, has managed to make us chuckle over the seasons, is, in fact, awaiting baptism, having opted for a spiritual rebirth of sorts. Knowing Villanelle, that, of course, calls for major eye-roll.
Eve (Sandra Oh), on the other hand, now works for a private security firm and shares vegan burgers with her buffed-up friends-with-benefits squeeze, even as she works on gaining more information, and possible access, to the secret organisation called The Twelve.
Carolyn (Fiona Shaw) is still on the hunt for The Twelve, but a remarkably boring bureaucratic job has her often napping at her desk. It's, of course, only a matter of time before the worlds of the three collide again.
New showrunner Laura Neal, whose writing credits include Sex Education, retains the standard Killing Eve tropes of dark humour and dreamy soundtrack. The initial episodes of this season — the final in the series — would like the viewer to believe that its narrative and characters will traverse a different trajectory, when actually all that they are doing is moving towards a pre-determined ending.
To that effect, and to be honest, there is nothing fresh in the opening episodes of Season 4. When it first dropped four years ago, TV got a truly bonkers show in Killing Eve, spearheaded by two strong female characters and trademarked by both wit and wink. Season 1 ended on a note — Eve sticking a knife into Villanelle — that has rarely been matched on TV, and subsequent seasons have all aimed towards recreating that manic energy. With creator Phoebe Waller-Bridge dividing her time between newer projects, every season of Killing Eve has ended up being a learning ground for new female writers, among them being Emerald Fennell, who did showrunner duties on Season 2 and won an Academy Award last year for her much-acclaimed debut feature Promising Young Woman. But with every season operating on almost the same predictable path, Killing Eve has increasingly become a case of diminishing returns.
Holding every season together has been the electrifying energy between Eve and Villanelle, a complicated love-hate dynamic that sees them attacking each other one moment, kissing one another next, both with the same kind of fiery ferocity. These are two characters — with Sandra Oh and Jodie Comer doing much more than the memo that was handed to them — that make for compelling viewing, both individually and when they are together.
Season 4 once again has Villanelle — now known as Nelle — letting her unhinged side peek out even when she's rattling off lines from the Bible. And while we do know the flights of fancy Villanelle's imagination can take, the constant popping up of her alter-ego aka "vision" — which basically is Comer sporting a face full of hair and some hideous sideburns — aren't the high notes they were probably intended to be.
S2E2 ends with the promise of Villanelle being back, in big bold letters. While that would mean injecting some adrenaline into a season which has started off pretty bland, we do hope the writers, instead of falling back on well-worn narratives, have a surprise or two up their sleeve in the newer episodes. In Villanelle, we trust.