Earlier this year, Adarsh Gourav hit pay dirt with his electric act in The White Tiger, co-starring Priyanka Chopra Jonas and Rajkummar Rao.
A BAFTA nomination followed, and now the young actor returns to reprise his role of Ankit in Season 2 of his hit show Hostel Daze, that's now streaming on Amazon Prime Video.
A chat with Adarsh.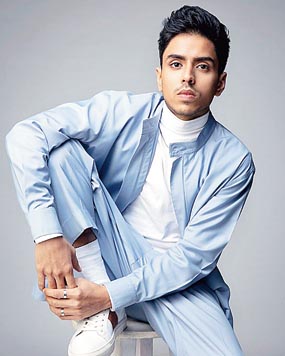 Adarsh Gourav File picture
What do you think worked for Hostel Daze in Season 1?
The fact that it's a very relatable show. It has characters that we have all met in our lives or ourselves have been, at some point in our lives. We all know a Chirag, a Jhantoo, a Jaat, an Ankit or an Akanksha. The relatability factor of this show is very high.
Did filming for the show take you back to your school and college days? Have you lived in a hostel?
No, I have never lived in a hostel. I always wanted to (smiles). But now through the two seasons of the show, I have actually managed to stay in a hostel. We shot in Symbiosis in Pune in an actual hostel and have literally lived on the set. I now completely understand what living in a hostel is like.
Plus, the writing is so brilliant and so to-the-point, so funny and so relatable.... It's made me understand that these are the kind of relationships seniors and juniors have. Or these are the kind of things boys in a hostel do to get a girl's attention (smiles). Or this is how people live in a hostel together. Through Hostel Daze, my dream of living in a hostel has been fulfilled.
The White Tiger released between the two seasons of Hostel Daze and made you quite a phenomenon. How do you find people reacting to you now as opposed to before the release of The White Tiger?
It definitely feels nice that many in the audience have watched The White Tiger and can now relate my face to my name and vice versa. I have been acting for a while but The White Tiger has definitely been the breakthrough for me.
Given that Season 1 of Hostel Daze was a hit and then you had The White Tiger, did filming Season 2 come with any pressure?
Not at all. We are doing comedy here, so one cannot really take any pressure (smiles). One needs to just let go, surrender and have fun with the lines.
You've been superlative in both comic and serious roles. It's generally believed comedy is tougher. What do you feel?
I find it very hard to do comedy. It's the toughest genre to explore. It also has a lot to do with how I am as a person. I don't think I am a very funny person, per se (laughs). I am not someone who cracks a lot of jokes. So for me, it's quite a challenge. But when I am blessed with such beautiful co-actors like the ones I have in Hostel Daze — like Nikhil (Vijay), Shubham (Gaur) and Luv — then the job becomes a little easier.
Has the nature and volume of the offers changed post the success of The White Tiger?
Earlier it would be harder for me to audition for protagonist parts. I have felt a change in that. Now I am speaking to film-makers more about doing central parts. I now have a variety of people to work with. I have always believed in doing the kind of work that affects me. What's really important is the story and the director... at least one of those two things needs to be unique.
Post The White Tiger, I have been auditioning a lot. Next year will definitely be interesting. I will potentially have a good bag of films. Unfortunately, I can't speak about them because they haven't been officially announced yet. But very interesting work next year.
To what degree has the BAFTA nomination for The White Tiger changed things for you?
It was a huge honour, of course. Once you are part of a film that is successful or gets some recognition, then people also have more confidence in you as an actor. I see those around me being more confident about me as an actor, though I don't really feel that (laughs).
And why is that?
It's something that I have always had....
What will it take for you to build that confidence in yourself?
I don't know! (Laughs) Lots of work, maybe.