'The web space allows me to operate without fear' — Saqib Saleem
OTT has paved the way for everyone to have their time and their share of opportunities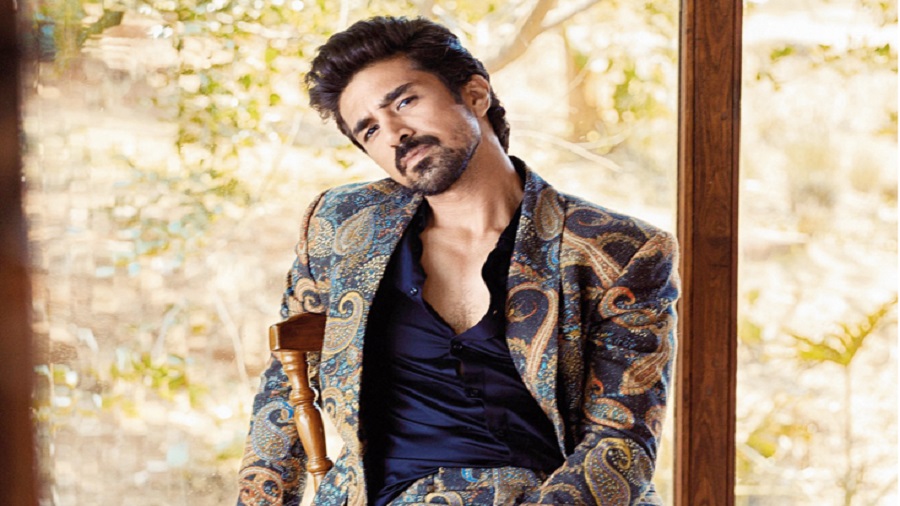 ---
---
Saqib Saleem buffs up and masters the walk and talk of a smooth-operating secret agent in Crackdown. The eight-episode series, now streaming on Voot, also stars Shriya Pilgaonkar, Waluscha De Sousa and Iqbal Khan, and is directed by Apoorva Lakhia, the man behind high-octane Bolly actioners like Shootout at Lokhandwala and Ek Ajnabee. The Telegraph caught up with Saqib for a chat on how the web space explores him better as an actor and awaiting the release of his big film, '83.

You've been tweeting about how Crackdown is a very important show for you. Why do you say that?
I feel extremely nervous because I have worked on this show for a very long time. The only thing I want is that a lot of people should watch it. I feel that we have made a show that's true to its genre. We have made a commercial, blockbuster kind of show, it's very fast paced and has a lot of action and yet it also has a very interesting narrative. It's a show that says something. I have had a lot of fun making this show and I hope that people also have a lot of fun watching it.
I am someone who is very critical of my work. I am happy with the kind of feedback that's come in, whether it's people from the business or comments on social media. I also read the comments on YouTube just to get a sense of what people are thinking.
You've said that the show is very filmi and yet it's in a very real space. What were your other reasons to sign on?
It's a genre that I have never done before. I am very happy that someone like Apoorva Lakhia, who excels in the action space, thought of me to play this role. The roles I have done so far have predominantly been happy-go-lucky kind of guys, who have had an element of comedy. In this, I am playing a silent, brooding agent. It's a very internal character. It's something new for me... it made me tackle some other space, in my head at least. And to work with a director like Apoo who in himself is a genre and to have a cast like we do, it was all a win-win.
Shows like these have to be very fast paced and have to have interesting hook points at the end of every episode. I may be headlining Crackdown, but this is a strong ensemble with a lot of interesting characters; it's everybody's show.

You've claimed that Crackdown called for one of the toughest transformations that you've ever done for a role. What were the physical and emotional challenges of playing Riyaz Pathan?
When I was first told that I had to play this field agent who had to do crackdowns and a lot of action sequences, I thought to myself that I really needed to get the physicality of the guy right. Because I am so much into fitness, changing my physicality was difficult, but it wasn't impossible. What was tougher was getting into the mind space of a secret service agent... what kind of turmoil he goes through, all the instinctive decisions he has to take, his thought process.... I had to read the script at least 100 times and build a graph for my character. I am not a trained actor, yaar. I don't follow a method per se. I first got the physicality right and then went about understanding the guy and being empathetic to what he does. That journey was very interesting for me, to approach a character with a different ideology and to gauge where he's coming from.

Crackdown is your second big web series after Rangbaaz. Do you feel the web showcases you better as an actor?
One hundred per cent! It gives me opportunities to push myself as an actor, to try different roles and scripts. Most importantly, it allows me to operate without fear. To operate purely on the basis of content that's been offered to me and not worry about what numbers my film will open at, what my Friday is going to be like. Working on the web means that my process doesn't get corrupted thinking of these external factors that I anyway have no control over. On the web, I am just acting, I am not worried about anything else. It makes me come from the right place and approach characters in the right way.

Where do you stand on the debate of films releasing on streaming platforms vis-a-vis movie theatres? '83, one of the biggest films in your career so far, is cooling its heels because of the pandemic and awaiting release since April...
I have grown up watching films in the theatre and the charm of a cinema hall is unparalleled... you cannot take it away. But the OTT platforms have created a space for films that were not getting the right kind of release earlier. Now a film is being seen by the audience purely on its own merit. I just shot for a film called Comedy Couple for Zee5 in the lockdown. I feel it's a film that will do very well on the digital platform, but if it had opted for a theatrical release, maybe it wouldn't have got the optimum number of screens. I feel that the whole insider-outsider debate that we have, about outsiders not getting enough chances, OTT has paved the way for everyone to have their time and their share of opportunities. Having said that there are films that will only be enjoyed on the big screen, like Sooryavanshi or for that matter, '83.
As far as '83 (in which he plays former cricketer Mohinder Amarnath) is concerned, we have no control over the situation and there is no option but to wait and watch. Is it disheartening that your film was about to release and the pandemic hit? A hundred per cent. But is there anything I can do about it? No. We all are facing this problem. Honestly, there are bigger problems in this world than to worry about my film not releasing on time. First we need to get rid of the virus, get a vaccine and try and get our lives back to normal. Films will eventually release in movie theatres, and people will go and watch them, like they have always done.