The VH1 Supersonic 2020: A musical extravaganza
Before the world got locked up in their houses, we were present at Vh1 Supersonic 2020 at the Mahalakshmi Lawns in Pune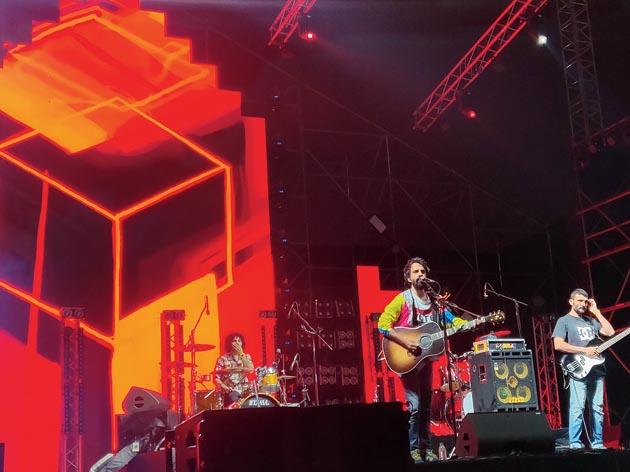 Ankur Tewari & the Ghalat Family performs on Day 1 of the festival
---
Published 27.05.20, 01:52 PM
|
---
Day 1
High from the success of Gully Boy, 'apna bantai' rapper Divine took over the stage performing some of his biggest hits on the first day. "I just finished my set on the main stage, I'm grateful that I can rep this scene and I'm very proud of it," he tells us right after his performance. Ask him which song from his last album Kohinoor had the maximum mass appeal and he laughs, "Ah, Kohinoor and Chal Bombay did very well. I'm grateful that earlier we used to only put out singles but we can now put out albums in the scene and there's a whole crowd listening to us and buying tickets to come see us. It's a win for the whole community." Has life changed after Gully Boy? "It's the same, I'm still walking in the same gully. It's only upgraded because we are getting the bigger stages, bigger venues and bigger opportunities and I'm really thankful to God."
Other artistes like The Awakening, Arjun Vagale, Ankur Tewari & the Ghalat Family and Prateek Kuhad also performed on Day 1. Ankur Tewari sang Woh hum nahin that he dedicated to the "dadis of Shaheen Bagh", referring to the anti CAA/NRC protests across the country. He also sang Jeene mein aye maza, the soulful track from Gully Boy. In a surprise twist and much to the young audience's delight, Prateek Kuhad joined the band on stage and sang their melodious song Dil beparvah together with Ankur. Prateek Kuhad's own show soon after was also a hit, as fans sang along to Tune kaha and Cold/mess.
Ramiro Lopez, an electronic artiste from Spain, was also a big draw on the first day of the festival. It was also the first time he was playing at Supersonic. "It's very exciting because I've heard a lot of good things about the festival. It's like a dream come true that I'm playing at one of the biggest festivals in the country," he tells us. "It's actually my sixth time in India. Whenever I come, the crowd is so enthusiastic and I love that. It's brilliant. My second passion after music is food and I love Indian food, whenever I come here I try out new things and I enjoy it," he adds. Day 2
The second day saw names like American DJ-record producer Diplo, American rock band Fever 333, Tennyson and Indian bands like Madboy/Mink and Aswekeepsearching perform. Fever 333's vocalist Jason Aalon Butler's crowd-surfing moment was the highlight of the evening and their act was our most favourite on Day 2. The energy during their show was insane, people were seen headbanging, their guitarist Stephen Harrison came down at a mosh pit and joined the crowd. Butler's energy was palpable, the crowd loved it even more when he crooned their version of the popular song Old Time Road.
American musician Gryffin, who was playing in India for the first time, left the audience in a state of frenzy with his tropical house and future bass tracks. "Everybody seems super excited to be here, there's a lot of positivity. I want to thank my Indian fans for listening to my music and it's really good to be here," he grinned backstage right before his performance.
Madboy/Mink, the funk — nu disco duo comprising actors Imaad Shah and Saba Azad was a breezy, fun set. "It was a lot of fun, this is the third time we are performing at VH1 Supersonic. They seemed like a pretty educated audience, they seemed to have a good taste in music and we got a good vibe during the show," said Shah after their performance.
The crowd favourite Diplo, on his debut performance here, belted out his foot-tapping hits and a few peppy Indian numbers like Naagin. Lost Stories, the DJ/producer duo composed of Prayag Mehta and Rishab Joshi, saw a huge turnout. The crowd danced along when they played Udd gaye by Ritviz. "I'm happy the crowd came out for us, usually people don't turn up early for the Indian acts. Supersonic is like family, everything is so smooth — right from getting to the festival to getting on stage,' says Joshi right after the performance. Joshi, who describes his music as "folk Indian elements with electronica" points out, "But it's not in the way that everyone else is doing it. It's more modern sounding. I've grown up listening to folk music and that part of me just can't leave me. I draw my inspiration from Indian folk and instruments."
For New Delhi-based DJ/producer Su Real, this was the second time he was playing at VH1 Supersonic. "I had played here two years ago but that time my set was solo. But this time, they let me try out my brand new set where I DJ-ed while my friend General Zooz was on the vocals. We also had two dancers with us and it was like a dream set," he says post his performance. Talking about his new album Visa on Arrival, he says, "It's primarily inspired by dancehall and reggaeton music and I gave it a desi twist. We got to play a bunch of those new songs on stage!"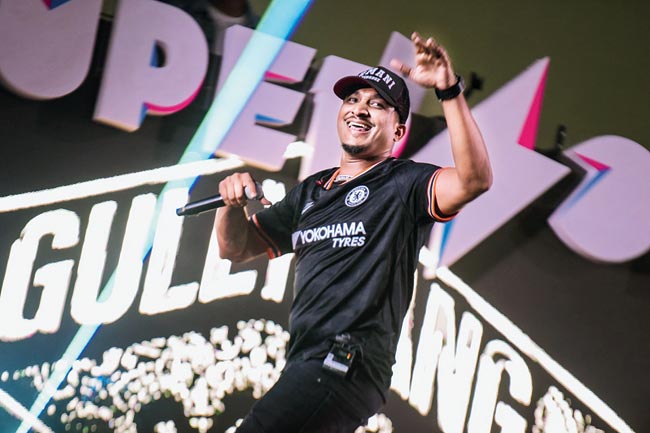 Day 3
The final day featured big international names like Illenium, American rock band Chon, Zambian sensation Sampa the Great and Machine Gun Kelly's performance. Making his debut in India, American musician, DJ, and record producer Illenium took the stage for the final act, which left the crowd wanting for more. "I was a big Star Wars fan and used to be a Millennium Falcon and then I took the falcon away, but my logo is that of a phoenix, so don't get that confused. Basically, I'm just a nerd," Illenium (whose real name is Nicholas D. Miller), laughs and tells us about the meaning behind his stage name. "I'm really excited, I've seen so much on social media and I'm just excited to see the fans personally," he says right before his big act. Ask him if his "future bass" has a future and he says, "I don't see it as much as future bass right now, you're just making music that's kind of powerful."
It was also Canadian artiste Shan Vincent de Paul's debut performance in India. "It couldn't have gone better. I still feel the adrenaline in my blood!" he smiles after his performance. Paul, who had fused his rap with the Indian instrument mridangam, says, "You don't see the Carnatic world fusing with western rap music. When we did the first episode and put it out, it had gone viral, so we thought we will make something out of it." Ask him about what message he tries to give out with his rap music and he says, "I think rap is inherently political no matter what you say. I don't try to make overtly political songs, I just try to make songs for the people and if there is a message there that they can find that helps their movement or cause, then great. I am just here to make music and art that hopefully connects with the audience."
American electronic music producer Madame Gandhi who performed for the first time at the festival, says, "It was really powerful, I feel grateful for the folks who walk over from the electronic music stages and come to the live stages to hear the drums, the beats, the ideas, the critical thought. I got to play my new song See Me Thru that celebrates being consistent in your relationships and your life. But I think the highlight of the set was my song Young Indian because this is the first time I could perform this song in India and it really got the crowd rocking." She says that it's always a conscious choice to put some message in her music. "Since I was a child, I remember that the music that changed my viewpoint and opened up my world was the music that had really amazing beats and important storytelling. I used to listen to Spice Girls religiously, even though their message wasn't deep but the concept of girl power was influential."
The K-pop buzz also loomed over the festival as Z-Stars made their appearance on stage with some of their finest hits. The crowd went berserk when they did a cover of K-pop sensation BTS's song Mic Drop's cover. But undoubtedly, the biggest draw of the evening was Machine Gun Kelly who was seen wearing a casual Nirvana T-shirt and sang popular tracks like Till I Die.