The Telegraph's recommendation of the week: Narco Saints, a thrilling Korean drama
This gritty tale promises a lot for its six-episode run and to an extent manages to deliver it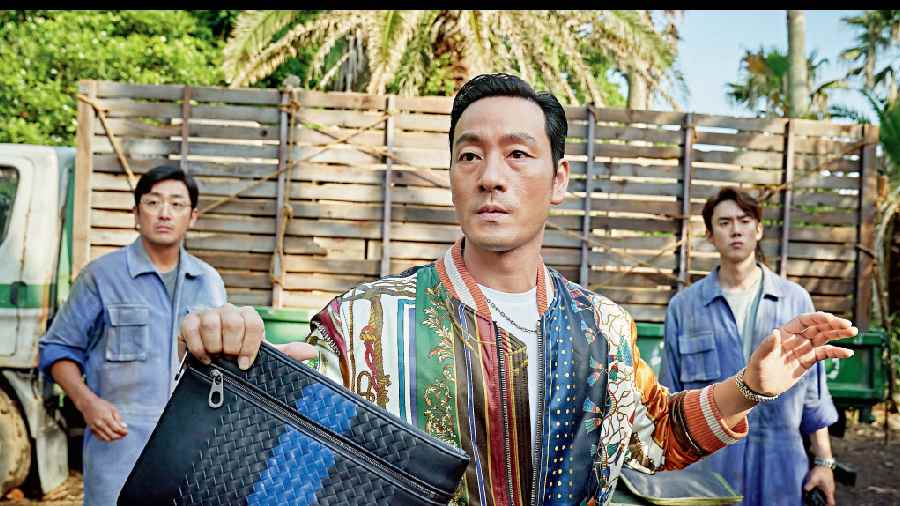 Narco Saints
The Telegraph
---
Published 30.01.23, 04:59 PM
|
---
There are not many Kdramas like Narco-Saints. It has guns, drugs and cartels and yet, something quintessentially Korean that aims for an added emotional value to get the audience hooked. Set in the South American country of Suriname, this gritty tale promises a lot for its six-episode run and to an extent, manages to deliver it.
PLOT POT
Kang In-gu (Ha Jung-woo) is a hardworking but dissatisfied middle-aged businessman. He has been working ever since his youth and wonders if his life too, like his dad's, will be spent on working the same job for years. But, when his friend informs him of a lucrative business opportunity in Suriname, he takes the leap and moves to the small South American country.
They decide to export easily available skate fish from Suriname to South Korea, where there is a lot of demand for it. However, it is not long before the two get noticed by the local Chinese gang and their leader Chen Zen (Chang Chen). In an attempt to get help and pacify Ingu's religious wife, the two friends go to the local Korean church and meet Pastor Jeon (Hwang Jung-min) who offers to help them out of this predicament. In-gu soon gets caught up between drug cartels and the National Intelligence Services of South Korea and their team leader in Suriname, Choi Chang-ho (Park Haesoo).
Any more than this and we would be giving away much of the surprise element that majorly carries the plot. The stellar cast majorly contributes to the greatness of the series because although it is a thrilling watch, it can seem formulaic and thus, predictable. But, it is still unique as far as K-dramas go and makes for a short but interesting watch.
There are many notable performances, especially from Park Hae-soo, Ha Jung-woo and Hwang Jung-min. Pastor Jeon is chilling even when he is up to no good, justifying his actions by quoting from the Bible. He seems immersed in it even though it is evident he believes none of it. Ha Jung-woo, always praised for his stellar performances, delivers memorably as the seemingly innocent but intelligent and determined-topersevere Kang In-gu. He is witty, desperate and sometimes, even funny.
It is intriguing to see him navigate a world that he had been completely unaware of for most his life and where, he could get killed at any time. However, there is a noticable lack of female characters, except in the sidelines as stereotypes. Overall, Narco-Saints is a short and thrilling watch that will keep you guessing for the most part. It is a refreshing watch with great performances. A brief moment right at the end also hints at a second season, which certainly makes things more interesting.
Characters we treasure Ha embodies In-gu to perfection. A family guy at heart, In-gu is determined to survive. Contrary to his clumsy demeanor, we see how In-gu is quite witty, is an expert at reading people and stays true to his nature and intentions till the very end. We also loved him in: The Handmaiden and Ashfall The less that is said about the Pastor, the more is left to discover in the series while one watches it. Hwang is truly phenomenal in evoking extremes of emotions, and not all of them good, as the charming and indomitable Pastor Jeon. We also loved him in: Deliver Us from Evil, Ode to my Father