A generous sprinkling of stars. An exotic, upscale destination. A weekend chock-a-block with song 'n' dance, meet 'n' greet, awards 'n' honours. The IIFA Awards celebrated its 23rd edition at Yas Island in Abu Dhabi over the weekend of May 26 and 27. The leisure-entertainment hub of Abu Dhabi, Yas Island, had also played host to last year's IIFA Awards, a first for any IIFA destination so far to be chosen in consecutive years.
As the mercury hit the mid-40s, Yas Island witnessed a star sizzle, with most of them walking in and out — shopping, catching up, chilling and rehearsing for their performances at the awards, even as crowds milled around hotel lobbies and lined the streets, hoping to click a selfie or at least catch a glimpse of them.
The evening of May 27 marked the big IIFA night, with some of Bollywood's biggest names — Gen X to Gen Z — marking their presence at the sprawling Etihad Arena (the same venue also hosted a Guns N' Roses concert on June 1 #MajorMissing).
After a boisterous opening note by actor Anil Kapoor — an IIFA mainstay for many years — it was time for Abu Dhabi to experience some Bolly magic and masti for well over five hours. Sitting in the audience, surrounded by scores of cheering Bolly buffs, t2oS soaked it all in. Here's what we loved...
'Awesome twosome'
Actors Abhishek Bachchan and Vicky Kaushal were the hosts for the evening, the former scoring with his ready wit and repartee, the latter winning hearts with his boy-next-door simplicity.
The two played off each other, with AB Jr expectedly coming up with jokes and punchlines that kept the audience in splits. Like that bit where he claimed to be the 'original habibi', the term 'habibi', of course, being used to describe a loved one. How? "Aishwarya calls me 'hubby B'," was the cheeky reply.
In fact, more than a passing mention of their gorgeous actor-wives was a memorable part of the hosting set for the two men. Vicky, more than once, and in one instance with Rakhi Sawant for company, broke into wife Katrina Kaif's popular Sheila ki jawaani, but steered clear of any 'controversial' remarks, saying with tongue firmly in cheek: "Ghar waapas jaana hain".
A nice touch came in from Abhishek, who gave a shoutout to actor-director R. Madhavan's son Vedaant sitting in the FROW. Vedaant, strapping at 17, has already made India proud in the international arena, bringing in laurels as a swimmer.
With AB often taking breaks, Vicky was joined as co-host by Rajkummar Rao (who had co-hosted the musical evening, IIFA Rocks, the previous day), Varun Dhawan (who anchored the most fun gag of the evening, more on that later) and Sara Ali Khan (with the two hosting a segment to promote their film Zara Hatka Zara Bachke).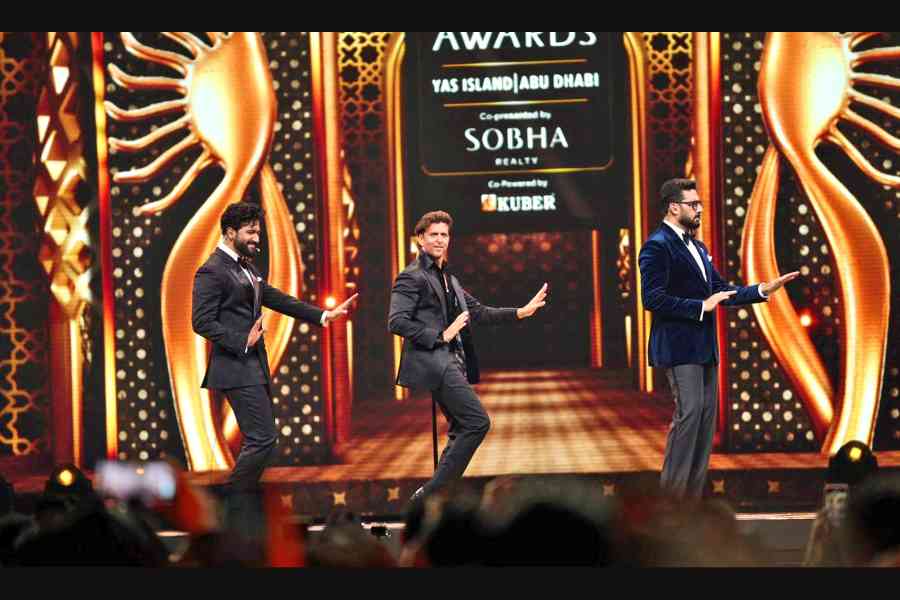 The big moment of IIFA 2023 was undoubtedly Hrithik Roshan showing off his moves to his iconic Ek pal ka jeena, flanked by an enthusiastic Vicky Kaushal and Abhishek Bachchan, expressing mock reluctance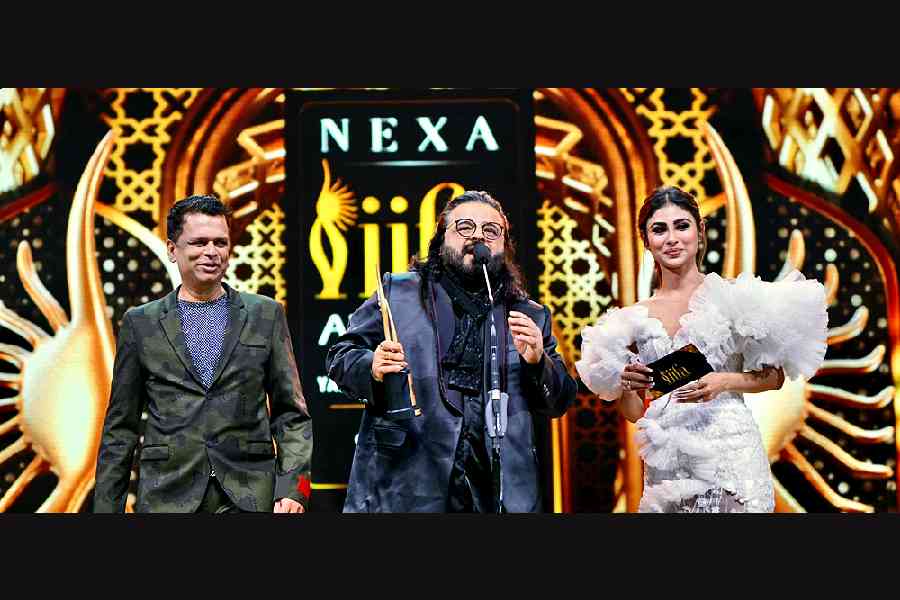 It was a Brahmastra blitzkrieg, with the film winning in all the music categories, including Best Music for Pritam (in picture)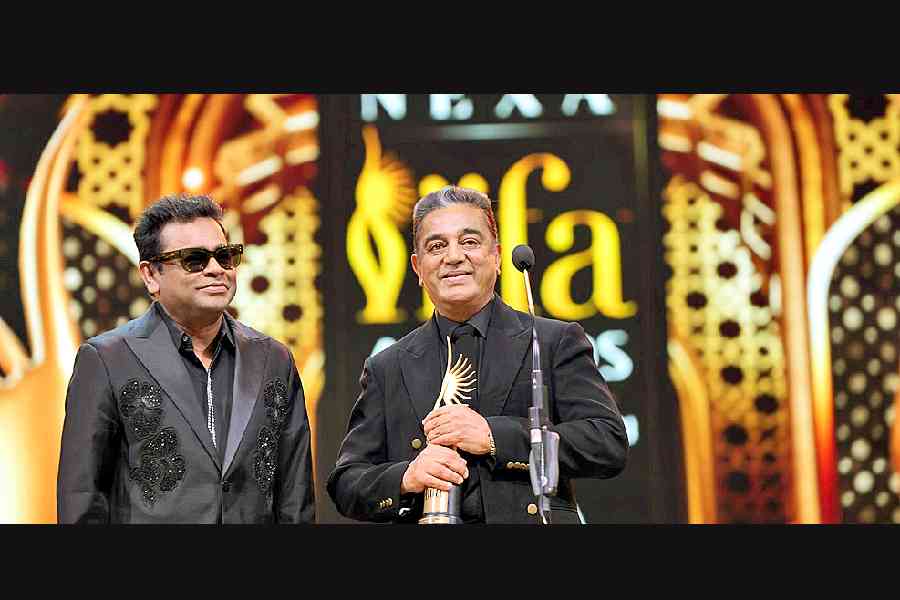 A.R. Rahman presented the Outstanding Contribution in Indian Cinema statuette to Kamal Haasan
Brahmastra blitz
It was total Brahmastra domination in the music category, the first set of awards that evening. While Pritam won for Best Music, his longtime comrade Amitabh Bhattacharya took home the IIFA for Best Lyrics for the Ayan Mukerji film.
Evergreen songstress Shreya Ghoshal's golden voice in Rasiya from the superhero film, starring Ranbir Kapoor and Alia Bhatt, won her the Best Singer — Female statuette, while Arijit Singh (who wasn't present) won the same award in the male category for the soulful yet pulsating Kesariya. Total Brahmastra sweep, total Bangali domination. Take that!
Honouring the best
Three special awards were handed out during the evening, all of them to deserving winners. Industry veteran Manish Malhotra was given an IIFA for his lasting contribution to fashion in Indian cinema. "Three decades sound much better than 30 years," smiled Manish, who, of course, doesn't look like he has aged a day over 35. "Since childhood, cinema and clothes have been an integral part of my life," added Manish, whose ode to '50s fashion, a fashion show that had taken place the night before as part of the IIFA Rocks celebrations, had Salman Khan as its showstopper.
The other special award of the evening went to the husband-wife pair of Riteish and Genelia Deshmukh for their contribution towards fostering regional cinema. Riteish's 2022 directorial debut Ved, produced by Genelia and in which both of them also do acting duties, was a big success at the Marathi box office, bringing in Rs 75-crore on a Rs 15-crore budget.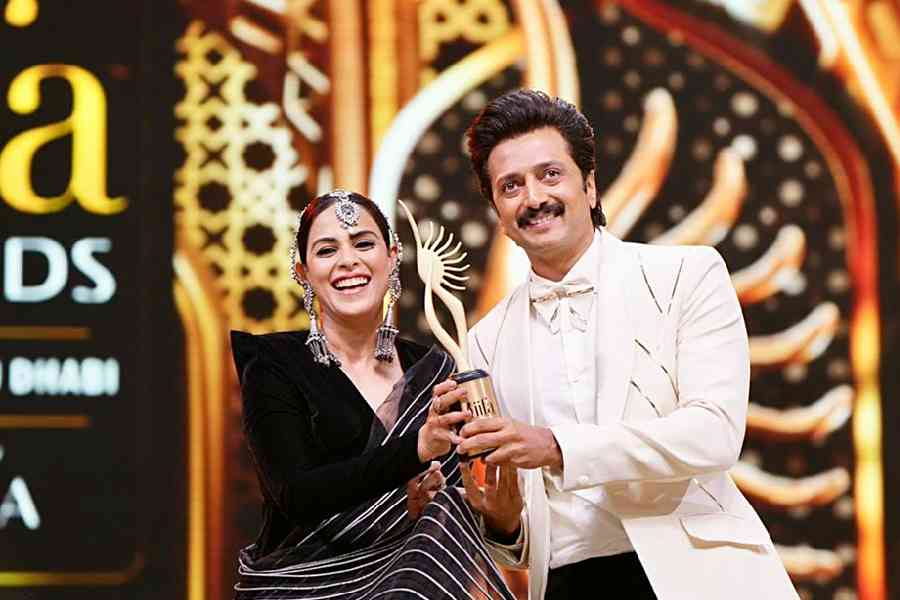 Genelia and Riteish Deshmukh were all smiles with the IIFA for their Marathi film Ved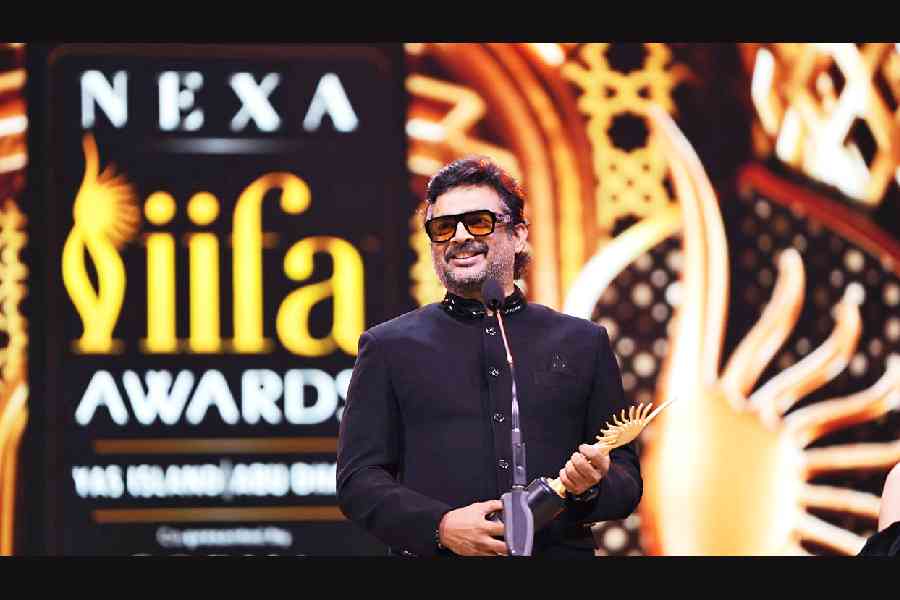 R. Madhavan edged past Sanjay Leela Bhansali and Ayan Mukerji to win the IIFA Award for Best Director for his debut film Rocketry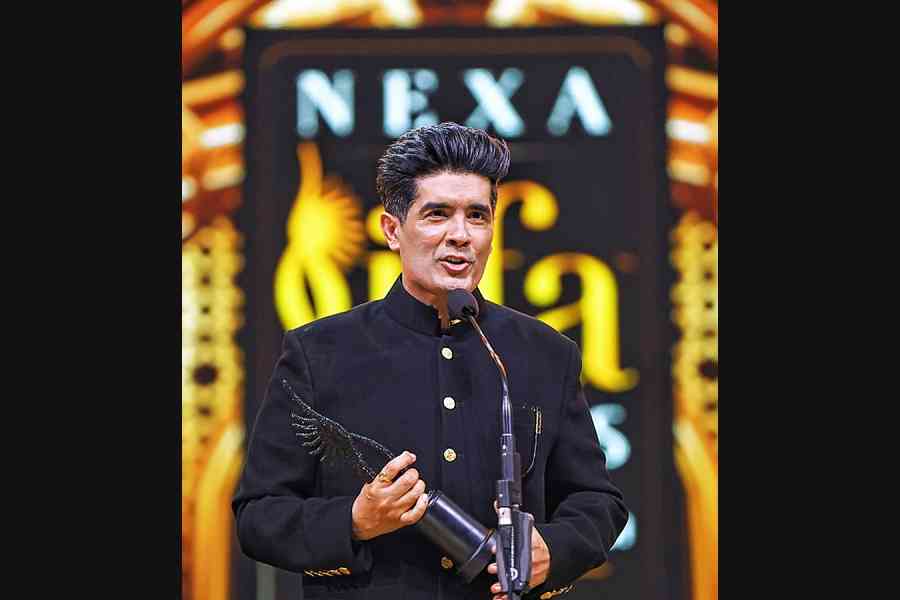 Designer Manish Malhotra with his trophy for Outstanding Contribution to Fashion in Indian Cinema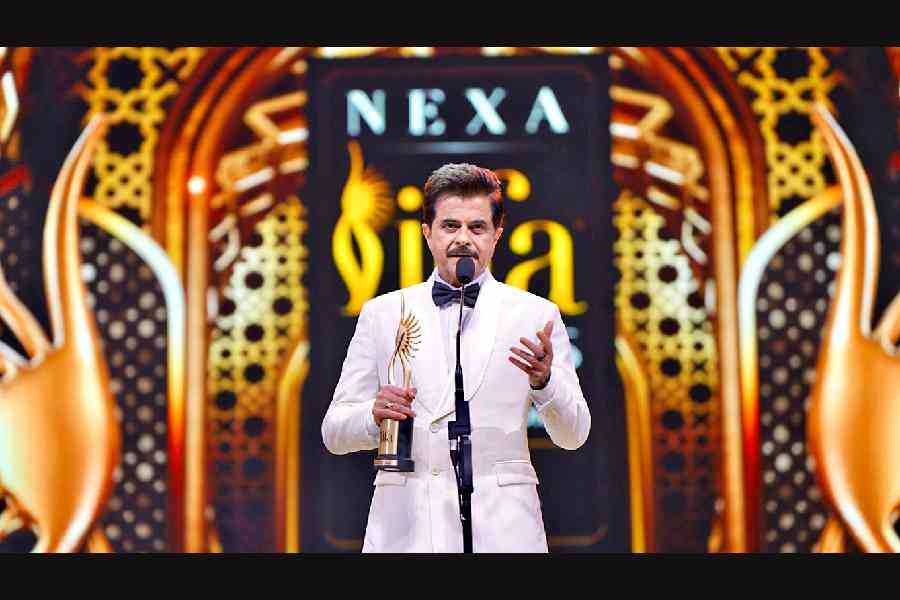 Anil Kapoor was his usual ebullient (and youthful) self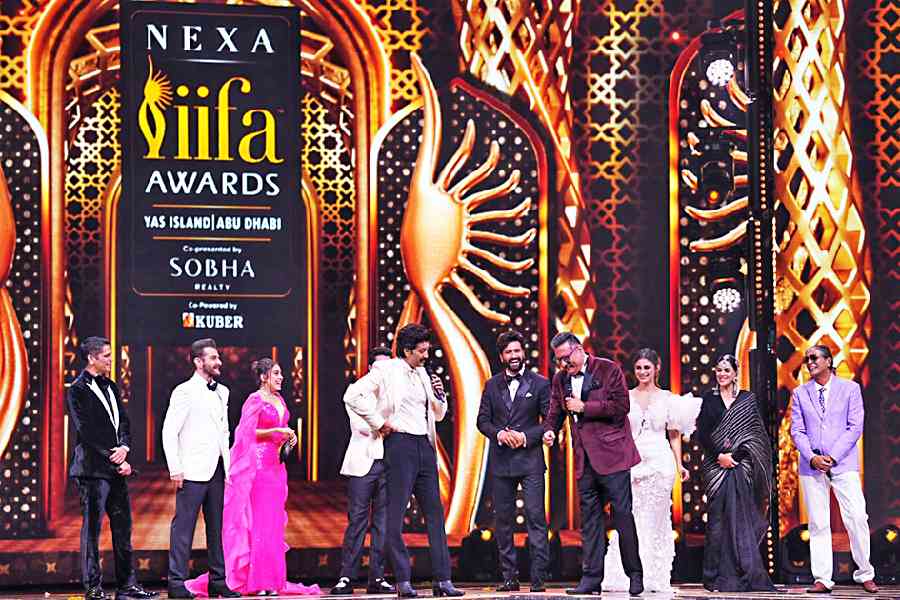 Riteish 'Aamir' Deshmukh and Boman 'Saif' Irani had the crowd in splits
The couple — looking striking in a combination of black and white — were their usual effusive self, their enthusiasm and energy winning many more hearts than before.
The biggest special award of the big night was reserved for the legendary Kamal Haasan, who was honoured with a golden statuette for Outstanding Achievement in Indian Cinema. The entire stadium rose to its feet as the 68-year-old made his way to the stage and was presented with the trophy by music maestro A.R. Rahman (who cited the actor as "a rare example of someone who inspires you to do more"). Kamal Haasan's speech was simple and short. "I am a child of cinema, I grew up with cinema... I came into the world of movies when I was three-and-a-half, but I still feel I haven't done enough. Now, I will have to go back and work harder to deserve this award," said the always grounded and affable actor-director.
A+ for acts
What's a Bollywood masala awards night without its song 'n' dance acts? Varun Dhawan set the mood right for the evening, dancing his way from the back of the stadium and launching himself onto the stage with his trademark energy. His act was all about paying tribute to some popular film-makers of our times — like some romantic moves to doff a hat to Karan Johar and a bindaas cop act to showcase Rohit Shetty's brand of masala cinema. Varun carried the act with his infectious gusto, joined on stage for a bit by Nora Fatehi. The Bhediya star's gravity-defying steps to the Oscar-winning Naatu Naatu from SS Rajamouli's RRR was the highlight of his act.
Kriti Sanon's moves to some of her superhit numbers — Thumkeshwari to Coca cola, Sweety tera drama to Main tera boyfriend was crowned by the leggy stunner being joined by popular Norwegian hip-hop group Quick Style. Rakulpreet Singh and Jacqueline Fernandez also joined the party, with Rakul bringing alive some gems of '50s Hindi cinema like Mud mud ke na dekh, Ajeeb daastaan hain yeh and Pyaar hua ikraar hua. Jacqueline (referred to as 'Jaggu Didi' — since Jackie Shroff is known in Bollywood as Jaggu Dada) showed off some zesty moves to Show me the thumka, among others.
Mover 'n' shaker Nora Fatehi was easily one of the biggest crowd-pullers of the IIFA weekend, with the audience going into a tizzy every time she made an appearance. Nora's act — a well-choreographed and executed ode to the cabaret dance style in the Bolly of yore, paying tribute to the likes of Helen and Zeenat Aman — was an instant hit, with the crowd dancing along to classics like Piya tu ab toh aaja, Laila o Laila and Aaj ki raat.
The finale dance performance — in true IIFA tradition — came from Salman Khan. The 57-year-old superstar belted out some super energetic moves to his latest numbers like Billi billi and Seeti maar, but was rewarded with far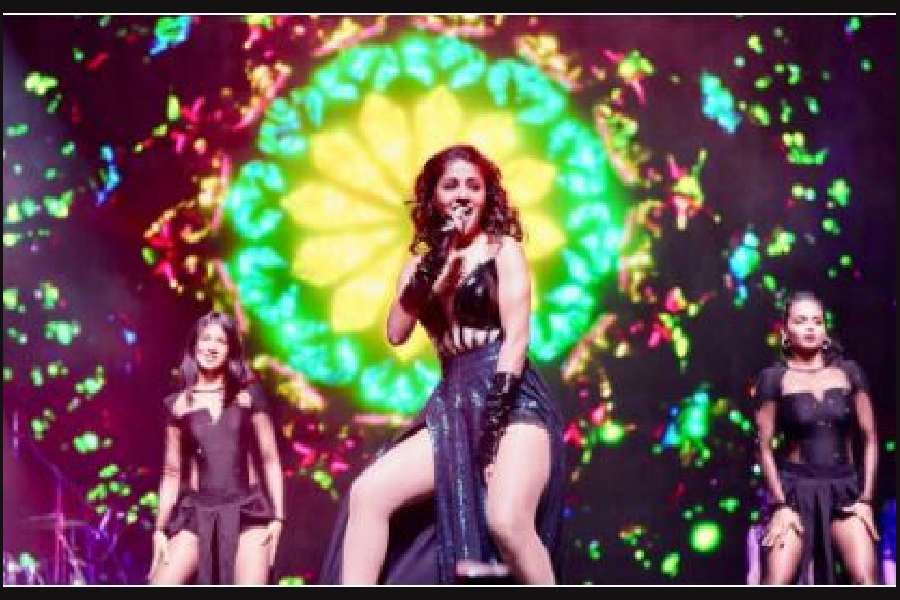 Sunidhi Chauhan set the stage on fire with the best performance of the IIFA Weekend
bigger applause when he grooved to his '90s hits like Joote do paise lo and Tum par hum hain atke. The most emotional moment of the evening probably was Salman leaping onto the front row to kiss mother Salma in the middle of his performance and then shaking a leg with Ayat and Ahil, his knee-high niece and nephew.
Hrithik oh Hrithik!
When it came to dominating the stage — with both words and footwork — one didn't have to look beyond a certain Hrithik Roshan. Striding on the stage after his name was announced as the recipient of Best Actor in a Leading Role for his grey turn in Vikram Vedha — a dapper Hrithik immediately won the hearts of Abu Dhabi saying that "life had come full circle" for him because he had canned his first shot as Vedha in the Pushkar-Gayathri directorial in Abu Dhabi itself. "Vedha unleashed a madness in me that I didn't know existed, and I have been able to hold on to that," said a smiling HR.
But the moment of IIFA 2023, which has since gone viral, was undoubtedly when Vicky Kaushal requested Hrithik — who will turn 50 next January — to allow him to match steps with him to the iconic Ek pal ka jeena. HR, of course, was game and showed the same lithe moves to the superhit number from his debut film Kaho Naa... Pyaar Hai, released 23 winters ago. It was truly the most memorable moment of the night.
Aamir vs Saif
Most of the gags, to be honest, weren't interesting enough, only functioning as fillers and making us look down at our watches ever so often. The one that truly worked was when Varun Dhawan teamed up with Vicky Kaushal for a face-off, with the two forming 'teams' from members of the Bollywood fraternity. While Nushrratt Bharuccha's rendition of some popular Bolly dialogues was full-on fun, it was good friends Riteish Deshmukh and Boman Irani — who have served as IIFA hosts in the past — who brought the house down with their spot-on mimicry of Aamir Khan and Saif Ali Khan, respectively!
The speeches
Mouni Roy, who hails from Cooch Behar, won the IIFA Best Supporting Actor — Female for her negative act as Junoon in Brahmastra and urged small-town girls to "never stop dreaming". Irrfan's son Babil Khan dedicated his Best Debut — Male award for Qala to his mother Sutapa Sikdar, who blew kisses to him from the front row. Anil Kapoor, winning Best Supporting Actor — Male for his rip-roaring act in Jugjugg Jeeyo, was his usual fun self, with Sikandar Kher, who presented the trophy to him saying: "I have always called him Uncle... but seems like very soon, he is going to start calling me Uncle!" In fact, the mention of Kapoor's 'youth' — Bollywood's resident Benjamin Button who seems to be ageing in reverse — often popped up during the evening, with host Abhishek Bachchan referring to Kapoor as his "younger brother".
Surprise winner
While the list of winners for the evening remained more or less predictable, one was a little surprised to see R. Madhavan — who turned director last year and also played the title role of scientist Nambi Narayanan in Rocketry: The Nambi Effect — walk away with the Best Director trophy, edging past the likes of Sanjay Leela Bhansali for Gangubai Kathiawadi and Ayan Mukerji for Brahmastra: Part One — Shiva. That's because while the intent of the film may have been noble, its execution fell far shot.
The fact that Maddy still has a huge number of fans was illustrated by the claps and cheers that greeted the announcement of his name. "You have been up on many podiums, this is mine," smiled the Rehnaa Hai Terre Dil Mein heartthrob, looking at his champion son Vedaant in the audience.
The rock stars of IIFA Rocks
An evening prior, a musical razzmatazz, in the form of IIFA Rocks, in which awards were handed out in the technical categories, scored higher than the main night when it came to some scintillating performances.
The pick of the lot was a 30-minute adrenaline-pumping, rock star act from singer Sunidhi Chauhan who slayed like the queen that she always has been. Shifting seamlessly from her slower numbers like Lae dooba and Kaisi zindagani to her party hits like Crazy kiya re, Sheila ki jawaani and the more recent Show me the thumka, Sunidhi was the top of her game, coming up with the best act of this year's IIFA.
The other noteworthy performance on the evening of May 26 came in from music composer Amit Trivedi, whose palette of songs acted as a palate cleanser after the gibberish mess that Badshah belted out just before him. 'Succour for the soul' was the only way to describe Trivedi and his team's time on stage, with gems like Bikharne ka mujhko and Ghode pe kyun sawaar hain to Qaafirana and Tu hi hai.
You can watch IIFA Awards 2023 on June 18 at 8pm on Colors TV. Also streaming on Jio Cinema
Pictures courtesy: IIFA