The smooch story
With screen intimacy growing more graphic by the day, the days when a director told his actors, "Just kiss the girl," are over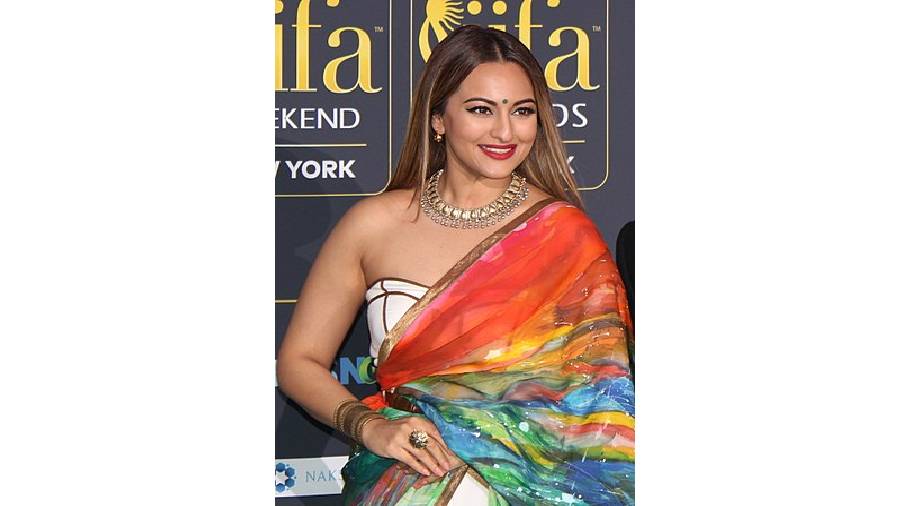 Sonakshi Sinha's no-kiss stand has been all about upholding the family honour
Wikipedia
---
Published 05.09.21, 12:05 AM
|
---
Like the medical fraternity has fragmented itself into areas of specialisation, filmmaking too is breaking up into small departments of expertise. The latest on board is an "intimacy coordinator who helps choreograph sex on screen".
A closer look at the new designation brings a rather interesting twist to the job.
With rising wariness over potential harassment suits, OTT platforms are providing insurance for themselves by insisting on an intimacy coordinator on the sets. However, skin-coloured "modesty garments" or a donut pillow between performers so that certain "body parts" don't brush against each other are extensions of the wardrobe and props department. How can this job be called choreography?
Choreography means designing or creating movements while an intimacy coordinator is like a walking-talking chastity belt who provides comfort and moral support to women performers.
With screen intimacy growing more graphic by the day, the days when a director told his actors, "Just kiss the girl," are over. I first heard of a choreographed kiss when Ranveer Singh told me how director Maneesh Sharma had mapped it out for him and Anushka. Before Ranveer filmed his first screen kiss, which was the turning point in his debut movie Band Bajaa Baraat, Maneesh sat his lead pair down and told them exactly what he wanted them to do. The entire kiss — when to start, stop, linger, when to move, in which direction — every single instruction was detailed to the last count like a dance sequence. There was a clinical precision to it.
With that, most actors today try to be blasé about a heavy-duty screen smooch. But it has taken two generations to get there and a bit of squirming still lingers.
Raj Kapoor, son Rishi and grandson Ranbir were all fine with kissing, lovemaking and dropping their clothes before the camera (Rishi and Ranbir did it in their respective debut films). But Rishi agonised at the idea of his daughter entering the field while Neetu gasped at what younger heroines did, adding she was lucky she belonged to a different and more puritanical era.
It was Babita who shepherded Karisma and Kareena into doing what the men in the family did — be professional all the way. Karisma's kiss in Raja Hindustani breached the dam. Reportedly, it was filmed for many minutes longer than necessary, making an allowance for the censors to chop its duration.
Karisma would fly into a rage if questioned about the kiss. Farhan Akhtar too slammed anybody who asked him about his in Bhaag Milkha Bhaag. Kareena and Saif also went through a spell where they'd decided not to kiss, an embargo they lifted a little later to stay professionally relevant. This was followed by Kareena doing Ki & Ka and Saif doing his bit in Rangoon.
All of which points to the fact that Indian actors aren't completely nonchalant about kissing and intimacy. It's only a rare Emraan Hashmi who acknowledges that there will be curiosity over it and doesn't lose his shirt discussing it.
Most actors also talk with family and friends before filming a kiss. Vidya Balan and Shahid Kapoor, co-stars in Kismet Konnection, would discuss their debut kisses that happened around the same time — she with Arshad Warsi in Ishqiya, he with Priyanka Chopra in Kaminey. Meenakshi Seshadri discussed it with her parents who said, "Well, we've seen it in English movies," before she kissed Anil Kapoor in Yash Chopra's Vijay. Sonakshi Sinha's no-kiss stand has been all about upholding the family honour.
The censors themselves have been liberal with it except when Sushant Singh-Sara Ali smooched before a deity in Kedarnath. The visual of the idol had to be removed, the kiss remained. The same rule would apply inside a masjid. But Christians "kiss the bride" in full view of the Lord.
So ultimately, squeamishness is directly related to culture.
Bharathi S. Pradhan is a senior journalist and author