'The palette of Tangra is not seen in movies often'
'I have been a fan of rap since childhood. I was trying to learn beatboxing from this group during the shoot of Tangra Blues' — Madhumita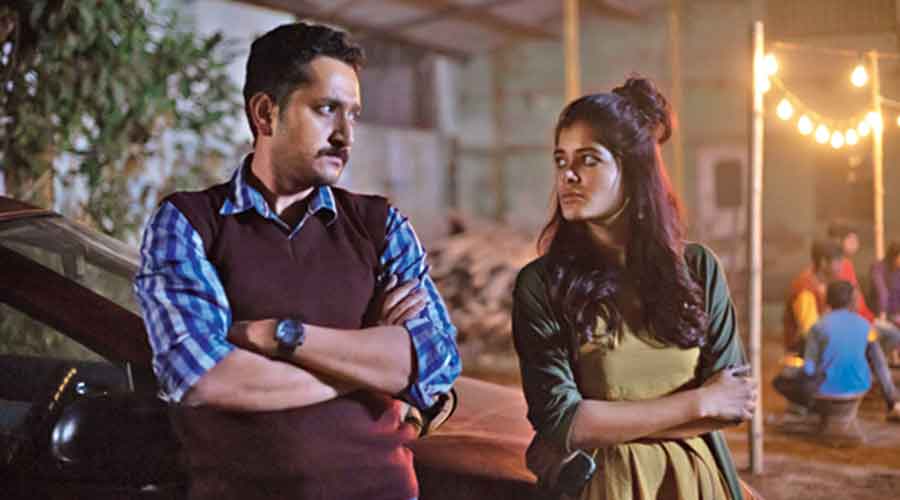 ---
---
The film Tangra Blues is loosely based on the real-life story of Sanjay Mandal and his music group from Tangra. Certain things coincide with Sanjay's life; others don't. Madhumita Sarcar plays Joyee, who becomes fascinated by the performances of the music band, made solely out of the raw talents of young slum kids. A t2 chat...
How's the feedback from the premiere?
The audience at the premiere come from a creative background, so they already have an understanding and from that sense of understanding I think they really liked it. They also told me that they really liked my performance. But there is so much to do at a premiere that we could not see the film, I will watch it properly now.

Why is the film important to you and how does it resonate with with you?
There is an aggression in my character. It is her fight. All of us go through something like this in life. Maybe the incidents are not same, but somewhere it is similar. So, that was important to me and that is why it resonated with me.

Tell us more about your character Joyee in Tangra Blues...
Joyee's character in the film acts as the eyes for the audience. The palette of Tangra is not seen in movies often, and to many people it is still unknown. Joyee is that skyscraper girl who explores Tangra, and the way she is seeing or discovering the place and band, the audience is discovering it through her. She is basically a music producer who would go to the rainforest and collect tribal music, she used to always look for unconventional work . But that doesn't work out. So, she comes back to Calcutta. She always looks for different kinds of work and then she discovers Sanjay Mandal and his group. That is how their journey together begins.
The film is loosely based on real events. How was it for you to discover the music culture in Tangra?
In my life three things are most important — acting, travelling and music. I am always musically inclined. I had heard their form of music earlier also. When I used to do production earlier, there used to be work related to music and I used to sit day and night listening to it. So, understanding Joyee and playing her character wasn't difficult for me.
What got you interested in the film?
The plot. I make sure that the character in my previous movie should not have any similarity with the character of my present movie. So, after Cheeni, my character in Tangra Blues is completely different. The film is based on a subject that I like, and I want to do more such films. It is like a dream come true for me.
Can you play any instrument?
I learnt guitar by myself. I wish to learn drums after Tangra Blues.
Why do you like playing the guitar and who are some of your favourites?
My all-time favourites are Linkin Park and Poets of the Fall, I really like rock. The reason why I thought of learning guitar in the first place was because I really like the flamenco style of playing. Whenever I would hear it, I used to think, 'I wish I could play it'. So, from there my interest in guitar started growing.
What kind of a music listener are you?
My music collection has everything, from flamenco to Turkish music. I like listening to all kinds of music, be it Russian, Nepali, folk, instrumental or unconventional and even this genre in Tangra Blues. I like noise-based music arrangement too.
There is rapping too...
I have been fond of rap since childhood, starting from Eminem to Divine. When Gully Boy released, I could rap all three songs. I was trying to learn beatboxing from this group during the shoot of this film. I don't have a great voice; my mother sings really well.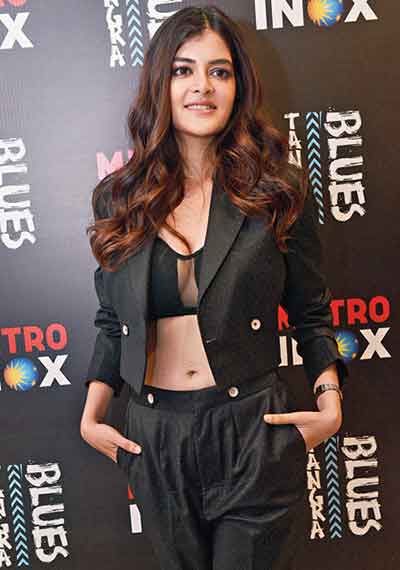 What impact does music have in your life?
I can't live without my headphones. Music sets my mood. Mood-wise my playlist changes too. If I feel depressed, I know which songs would help me overcome that. So, music helps me a lot. There is not a single day where I don't listen to at least 10-12 songs, even if I have a lot of work to do. I always have headphones with me.
How was it acting with Parambrata Chattopadhyay. What is the vibe on set with him around?
Paramda was playing two roles — of a producer and an actor. He is such a senior actor. I loved working with him. He would always suggest how to do something better. The energy of the band members took the film forward. I loved working with them. With them, the vibe was always filled with energy. They do not have the conventional training which is why they can make a drum kit out of paint jar. And the beats also match so beautifully.

Tell us a memorable incident from the shoot...
I hadn't met Sanjay Mandal before working on this project. Even in the initial days of the shoot, I hadn't had the chance to meet him. One day I was telling everyone that I hadn't met Sanjayda yet. Then someone from behind me came and introduced himself as Sanjay Mandal. He invited me to visit his house. I went with him and met his family. Meeting everyone and going there on a bike was a fun event for me. Those who love rap and like different kinds of music, all music lovers will love this film.
How addicted are you to Insta Reels. Your Insta is filled with it...
I am very addicted. I love telling stories through reels. I like doing reels with music, I used to love doing dubsmash too.