The Night Manager trailer: Aditya Roy Kapur and Anil Kapoor step into Tom Hiddleston and Hugh Laurie's shoes
Also starring Tillotama Shome, Sobhita Dhulipala and Saswata Chatterjee, the series will start streaming on Disney+ Hotstar from February 17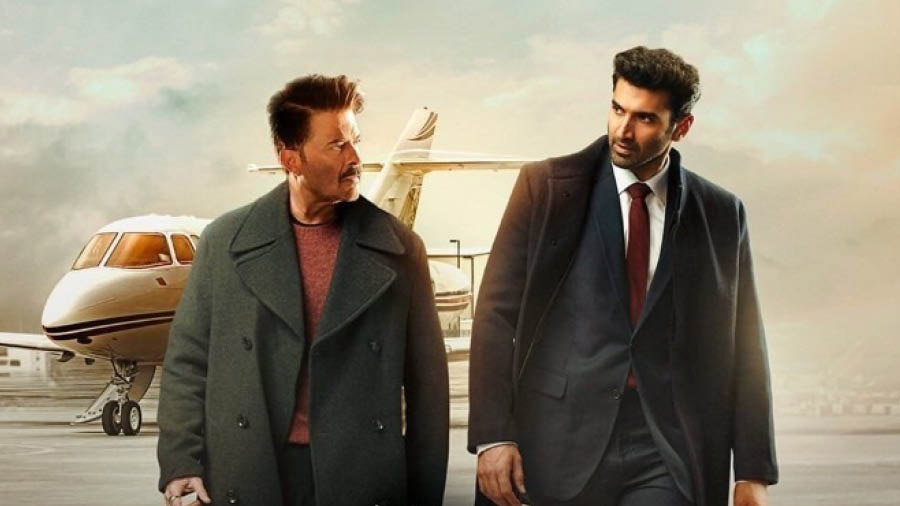 ---
Calcutta
|
Published 20.01.23, 03:07 PM
|
---
The trailer for the Indian remake of BBC's The Night Manager starring Aditya Roy Kapur and Anil Kapoor has just dropped and it looks all kinds of thrilling. 
How can it not? It looks exactly like the trailer of the Tom Hiddleston-Hugh Laurie-starrer. And AK and AK have donned the original duo's suits very well. 
The trailer opens with a shot of a troubled Aditya, who plays Shaan Sengupta (the Indian version of Hiddleston's Jonathan Pine), a night manager in a hotel, in a snowy mountain setting with his voiceover saying, "Andhere ke uss paar aksar roshni nahin, aur andhera hota hai." Similar to the last words we see in the original show's trailer: "The deeper you go, the darker it gets."
The next shot is of Anil, who plays Shelly Rungta (the Indian version of Laurie's Richard 'Dicky' Roper), an arms dealer, lighting a cigar as he watches a demonstration at presumably an arms sale. Somehow Laurie's "war is a spectator sport… we are the emperors of Rome" sounded far more chilling than the rambling dialogue by Anil's Shelly, but it's no less effective.
What follows are shots of an Indian Intelligence officer, played by Tillotama Shome (Olivia Colman's Indian counterpart), recruiting Shaan to be the 'Vibhishan' who brings down Shelly's 'Lanka'.  
The next few shots will be familiar to those who have seen the original series that set up how the night manager wins the trust of the arms dealer. The settings are almost similar, the dialogues not much different and the scenes almost frame for frame, including that famous topless-by-the-pool shot of Hiddleston that made many women send up a prayer of thanks. Aditya doesn't disappoint in that regard too much.
The rest of the trailer lays out the dangers that Aditya's character and the mission have to negotiate as he gets involved with Shelly's wife, before ending with a chilling line about betrayal.
Our first-look verdict? We are willing to give it a go even though it will be hard not to compare it to the original all the way. Anil Kapoor does not have the cold eyes and the menacing vibe of Hugh Laurie, but his affable demeanour and non-threatening appearance make for an interesting contrast to the character he plays which we would be interested in watching.
While Aditya Roy Kapur has the impassive look down pat, he doesn't seem to have the charm and suaveness of Tom Hiddleston, at least in what we see of him in the trailer. His dialogues seem to lack conviction, so let's say we will reserve our judgement till we see the first few episodes. Tillotama Shome seems to be a good choice for the Olivia Colman role, though those are pretty big shoes to fill.