The Hustle doesn't feel like a rip-off or scam
The film deserves some credit for fulfilling its own modest, escapist ambitions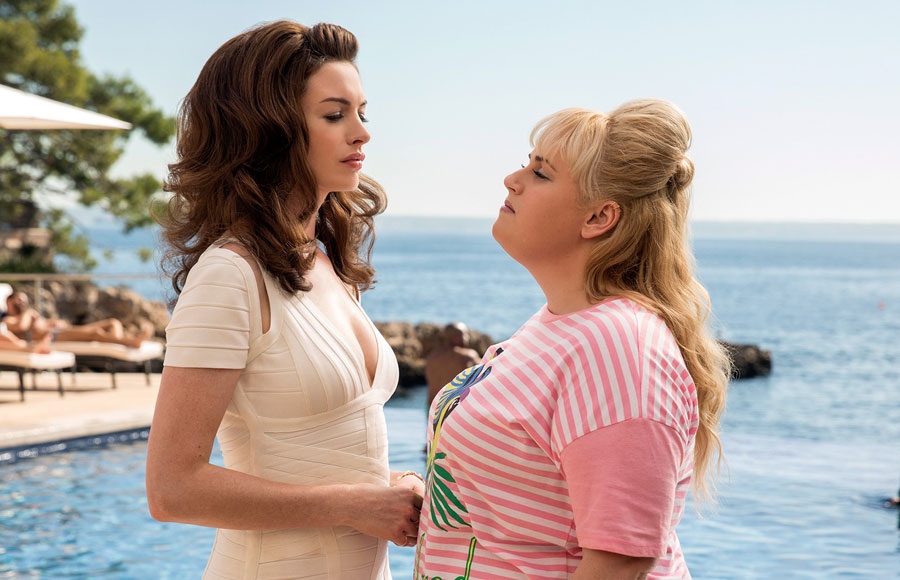 ---
---
Comedy is in a weird place these days. Stand-up performers and late-night television hosts lean into the politics of the moment, while most movies with an urge to be funny tread cautiously, afraid of giving offense to any segment of the audience. The Hustle does some of that — it pushes no buttons and tests no boundaries —but in the service of a higher cause. Or maybe a lower one. Silliness is the watchword. Always silliness.
Which is not the same as originality. Directed by Chris Addison (it's his first feature), The Hustle closely replicates a movie from 1988 called Dirty Rotten Scoundrels. Have you seen it? It's fun, and it was also a remake, as well as the inspiration for a Broadway show.
Like Scoundrels, which starred Michael Caine, Steve Martin and Glenne Headly, The Hustle tells the tale of two rival con artists matching wits against the picturesque backdrop of the French Riviera. Josephine (Anne Hathaway) lives in ill-gotten luxury in the (fictional) village of Beaumont-sur-Mer, assisted by two loyal, scene-stealing confederates (Ingrid Oliver and Nicholas Woodeson) as she schemes to relieve vain, wealthy men of their money.
Penny (Rebel Wilson) pursues a similar racket in less refined circumstances, and with less elegant methods. Her go-to grift is a modified version of catfishing, in which she confabulates a hot sister in desperate need of surgery. Her arrival in Beaumont is an irritant to Josephine, who objects to the competition and also to Penny's exuberant vulgarity. Their frenemyship evolves through several stages. Josephine offers her services as mentor, hoping to polish Penny's rough edges. Then they are competing to see who can fleece an American tech billionaire (Alex Sharp) who barely looks old enough to shave but is nonetheless ripe for the plucking.
You will probably see the major plot twists coming, but you won't necessarily enjoy what happens any less. Soignee swindlers in an opulent Mediterranean setting are pretty irresistible, and there's something reassuring about a story that could have been told, with some variations of tone and topicality, at any point in the last hundred years or so.
As with any classic recipe, what matters most is the execution. The financial stakes for Penny and Josephine and their marks may be high, but otherwise The Hustle gambles with play money, risking a bit of sentimentality or wounded feelings here, a snarl of meanspiritedness there. Nobody is going to get hurt, but Hathaway and Wilson make decent sport of it.
The humour, as you might expect, relies on their physical and temperamental contrasts. Hathaway, affecting an upper-crusty accent as Josephine's default voice (she has others when she needs them), savours her own chilliness and weaponises her self-control. Wilson is, well, the opposite — anarchic, profane, warm and obnoxious, using her body like a throw pillow and her voice like a car alarm. Her deployment of the phrase "prima nocta" is a high point.
There are others — goofy accents, nicely staged pratfalls, humiliations large and small — though not much that rises to the level of unforgettable, wild-eyed, laugh-out-loud hilarity. But as I said, comedy is in a weird place right now, and The Hustle deserves some credit for fulfilling its own modest, escapist ambitions. Unlike a lot of what we see these days, in movies and elsewhere, it doesn't feel like a rip-off or a scam. It's downright innocent.