'The Disciple': Delicately woven offering
The film is imbued with a quiet, observant quality but is scathing in its exploration of success and failure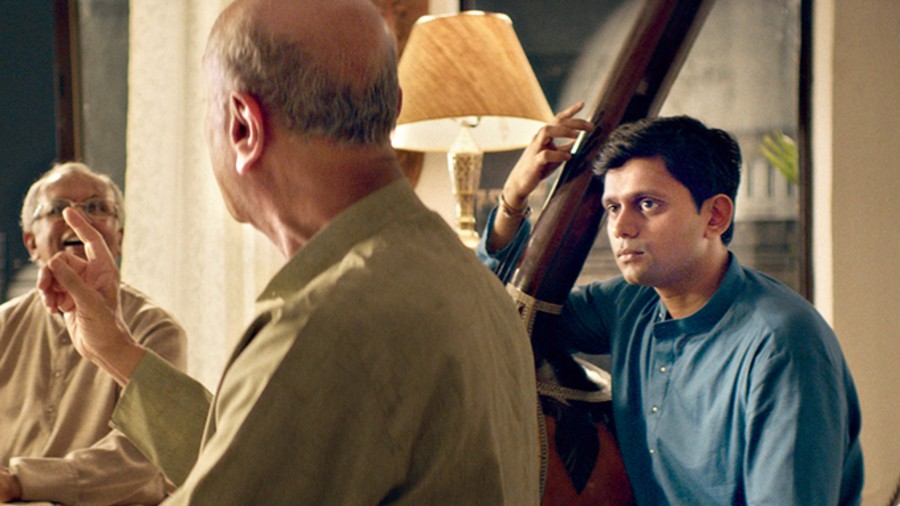 ---
---
There is a certain lyricism to almost everything in The Disciple. You see it in the way Sharad's grandmother cuts vegetables. You hear it in the massive crowds in Mumbai, pouring out of buses and trains, navigating their way through a city that never sleeps. You feel it as Sharad's motorbike cruises in slow motion through the metropolis, the tyres eating up the kilometres quietly, his mind stuffed with a million thoughts, but with his eyes focused on one goal.
Sharad Nerulkar (played by classical singer Aditya Modak) is a needle in a haystack of what is a bustling city of unending dreams. Sharad, too, has a dream. Devoted to Hindustani classical music, young Sharad is determined to rise the echelons and become one of its most significant exponents.
The first hour of The Disciple, streaming on Netflix and playing out in Marathi, shows Sharad's life enveloped by his almost dogmatic obsession — he travels from one competition to the next by the day, accompanies his guru to the occasional recital, and practises his music single-mindedly by night. But because he has to keep the kitchen fires burning, Sharad unwillingly gives himself up to a job that involves archiving music that's in danger of being lost. Much like Sharad himself.
As the film unfolds over years, Sharad continuously finds himself grappling with the public's waning interest in an increasingly endangered genre, even as he faces the bitter truth that he just may not be good enough himself.
In his sophomore outing, director Chaitanya Tamhane attempts to depict the duplicitous nature of passion. Passion that has the double-edged danger of being both inspiring and exhausting. Sharad's devotion to his craft isn't backed by the talent it deserves. The film, working through years of its protagonist's life, shows him navigating through half-successes, sacrifice and ultimately, stagnation. In the spirit of art for art's sake, he's told at one point that art doesn't care for an audience. But Sharad does.
Imbued with a quiet, observant quality and yet scathing in its exploration of success and failure, Tamhane, whose mastery of his craft and understanding of the cinematic medium goes far beyond his years, looks at what is an art form often dismissed as niche through the inevitably changing lens of the modern world.
It is tempting to compare The Disciple — executive-produced by four-time Oscar winner Alfonso Cuaron, who has also taken Tamhane under his wings — to Damien Chazelle's seminal film Whiplash, but Sharad's guru (played by Indian classical music exponent Arun Dravid) is no abusive perfectionist like J.K. Simmons' Terence Fletcher, and neither does The Disciple build to the kind of heightened drama that Whiplash had.
Instead Tamhane weaves a tender relationship between guru and disciple, even when the latter tells the former that he needs to better himself, their performances together being followed by Sharad massaging the elderly man's aching joints. Casting real-life musicians instead of actors lends to the authenticity of the film.
What's striking about The Disciple — in addition to Michal Sobocinski's stunning camerawork that makes a sepia-tinted Mumbai come alive — is that despite being set in a world that can 'other' the global audience, Sharad's story and struggle is universal. Tamhane immerses the viewer skilfully into Sharad's all-consuming world, with Aditya Modak — in a transformation that's both physical and metaphysical — anchoring the film with the kind of simmering intensity that makes his struggle feel tangible. But The Disciple's languid and often indulgent pace faces the risk of finding favour with only a discerning audience. But purity — of thought, purpose, intention and execution — perhaps, needs to be viewed by only those who are capable of appreciating it.