The comic genius of Gulzar: Gol maal hai bhai to Chupke Chupke, Angoor to Kajra re
On the eve of Gulzar's birthday, we celebrate his fantastic funnybone as lyricist, writer and filmmaker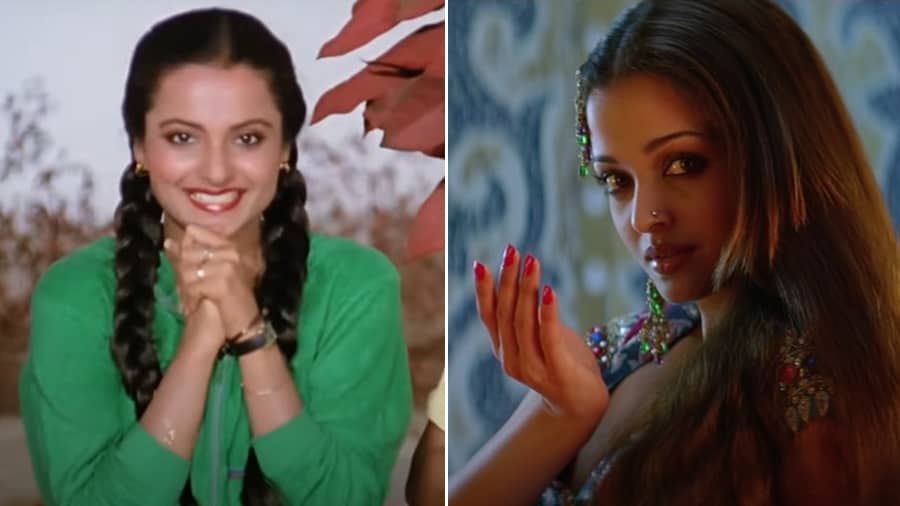 (L-R) Rekha in Qayda Qayda and Aishwarya Rai Bachchan in Kajra Re.
YouTube
---
Calcutta
|
Published 17.08.22, 12:26 PM
|
---
We are on our way back from Chandigarh where Gulzar has been felicitated for his Hindustani translations of Rabindranath Tagore – Baaghbaan and Nindiya Chor – a long-cherished project on which I worked with him closely. As we make our way to the baggage claim at the airport in New Delhi, a man approaches him. 'Sir, are you…' He is not sure that this is indeed the Gulzar. The legendary lyricist, poet, writer and filmmaker shakes his head. 'No, no… I am not.' The man is reassured. 'Yes, I just thought you are… but it can't be … though you…' Gulzar looks at him and says, with a straight face, 'I know, people tell me I look like him… but I am not; I am only a translation!'
In my long association with him, this is just one of the many moments that brought to light the impish and often wacky sense of humour that is so integral to Gulzar's persona, and indeed his work in cinema. People are so enamoured of his 'serious' songs and films that one tends to overlook his contribution as one of the finest writers in the Hindi film industry when it comes to comedy. It also says a lot about the way we view humour in our arts as something less reverential that barring 'Kajra re', none of his comic output as a writer and director has won any award. 
Many have been the instances at book releases and literary events I have moderated with him when during the question-and-answer session at the end, one inevitable question he would face was: "There was a time you would write words like 'Humne dekhi hai' and 'Tere bina zindagi se' – kitne shareef lafz thhe… and now you write 'Kajra re' and 'Beedi jalai le'." If you expected him to be stumped, perish the thought. His gem of a comeback: "Aapse kisne kahaa ki main kabhi shareef tha ya hoon (Whoever gave you the idea that I have ever been the decent sort)?"
The words you write must reflect the vocabulary of the era
As he never tired of underlining, the words you write must reflect the times you write them in, the vocabulary of the era. There is no point in lamenting the loss of classicism. You cannot think of love in terms of 'Ganga ki mauj' and 'Jamuna ki dhara' or 'Aangan ki tulsi' in an era devoid of aangans, when WhatsApp and texting have redefined the way we communicate, when 'Hinglish' is the de facto mode of communication. At the same time, a film song must adhere to the demands of the situation and the character. At the end of a long violent day, a gangster will not wind down with 'Dil-e-naadan tujhe hua kya hai'; he is more likely to go 'Goli maar bheje mein'. 
In her book on the poetry of Gulzar, I Swallowed the Moon, Saba Bashir writes, "Gulzar believes in changing with the times. This is reflected in the conscious effort he makes in his films to portray generational changes in the use of language. For instance, in the film Namkeen, Amma, the mother, uses the word "beghairat". Her daughter asks her, "Yeh kaun sa shabd hai?" To which the mother replies, "Shabd kya hota hai, lafz bolo."' 
So, here is a look at some of the poet's more 'un-shareefana' contributions to films and film songs. I use the word in the same spirit as Gulzar described himself as far from being shareef, because some of these constitute literature of the highest form and are consistently underpinned by a philosophical take on our life and times. This is by no means a definitive list. The works of Gulzar go beyond the limitations of such a feature. 
Panta bhaate tatka begun pora
It is true that most songs Gulzar penned in the films he has directed speak of the intricacies of relationships. Love, loss and longing permeate these songs. Songs like 'Dil dhoondta hai' (Mausam, 1975), 'Is mod se jaate hain' (Aandhi, 1975), 'Koi hota jisko apna' (Mere Apne, 1971), 'Yaara seeli seeli' (Lekin, 1991) and 'Chhod aaye hum' (Maachis, 1996) form the bedrock of his reputation as one of the finest lyricists in Indian cinema. 
His own films have not often explored the sunny side of the lyricist. Barring probably 'Master-ji ki aa gayi chitthi' (remember 'VIP underwear banyan'?) and 'Dhanno ki aankhon mein' (the original 'item number' before the term was invented) in Kitaab (1977) and 'Aanki chali' (only Gulzar can probably make 'panta bhaate tatka begun pora' feel so intrinsic a part of a Hindi film song) in Namkeen (1982). However, when it comes to songs for other filmmakers, he has some of the most lovable songs that are sure to have you rolling with laughter. 
Mummy o mummy
Loosely based on the 1968 Hollywood film Yours, Mine & Ours, Basu Chatterjee's 1978 well-loved family entertainer Khatta Meetha (1978) is one of the few Hindi films that put Parsis centre stage. Gulzar wrote the film's very popular songs, which include the side-splitting 'Mummy o mummy', pictured on Deven Verma – whom Gulzar has described as 'a humourist who excelled at comedy' – imploring his mother (played by Piloo Wadia) to get him hitched. 
Gol maal hai bhai and Ek din sapne mein Armchair discussions on Gulzar's contribution as a lyricist in Hrishikesh Mukherjee's evergreen laugh riot, Gol Maal (1979), have largely been limited to 'Aane wala pal' whose luminous brilliance has overshadowed two hilarious numbers that demonstrate the poet's ability to tickle the funny bone. Note the way the title song, 'Gol maal hai bhai', takes on the theme of money and how one needs money in the first place to be able to earn some, and then line-by-line expands on the circularity: if you can't beg for money, better sweat for it; but if you sweat, you will need a handkerchief; well, you would need cloth for that; you can tear up a shirt to make one, or someone might just lend you the cloth for a shirt; but getting it stitched will again need money… and so round and round it goes.  
Paisa kamane ke liye bhi paisa chahiye
Maange se na mile toh pasina bahaiye
Bahta hai jab pasina to rumaal chahiye 
Rumaal bann gaya bhi gar kameez phaad kar
Kameez ke liye bhi toh phir kapda chahiye….
The other song, 'Ek din sapne mein', brings forth his genius at wordplay and conjuring bizarre scenarios in keeping with the demands of the situation. The hero (Amol Palekar) and his pals are at a picnic, daydreaming and singing about becoming celebrities. 
Ek din sapne mein dekha sapna
Woh jo hai na Amitabh apna….
In the next stanza, it's football legend Pele who gets the treatment. Given the unreal world of a dream, Gulzar seamlessly merges football with cricket. 
Ek din sapne me dekha sapna
Arre woh jo hai naa Mister Pele apna….
It is in the final stanza that he outdoes himself, coining the term 'sapni' to rhyme with 'apni'. Again, what would be unacceptable in a poetic world becomes perfectly legitimate because it's a dream he is describing. 
Ek din chhoti si dekhi sapni
Woh jo hai naa Lata apni
Saare niyam tod do and Qayda qayda In this film that marked a turning point for Rekha, Gulzar has two songs that underlined the theme of the film: a light-hearted takedown of regimentation and too much order. It's possible to view Khubsoorat (1980) as a parable about the Emergency the country had witnessed only a few years before, with the stern matriarch (played by Dina Pathak) standing in for Indira Gandhi. These songs in effect can thus be seen as protesting the dictatorial rules the Emergency engendered, albeit done tongue firmly in cheek.
'Saare niyam tod do' is a fun call to break all rules and have some fun. 'Qayda qayda' paints the picture of a world where the sun and the moon and nature itself decide to abandon a strict adherence to order. From rivers of milk flowing on the moon to grass made of faluda (if only we could eat the moon, one spoon at a time, goes a line) to crops of toffee, trees laden with sweets and taps overflowing with coffee, the song is almost Lewis Carroll-ish in its imagery.
Dil toh bachcha hai ji 
If Mallika Pukhraj had her 'Abhi toh main jawan hoon' (written by Hafeez Jalandhari), Gulzar has 'Dil toh bachcha hai ji' (Ishqiya, 2010), a wistful lament for lost youth that's pensive and funny in the same breath. The vision might be failing, the teeth no longer strong enough, the glow has gone missing from one's demeanour, yet, the poet asserts, the heart is still young and longs for that passion of youth. Gulzar is sublime in this take on the wayward ways of the heart at an age when it should know better, when it should have learnt to be quiet.  
Chupke Chupke to Chachi 420
A film being primarily a director's medium, one tends to overlook what others may have contributed in ensuring its place in posterity. Take Chupke Chupke (1975), for example, one of the great comedies of Hindi cinema. Though a Hrishikesh Mukherjee film, its screenplay and dialogues were written by Gulzar, based on the Bengali original Chhadmabeshi by Upendranath Ganguly. Much of the joy in this funfest lies in the situations he creates and his terrific sense of wordplay. From lohpath gamini agnirath (train) to the funniest lesson in botany (corolla/karela) you are ever likely to come across, the writer's contribution to this classic comedy is immeasurable. Not to mention that in a year in which Amitabh Bachchan singed the box office with his smouldering performances in Deewaar and Sholay, this film had him in oversized glasses mumbling, trying to differentiate between 'gende ka phool' and 'gobi ka phool'. 
A number of Hrishikesh Mukherjee films owe their quintessential flavour to Gulzar's pen – be it Guddi or Bawarchi. Even a four-hanky tearjerker like Anand has its droll moments in the character device of Murarilal (Johnny Walker as Issabhai Suratwala), leavening the inherent tragedy of the film. 
Kamal Haasan's Mrs Doubtfire remake Chachi 420 (1996) also benefits immensely from Gulzar's keen eye for the humorous, particularly in the way he fleshes out the character of Banwarilal Pandit, the secretary with a glad eye, played brilliantly by Om Puri. Chachi 420 also offers a wonderful bouquet of zany songs written by him, including the alliterative 'Chupdi chupdi chachi', 'Dauda dauda bhaga bhaga sa' and 'Jaago gori' (a line in the song goes 'Saiyyan hamare hai Matahari'). 
Angoor, a mad medley of mistaken identities
Given his many forays into the comic realm as a writer and lyricist, it is somewhat surprising that Gulzar has just one comedy to his name as a director. But that film has stood the test of time as one of the greatest in Hindi cinema. Based on Shakespeare's A Comedy of Errors, it is interesting that Gulzar had a hand (as lyricist) in an earlier version of the film, Do Dooni Char (1966), starring Kishore Kumar and Asit Sen. His 1982 remake, Angoor, is a laugh riot, a mad medley of mistaken identities that benefits from the filmmaker's innate sense of timing and two (or should that be four?) great performances by Sanjeev Kumar (both named Ashok) and Deven Verma (both named Bahadur) in double roles. 
In a film that literally bursts at the seams with laugh-out-loud moments – one of the Bahadurs looking for a rope to hang himself and bargaining over its price, one of the Ashoks as a detective pulp-fiction addict, another Bahadur lip-syncing to 'Preetam aan milo' – it is impossible to zero-in on one. But my personal favourites come towards the end. Both reveal the filmmaker's ability to ratchet up the laughter.
In one, set in the jewellery shop where a few of the film's key sequences play out, the harried artisan Mansoor Miyan (Yunus Parvez in a hilarious turn) tries to convince one of the Ashoks that he had indeed delivered the necklace, ending with this classic exchange, a triumph of comic writing:
Mansoor: …aur maine haar aapki zaano pe rakkha…
Ashok: Kahan? Kahan rakkha tha?
Mansoor: Zaano pe… mera matlab ghutno par…
Ashok: Jo aadmi ghutno ko zaano kah sakta hai, woh Ashok Kumar ko Kishore Kumar bhi kah sakta hai…
In the other sequence, after the two Ashoks and two Bahadurs come face to face for the first time, the former have an exchange that is a fond send-off of the hoary Hindi film cliché of long-lost brothers/twins who have similar birthmarks on their bodies or some-such script contrivance that will prove their genealogical connection.
Ashok 1: Tumhara naam Ashok hai?
Ashok 2: Haan
Ashok 1: Mera bhi; tum Raj Tilak ji ke bete ho?
Ashok 2: Haan
Ashok 1: Main bhi. Achha, yeh batao, tumhare daaye kandhe mein til hai?
Ashok 2: Nahin
Ashok 1: Mera bhi nahin hai; phir toh hum dono bhai huye!
Chhaiyyan chhaiyyan to Banda yeh bindaas hai to Kajra re
For someone whose songs have defined and redefined the best of Hindi film music, it is only in the twilight phase of his career that Gulzar probably transcended the elite divide and became a balladeer of the masses. And he did so without compromising on the basic integrity of his art and craft. A new generation of composers led by A.R. Rahman, Shankar-Ehsaan-Loy and Vishal Bhardwaj created what would become bona fide dance-floor sizzlers, 'item numbers' with a difference, with class and style. 
It probably began with 'Chhaiyyan chhaiyyan' (Dil Se) and 'Goli maar bheje mein' (Satya), both releasing in 1998. Using two diametrically opposite idioms – the purity of chaste Urdu (only Gulzar can make you shake a leg to esoteric lines like 'Woh yaar hai jo khushboo ki taraah/ Jiski zubaan Urdu ki taraah') and the streetwise slang of Mumbai's underworld – Gulzar rewrote the rules of film-song writing for a new era. 
He carried the experimentation with form and words further with 'Banda yeh bindaas hai' (Aks, 2001) before delivering what is arguably his biggest chartbuster as a lyricist with 'Kajra re' (Bunty Aur Babli, 2005). At the age of 70, he had the youthfulness to conjure a song that had teenagers swaying in pubs and discotheques and auto-rickshaws blaring it from their stereos. 
Shaad Ali and Shankar-Ehsaan-Loy would return nine years later with Kill Dil that had Gulzar penning the wacky title song:
Tar-coal ki ek sadak par do saaye hain
Andhere ki najaayaz aulaad hai shayad
Taara… dekh taara
Aasmaan pe latka hai bechaara…
The Vishal Bhardwaj effect: Beedi jalaile to Darling to Dhan-te-nan
Some of his finest songs of this fecund phase as a lyricist have come in collaboration with Vishal Bhardwaj who, in chartbusters like 'Beedi jalaile' (Omkara, 2006) and 'Darling' (7 Khoon Maaf, 2011), to name only two, seems to have the uncanny ability to get his mentor to raise the bar every time. It is with Vishal as a composer that Gulzar broke free of the constraints of film lyrics, experimenting freely with Hinglish, English and Urdu, absurdist imagery and quirky wordplay. Who would have thought that the quintessential Hindi film action music signifying tension and excitement, 'dhantanan', would be reincarnated as the floor-scorcher 'Dhan-te-nan' (Kaminey, 2009). Rajesh Khanna used the word in Bawarchi, in the scene where he brings tea to the family patriarch – no prizes for guessing who wrote the film.
The situations that Vishal creates in his films seem to have inspired and emboldened Gulzar to more and more freaky experimentations. Consider, 'Oye boy Charlie' in Matru Ki Bijli Ka Mandola (2013):
Nazar mein tu hi tu hai
Tu meri Timbuktu hai
Oye boy oye boy Charlie
And it gets zanier with every line, almost like a nonsense limerick. 
Or the inspired lunacy that informs two songs in Rangoon (2017), 'Bloody Hell' and 'Mere miyan gaye England' (taking off from the classic C. Ramchandra-Shamshad Begum song written by Rajendra Krishan, and ingeniously incorporating Hitler and Churchill into the lyrics):
Mere miyan gaye England
Baja ke band
Na jaane kahaan karenge land
Ke Hitler chaunke na / Ke Churchill chaunke na
Posterity will decide how these experimentations with form and language stack up vis-à-vis his more celebrated classics. There is, however, no doubting the virtuosity of someone who pens a 'Humne dekhi hai' with as much felicity as a 'Kajra re', who can have you double up with laughter in Angoor as easily as he can bring a lump to your throat in Namkeen, both in the same year. 
Shantanu Ray Chaudhuri is a film and music buff, editor, publisher, film critic and writer