The Big Bull romanticises a criminal in a half-baked story
The film, that dropped on Disney+Hotstar, is riddled with patchy writing and dodgy CGI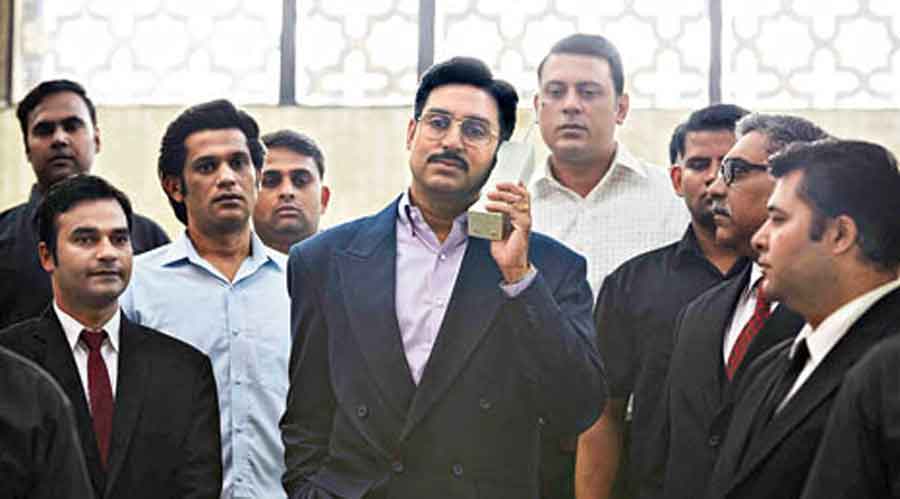 ---
Calcutta
|
Published 10.04.21, 12:20 AM
|
---
The Big Bull is what we had expected it to be. Yes, not a patch on Scam 1992. In fact, so perfunctory is the storytelling and so over-the-top is its treatment that it seems almost ridiculous to compare the film, that dropped on Disney+Hotstar on Thursday, to the Sony LIV series that created waves and almost single-handedly changed the streaming game last year.
Hansal Mehta's Scam 1992, frontlined by Pratik Gandhi, made a deep-dive into the world of stocks and shares, bulls and bears to tell the compelling story of the dizzying rise and thudding fall of stock market kingpin Harshad Mehta. The Big Bull — directed by Kookie Gulati and with Abhishek Bachchan playing a character with a similar trajectory — chooses to fictionalise what is quite evidently Harshad Mehta's story.
The disclaimer at the beginning puts it as, "somewhat inspired by true events", which is not a set of words that's easy to figure. Abhishek is Hemant Shah. The journalist, clearly modelled on Sucheta Dalal who brought Harshad Mehta down, is called Meera Rao (Ileana D'Cruz in a sketchy part, sketchier accent and the worst ageing job in recent times). The newspaper she worked for has been renamed to 'India Times'. But the film employs real-life footage from the '90s, including one from Parliament clearly featuring the voice of then finance minister Manmohan Singh. When the dirt of Hemant Shah's manipulation of the Indian economy is shown to have its roots at 7, Race Course Road, the Prime Minister's silhouette screams out P.V. Narasimha Rao. "Somewhat inspired". Well, okay.
But that's the least of the problems that plague The Big Bull. Harshad Mehta's story is one which exemplifies the phrase, 'Truth is stranger than fiction'. It's a story that lends itself to various interpretations, but The Big Bull chooses to take the most tricky route. While Scam 1992 achieved the fine balance of showing the man's warts and wounds, The Big Bull glorifies someone who is essentially a criminal, putting down his constant siphoning off of the country's money to hamartia rather than hubris.
Hemant Shah is shown as merely someone who took advantage of the loopholes in the country's banking system. The fact that he got caught, the film seems to imply, is a shame. In romanticising Shah and his 'struggle', Gulati, along with co-writer Arjun Dhawan, chooses to implicitly say that India — then burdened with an economy in negative growth — needed a 'messiah' like Hemant Shah to propel its journey on the path of economic liberalisation. And so, you have dialogue writer Ritesh Shah coming up with lines in which the man says everything from, "Paisa kamaana ek kala hain, scam nahin" to "Main stock market ka nahin, sapno ka saudagar hoon".
Even as a film, The Big Bull comes up short. Hemant's rise from a chawl to a skyscraper, from a man earning Rs 10,000 a month to India's first billionaire, is sketchy and rushed, punctuated by a mind-numbing rap number by CarryMinati. While it's true that Scam 1992 had eight hours at its disposal, there's not a single moment in The Big Bull's tedious 155-minute running time which keeps one invested.
It's evident that Abhishek has worked hard on his body and body language, with Hemant Shah being unable to hide his inherent uncouthness even under swathes of silky dressing gowns. But the patchy writing, dodgy computer graphics and hurried screenplay undoes the minimum positives that this film has. The worst? Making the man laugh out loud like an '80s villain, with currency notes flying all around him, every time he makes a killing at the stock market. Er, Mogambo khush nahin hua!  
Did you like/ not like The Big Bull? Tell t2@abp.in