Team the Last Film Show aka Chhello Show on their film
The movie is India's entry to the Oscars and releases in cinemas today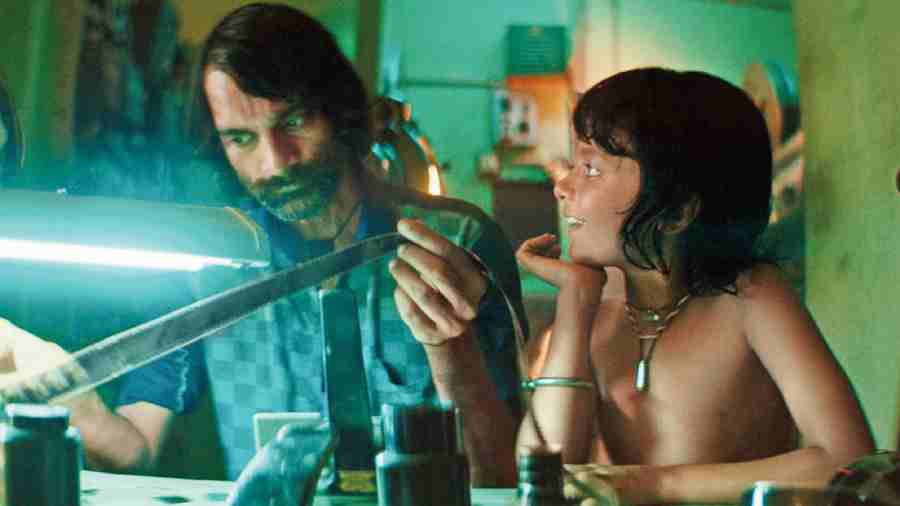 Bhavesh Srimali (left) and Bhavin Rabari in The Last Film Show, now playing in cinemas
---
Published 14.10.22, 12:20 AM
|
---
The Last Film Show aka Chhello Show — India's entry to the Best Foreign Language category at the Academy Awards 2023 — releases in cinemas in India today. The Gujarati film is the story of a young boy in rural India who is entranced by the magic of cinema. This Pan Nalin directorial is a simple story powerfully told and is based on the film-maker's childhood. Even as it gears up to showcase itself internationally with an eye on the Oscars, The Telegraph chatted with director Pan Nalin and producers Siddharth Roy Kapur and Dheer Momaya on their film which is making all the right noises.
I found The Last Film Show extremely engaging in terms of its simple storytelling and its arresting visuals. Besides being India's entry to the Oscars next year, the film has won scores of awards internationally. But above all of that, does being able to release the film in India make it more special?
Pan Nalin: For me, it's very special. That's what I have always strived for. For the films that I have made in the past, I have always looked for wider distribution in India. I was lucky enough to have good distributors for my films abroad, but most of them had a small, niche distribution in India.
And so it's a privilege for me that people are talking about The Last Film Show. I have never made films for festivals, awards or for the Oscars. My primary goal always has been to reach out to audiences, just like any other film-maker.
Siddharth and Dheer, what is it about The Last Film Show that hooked you enough to make you want to back it?
Siddharth Roy Kapur: I had exactly the same reaction that you did when I watched the film. Dheer and Nalin had already shot the film when they brought it to me. I got involved with the film at the stage where they were looking at how to take the film out to the world. I saw the film and I fell in love with it completely. It evokes so many emotions in you and it leaves you with the feeling of having had a wholesome cinematic experience. I just knew this was a film I wanted to be involved with and I am glad that we are being able to take it to the world in the way that we are. It deserves a larger release. We are releasing it in Gujarat extensively as well as in the rest of India. We want the film to transcend boundaries both in India and across the world.
Dheer Momaya: I have been a fan of Nalin's work for many years. I got very emotional when I watched his film Angry Indian Goddesses. It coincided with the time I was trying to get into the film business and this film convinced me that this is the kind of cinema I want to be associated with.
When I met Nalin, I tried to investigate what his back story is... where he comes from and how these incredible films of his like Valley of Flowers and Samsara formed in his head. He took me back to his childhood and I was very excited and fascinated by his life story. I remember telling him that I wanted the rights to his life story.
A couple of years later when he called me and said he wanted to make a film together, I didn't even have to ask what the film was about! (Laughs) I was quite clear that this was the film I wanted to make.
There are very few Indian film-makers whose films get watched extensively internationally. His films are watched by non-diaspora audiences too. Nalin makes films that are hyper-local and rooted, but at the same time, they have global themes. This film has a global theme and is for every age group and nationality. The universality of the film hooked me.
Nalin, this is such a fascinating story and it is your story. What took you so long to make a film on it?
Nalin: The last thing I wanted to do was make a story on my life! (Laughs) If you had asked me even 15 years ago, I would have said, 'No way! I am not going back to Kathiawar... I just got out of there!' (Laughs) But life works in mysterious ways. Everything has to happen at the right time... it needs to come from your heart, the feeling needs to be strong enough. Most of my films were born out of a strong desire that I need to tell this story. The Last Film Show happened because I finally had a desire to tell my story. I wanted to go back to where I come from. What was the primary emotion when you heard that The Last Film Show had been chosen as India's entry to the Oscars? Did the chatter surrounding RRR being snubbed dampen things a little bit?
Nalin: We had always believed that we would be selected (smiles). But my primary preoccupation was about taking the film to as many people as I could. Even before the (Oscar) announcement, we were doing many screenings, going from one small town to the next. We didn't want The Last Film Show to be a film that people only discovered on the day of its release. We wanted more and more people to watch the film so that there would be a conversation around it. That's what we were busy doing.
And then the news of the Oscar entry arrived, and I was thrilled and excited that the jury had unanimously voted for our film. When The Last Film Show was acquired by Samuel Goldwyn Films, its CEO Peter Goldwyn had said that he believed our film was a strong contender from India. He was the first to say it some 10 months ago. Five months later, (film-maker) Ashutosh Gowariker saw the cut and said, 'Get ready, you guys are going to the Oscars!' And then Sid (Roy Kapur) came on board and he was like, 'Let's see how we can market this well enough to emerge as a strong contender'.
Siddharth: It's a huge honour, but a massive responsibility as well. Right now we are consumed with releasing it in India and then we will do all we can to ensure that it gets the best chance that it can get at the Academy Awards.
Regarding the chatter, I think every year there is a certain amount of debate around any selection. It happens in India, it happens around the world because it's so subjective... there is no black and white. There is no right or wrong answer. It's just that the jury that particular year believes in making the right selection, and then it is the duty of everyone involved to get behind that selection. At this time, the whole industry is behind us and we are very happy about that.
Among many other things, The Last Film Show is about the magic of cinema. Do you remember the first film you watched that had that kind of impact on you and made you believe in the power and magic of moving images?
Dheer: For me, it was Titanic. I was seven or eight then and hence way too young to watch the film. My elder cousin brother sneaked me in. I was so visually captivated by the film. That film got me obsessed with water. I went scuba diving at age 12. I would be obsessed with ships and read up on stuff like The Mariana Trench. That's the power that cinema has. It sparks new interests in you.
Siddharth: I grew up in the era of (Amitabh) Bachchan. I was obsessed with him and there was a phase when he would die at the end of every film, especially in the '70s. That was torture for me! (Laughs) I went to watch Muqaddar Ka Sikandar at Roxy and I was distraught at the end of it. Rakheeji was my favourite actress and I was so angry at her for not being in love with him (Bachchan's character in the film). And then he dies in the end!
The same thing happened in Sholay where Veeru (Dharmendra) and Jai (Bachchan) are playing dead out in the fields and I thought he was really dead and I left. And in Amar Akbar Anthony, Vinod Khanna's character was beating up Bachchan's character... and I again cried and left! So I would cry and leave... but I would also keep going back! (Laughs)
Nalin: More than a film, it has always been the experience for me. Arriving at the cinema hall, buying the tickets, going and sitting down, the fans whirring, the thick black curtains, pigeons flying inside the hall... and then the lights going out. And then, like Samay (played by Bhavin Rabari) in The Last Film Show I turned around and looked at the beam of light from the projector... and it was magical.