The 2019 film Sanjhbati, which starred Soumitra Chatterjee, Dev and Paoli Dam, was a passion project for them, which created wonders at the box office. Directed by Leena Ganguly and Saibal Banerjee, the superhit Sanjhbati made people rethink emotional ties and bonds with their parents and loved ones. Now the team is back again with Khelaghar, to be directed by Leena and Saibal. Produced by Bengal Talkies in association with Dev Entertainment Ventures, Khelaghar stars Dev, Paoli and Srabanti. "We are really happy to unveil Khelaghar. We have been working on the story idea for some time now. The audience will get to see the three of us in a new avatar in this film. Both Paoli and Srabanti are powerful actors. And with Paoli and I, the audience will get to revisit the magic of the Chandu-Phuli chemistry (from Sanjhbati) once again on screen. People will get to discover Srabanti in a new way... she is an underrated actress, who should not be typecast. For Leenadi and Saibalda, I love their storytelling style which is really engaging... the way the story progresses with the three characters in Khelaghar is fascinating," smiles Dev. "All of us live in a khelaghar. It is a relationship story revolving around a modern crisis," says Leena Ganguly.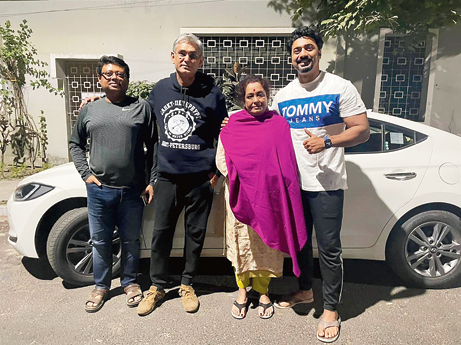 Saibal Banerjee, Atanu Raychaudhuri, Leena Ganguly and Dev
This will be Paoli's third film with Leena and Saibal. "Their films have stories which address important, relevant, social issues that are woven around real characters, which is why the stories resonate with the audiences. The subjects are so sensitive," says Paoli, who is looking forward to the "intriguing journey". After Sanjhbati, the pairing of Dev and Paoli will be seen once again in Khelaghar. "People loved our pairing... they flooded us with messages saying they want to see us together on screen again. We had organically approached our characters... we complemented each other on screen," says Paoli.
"Dev is a director's actor, extremely sincere and intelligent. He is full of energy and asks relevant questions about his character. Paoli is a strong, intense actress, who can bring out various shades to a character... her eyes are so expressive," says Leena, who'll be working with Srabanti for the first time. The shoot is scheduled to start around August-September.