Team Kota Factory on their hit show
A head of the premiere of its second season on Netflix, the actors speak about their hit show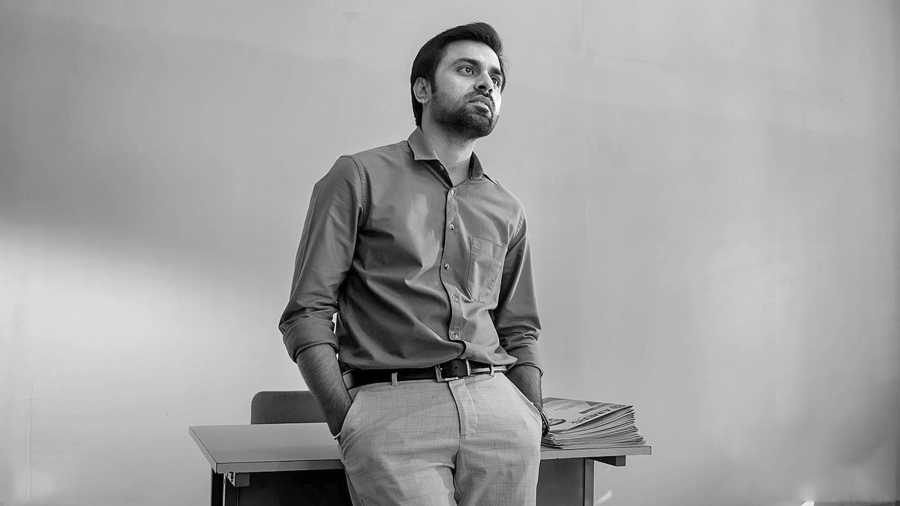 ---
Published 24.09.21, 03:53 AM
|
---
Two years ago, Kota Factory — a five-episode series created by The Viral Fever and released on YouTube — became an overnight hit. Touching upon the lives of teenagers who go through the grind of preparing for entrance exams in the coaching centres at Kota, the show resonated with many. Its success prompted Season 2, which drops on Netflix today.
Ahead of its release, The Telegraph caught up for a chat with the cast headed by Jitendra Kumar aka Jeetu, who plays a much-loved teacher on the show, Mayur More (who plays Vaibhav), Ahsaas Channa (who is seen as Shivangi) and Ranjan Raj (who plays Balmukund Meena), along with director Raghav Subbu to know more about the Kota Factory sensation.
If we go back to Season 1, what was the most memorable compliment you got for the show and for yourself?
Ranjan Raj: Season 1 was one of the top shows on IMDb and I don't think there can be a bigger compliment than that. For my character (Balmukund Meena) to hear things like, 'Tere jaisa dost hamesha sabko life mein miley'... yeh sunn na hi ek bahut badi baat hain.
Raghav Subbu: The views and the fandom aside, the fact that Kota Factory was accepted as a black-and-white show in 2019 on YouTube... that is the best part for me. I had to convince the producers and all the department heads to join in on that singular thought and the fact that it worked was the biggest compliment for me.
I made it black-and-white with a certain intention and then the audience individually interpreted it in their own ways. Some thought it was the binary world of Kota — the zeros and ones — that made it black-and-white. For some, it represented the drudgery and the gloomy nature of this world. Honestly, there is no wrong answer to this.
Jeetu: The fact that the audience connected to Kota Factory in such huge numbers said a lot. When the show was being made, I honestly did think that its appeal would be limited since the show is about Kota and its students. I thought only that particular demographic would watch the show.
I was shooting something else and someone asked me what I was working on next. I mentioned Kota Factory and told him it's about the coaching institute culture in Kota, and that guy knew nothing about it. Toh mujhe laga ki bhai yeh toh shayad bahut difficult hone waala hain audience ke liye! (Laughs) I thought people wouldn't be able to connect, but thankfully, it became very popular. Plus, everyone had an opinion about the show being in black-and-white. But the fact that the show connected so strongly with people was very unexpected for me, and very overwhelming.
Ahsaas Channa: The show has a second season because the audience asked for it. I believe there wasn't supposed to be a Season 2 when we made the first season. Looking at how the audience loved it and prompted a second season is a compliment in itself. Like Ranjan said, people also loved my Shivangi and said things like, 'She's so cool and she gives the best advice. She has everything sorted in her head.' The love for the show was unbelievable and it got pretty overwhelming.
Mayur More: As the others said, we were apprehensive about how the whole black-and-white look and feel of the show would appear to the audience, but thankfully it was well received. Also, when people come up and talk about the show, they don't just single out Vaibhav (his character), they talk about everyone else too. When the first season dropped, I was so overwhelmed by all the DMs on my Instagram because I am not used to such things. For the first three-four days, I couldn't even open my inbox because it was completely jammed with all the messages! 
Raghav, despite the fact that the show is about a select demographic as Jeetu mentioned earlier, did relatability work in favour of Kota Factory? Because success and failure, struggle and disappointment are universal....
Raghav: I think the human experience is very similar universally... wanting to be better than what you are, doing something that's greater than yourself, to make it, to break through, to achieve perfection.... everyone has their own journey. Kota happens to be a micro-world where students aged 16-17 come to study. If you think about it, that's all it is.
But then, what the city and what the show offer is so much more, and I think that's what people relate with. Everyone has gone through the grind of trying to make it to IIT or medical or 10th or 12th as a matter of fact... every exam one gives is competitive, everything you do is competitive. That's familiar for everyone and that's what makes the show work.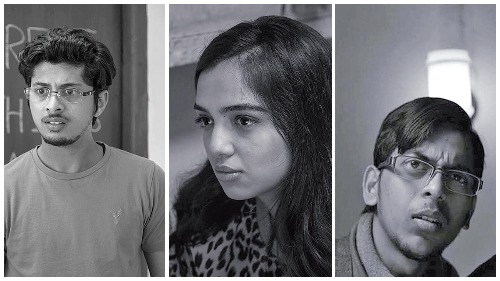 For all of you, what's it that you hated the most as a student? This question is specially directed towards Jeetu and Ranjan who have gone through the IIT grind in real life....
Mayur: I used to be very scared of math. Luckily, I never had the dream or the pressure to be an engineer or doctor. But my family was like, 'Padhai karlo aur koi dhang ki naukri kar lo.' But math was a big issue for me.
Ahsaas: The same for me. I was very scared of math. But I never got that pressure to study from my parents. My mom was very chilled out about my studies. Every time I went for an exam, she would be like, 'Beta, pass hoke aa jaana, theek hain? Fail mat hona!' (Laughs) The problem that I had with the system was learning by rote.
Jeetu: I didn't have a problem with studying, in fact I liked studying. What I didn't like was giving so many exams and tests. Yeh marks laane ka pressure, rank achieve karne ka pressure mujhe achha nahin lagta tha. I knew everything, but I simply couldn't handle the pressure of exams and I would get low marks. I couldn't understand this for two years, but miraculously, I did well in JEE and I got into IIT (Kharagpur).
But I later realised that pressure and tests are important because they also prepare you for life. When you start working, that's a pressure of a different kind and the exams that you take in school and college, that pressure and that grind prepares you.
Raghav: I will give you a reason why I hate math. Till about Class VII, I was okay with math. I could understand 1,2,3,4... but the moment it went into the zone of -1, -2, etc, it became a problem for me. Algebra just became so bizarre! (Laughs) Between Class VII and X, my father beat me up so much... just for math!
Ranjan: I think to love a subject, everyone needs a Jeetu bhaiya in life. I was okay with math, but I hated chemistry. I love math, I love physics! (Laughs)
Jeetu, whenever we have spoken in the past, you have mentioned how many in the audience can't distinguish between you and the characters that you play. Has that happened a lot with Jeetu bhaiya in Kota Factory?
Jeetu: Ya, this has been happening with me for quite some time now. I am pretty bad at coding and I have very little knowledge of start-ups, but after I did (TVF) Pitchers, so many people who were looking at opening start-ups would come to me for advice! (Laughs) I was like, 'Bhai, bahut galat aadmi se tu mil raha hain'... woh samjhana bahut mushkil ho jaata tha.
The same thing happened with Kota Factory. Kids have a lot of problems while studying and they ask me to help them by messaging on Insta! (Laughs) If I have to start explaining things to them, I will have to get down to the basics, and there is very little time for that. So all I tell them is that spend less time on Insta and start studying (laughs).
Raghav, how does one keep a show like this entertaining and yet manage to push in a message?
Raghav: I don't think I can tell you that I have found that balance. I will struggle to find it my entire life. A lot of the stuff is derived from the writing, but it's also about what the world is like. Kota Factory is not a typical Young Adult, quick-paced narrative, full of partying and dating issues.
The first time I went to Kota, I saw kids living in really small rooms without sunlight, with just one tubelight. That's a slow life. All they do is get up in the morning, study, go for coaching classes, come back and study the whole day and go off to sleep. It's the same cycle for months and years. Finding that balance is something I have tried and I hope the audience sees it.