Team 'Inside Edge' on the charm and challenge of season 2
There's a lot more cricket in this season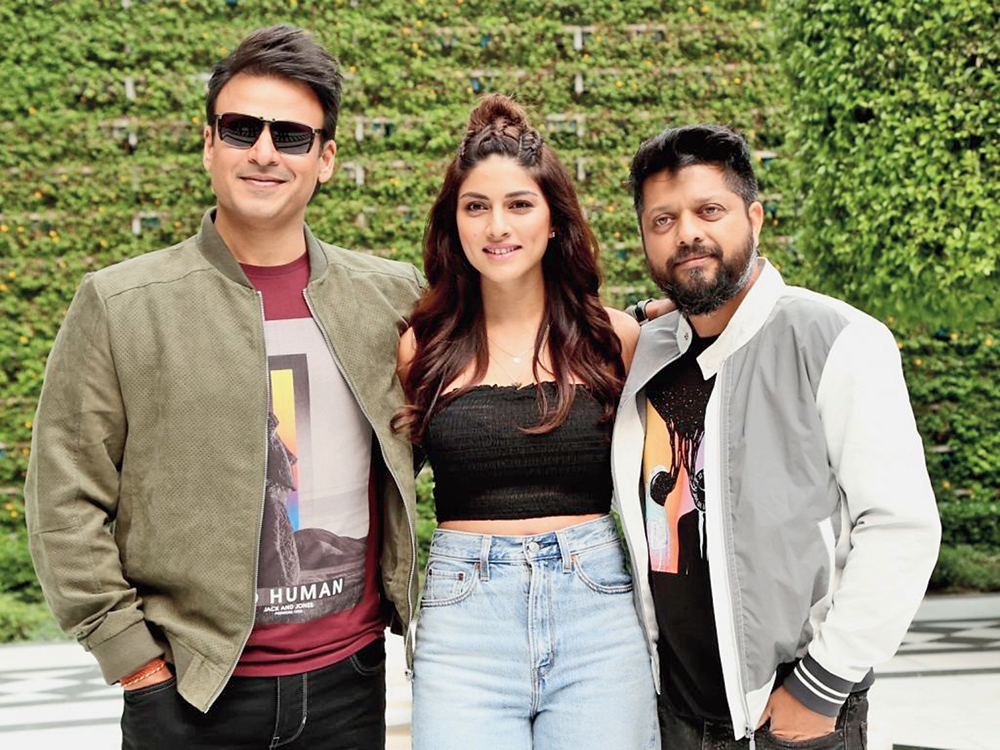 Vivek Oberoi, Sapna Pabbi and 'Inside Edge' showrunner Karan Anshuman
Sourced by The Telegraph
---
Published 10.12.19, 12:49 PM
|
---
Thesecond season of the Amazon Prime Video series Inside Edge, a larger-than-life, fictionalised look at what goes on behind the scenes in T20 league cricket, has dropped. t2 recently sat down with the show's creator and showrunner Karan Anshuman and actors Vivek Oberoi and Sapna Pabbi in Mumbai to know more about the new season.
What can we expect from Inside Edge this season?
Karan Anshuman: We take off from where we left off last season. There were multiple cliffhangers in the last episode, we get into answering all of that. There's a lot more cricket; it's about 3X this time because it's no longer about one team. The universe has expanded to two teams and you get to know both more intimately. The fun part as a viewer is to find where your loyalties lie. We're hoping that it'll shift from character to character in different teams and I hope that it goes down to the wire for someone watching it. It's a lot less linear as well because there are a lot of things happening simultaneously.
There's the cricket and the rivalry, but what we've found in this season is the clear distinction between the upper echelons of the sport, which has politics and politicians, and management levels. That's the upstairs and there's a downstairs with what's happening on the field and the cricketers. There's very little going on between them in terms of the bridges connecting these two worlds. It's weird because that upper level is actually a lot more subterranean in its dealings and is a lot darker as they manipulate everyone else. I think Bhaisaab (played by Aamir Bashir) just infuses a whole new dimension and gives a lot for everyone else to act out and play in a certain way. I think we've drawn from the who's who of the worst and composed Bhaisaab out of that.
Vivek, what's happening with Vikrant Dhawan this time?
Vivek Oberoi: The last season was all about this guy for whom power is a drug. What happens when in a single swoop you take power away from a man when it's the reason for his existence? For me, it was a whole different thought process, to take a whole new perspective, and it was very exciting as an actor. The kind of pitch and tone Vikrant is in, it's difficult to sustain that as creators and writers, and as an actor too. People don't realise that it's very restrictive because you see his aggression and power, but how do you see his vulnerabilities and insecurities? At the end of the day, he's a man and for a man to project that much, he's got to have a lot going on behind there. That was the peeling of layers of the character for me. I like to think of it as the rising of a dark phoenix. Will he, won't he? If so, how? That's the whole journey he has to traverse and it's pretty exciting.
What I love about Season 2 is its dynamism. Doping is at one end of it but the rapidness of it and the pace at which things are unravelling is exciting like a super over in an IPL game.
You're a new addition to this universe, Sapna. What's your character like?
Sapna Pabbi: Mantra's a breath of fresh air among all these shady people (everyone laughs). She's quite straight, has a good head on her shoulders, is educated, she's got subtle power. She's not in the heavy power play arena, she's an introvert and just brings some light into all of this.
Pretty much everyone on this show is morally ambiguous... they're just various degrees of grey. Were you surprised at the end of the first season when viewers reacted the way they did and got hooked to these characters?
Karan: Everything in terms of a reaction to the first season was a surprise. Even now, when someone says they've seen my show, I'm a little shocked (laughs). I've not experienced something like this where so many people have seen one thing, and it happened with Mirzapur as well. It's very interesting to see these reactions because Dhawan's character has so many fans, and he's outright dark, he's not grey. Even with someone like Vayu (played by Tanuj Virwani), who's clearly a hero-type character, we wanted to keep resetting him and make him do rubbish. He's not the hero we want people to aspire to be because he has many negative traits as well. Only Rohini (played by Sayani Gupta) in the first season was good, even Angad (Bedi, who plays Arvind Vashisth) was positive but flawed because of his naivete. It is that sort of a world. 
Vivek: I also had a strong reaction when I read what's happening with Richa's (Chadha, who plays Zarina Malik) character. It's almost like a protagonist that you're backing in Season I to take down Dhawan... suddenly you see her doing a deal with the devil and she sells her soul to fill the vacuum Dhawan leaves behind. 
Karan: She's trying to understand what power can do for her, and in that there are lessons to be learnt. 
Vivek: Also Himanshi's (Choudhry) character, Sudha, who is my character's wife. It was a trip reading her character and development across the seasons. 
Vivek, this is your first attempt at working with serialised storytelling. Was it easy to get back and find Dhawan after a bit of a gap?
Vivek: Karan was a big crutch because I was always in a huddle with him. Dhawan, in the first season, is on a fine line where he's supposed to project and make you uncomfortable by imposing his power over every character he interacts with. He's always larger-than-life. It's a really exciting opportunity as an actor to try and reinvent that character in the second season. What also happened was that Karan went from creator-director to creator-showrunner. Suddenly, I was working with Guru (Gurmmeet Singh) who I had a great equation with because I had worked with him in Season I, but also with Aakash (Bhatia) who was new. As primary director, he had a whole different take. Earlier, if I needed reassurance as an actor, I would look for Karan and if I saw him giving me a nod, I knew I had done well. For me to develop that with Aakash was interesting. 
Sapna, what was it like for you to step into this unit that works like a well-oiled machinery?
Sapna: This was the first time I've joined a show in its second season. Before this, I had always been a part of a series from the beginning. I was a little nervous but it helped that I had worked with a lot of the cast before. I had worked with Sayani before on Four More Shots Please! and Angad on 24. We had a great time shooting... 
Vivek: She was like Punjabi makkhan. She is so much fun. We just hit it off, and Sapu is the kind of person who just builds an equation. It took me a day to get to know her and by the second day, I loved her because she's fun. 
And now you also have a nickname for her!
Vivek: Yeah!
Sapna: Which just happened... (smiles)
Karan: Because there was such a long gap, we weren't really that much of a well-oiled machine. We were still learning from our mistakes. For even the older cast, it wasn't easy to slip right back in. Everyone had to still pull on the first season in terms of what they had done. It was a restart of sorts. 
Vivek: Except for Amit Sial (who plays Devender Mishra). He's like the ultimate actor in the country.
What was it like to shoot the on-field action?
Karan: It is very difficult to direct, so we brought in Puneet Gautam who's actually shot real league cricket. Of course, those have a lot more cameras. We had about half that number for our shoot and Guru was directing most of it while I was down with dengue. But we have a playbook... for every delivery that is written and scripted, we account about 20 minutes to shoot one ball. The bowler has to do it till we get it right and all the cameras are functioning to get that. We had 120 deliveries to capture this time, so it took a lot of time.
It obviously doesn't work out on the day. We're also fighting light because we only have night to shoot under the floodlights. There were some weird things happening because all the other players were real cricketers and they're not used to shooting. They're not actors and don't understand retakes. A couple of them disappeared and Aakash had to step in and play a batsman in the middle of it. I had to shoot one scene because Aakash was in there and Guru was directing the overall cricket. Things kept going wrong, so it was a mammoth task even to just communicate across the ground.
Sapna: I was shocked because I only started watching cricket now after Inside Edge. It's actually all real... they play with the real ball, no cutting corners or anything. I expected everything to be dummy, but everyone trained really hard.
Karan: That's something we were very sure about. We wanted everything to look good. I know Siddhant (Chaturvedi, who plays Prashant Kanaujia), when he was training, was told by his coach that if he continued for another six months he could play the IPL.