Team Abyakto celebrates 25 days in theatres, cherishes memories and discusses key issues about Bengali cinema
The Telegraph chats with the team over pizzas, grilled chicken and grilled fish at The Park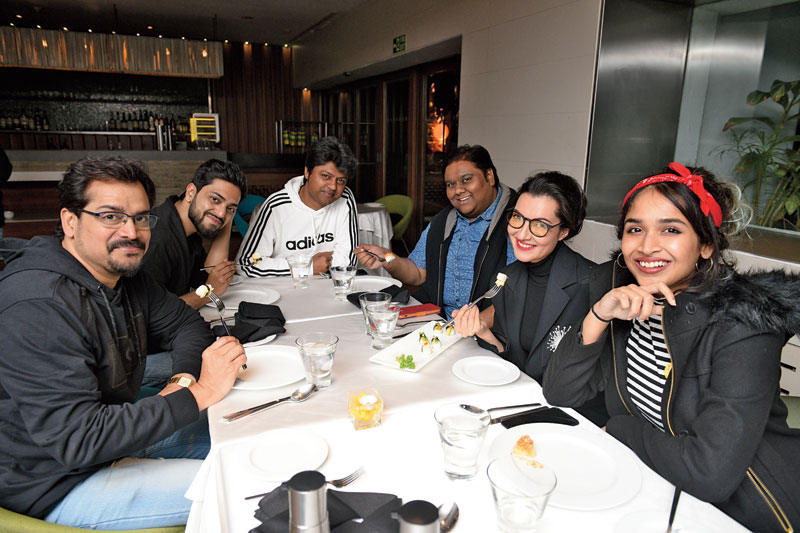 ---
---
Abyakto, a poignant tale of a mother (Arpita Chatterjee) and son (Anubhav Kanjilal), completed 25 days at the theatres on February 25. The Telegraph chats with the team — cast members Arpita, Kheya Chattopadhyay, Anubhav, Anirban Ghosh and music director Soumya Rit — over pizzas, grilled chicken and grilled fish at The Park…
Congratulations! Now that Abyakto has completed 25 days, how are you feeling?
Arjunn Dutta (director): Abyakto has been a rollercoaster ride for me and my entire team. After a festival run of more than a year, it finally saw the light of day. I feel blessed, and I would like to thank the audience from the core of my heart for making Abyakto a success story. The film's really different in terms of the story and deals with a lot of complex and important issues like sexuality and parenting... without being preachy. My team and I made an honest film with a lot of love and passion and the film has touched hearts. Abyakto has been applauded at various national and international film festivals. It was selected at the International Film Festival of India (IFFI), it was a part of Indian Panorama and also in the International Competition Section. Abyakto received the Audience Choice Award at the Indo-German Filmweek in Berlin.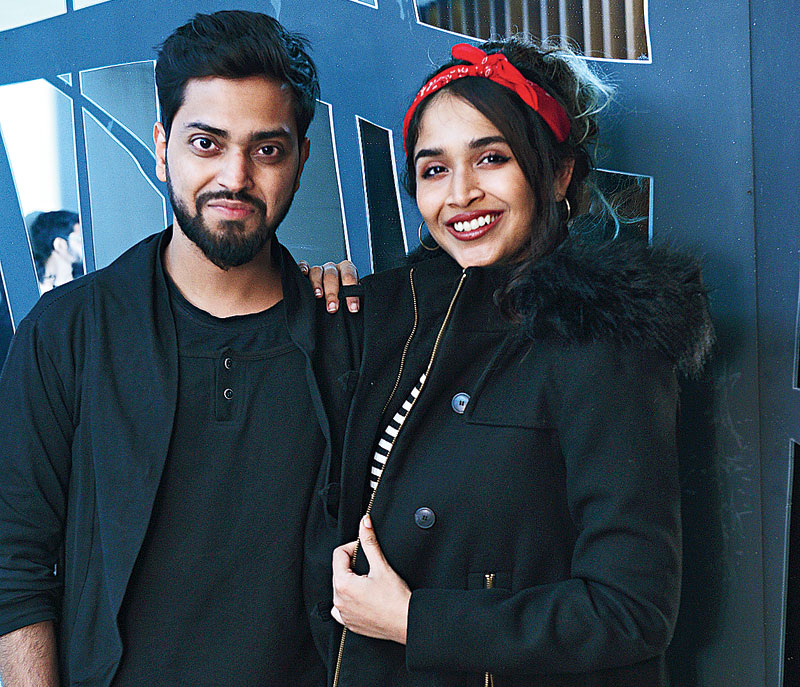 What's the one thing that you would like to see change about Bengali films or the Bengali film industry?
Arpita Chatterjee: There should be more cinema halls. And mediocracy niye matamati ta kom kora uchit.
Kheya Chattopadhyay: Directors should be given a little more time to make films. Everything is so rushed now. You have to give the film some time. Of course, only if more financiers come forward, will films get a bigger budget. And more people should go and watch films in the theatres. It's a circle.
Arjunn: The distribution system should give equal space to all kinds of films. There should be uniformity. And Bengali films need audience support. Only when you fill up the theatres, can one make more good films.
Anirban Ghosh: Films should be made with a lot of care.
Anubhav Kanjilal: More new directors, actors should come in… the acceptance of fresh faces is very important.
Soumya Rit: The right person should be called for the right work. Don't repeat the same formula; or repeat only when it is required. Don't go by preconceived notions.
Arpita, tell us about your experience of working with the team…
Arpita: Arjunn is a very simple, patient and honest person... and his honesty and simplicity gets reflected in his scripts. We are going through these complex times… and it is great to have someone who thinks in a lucid manner; who has the courage to walk against the tide and distill his ideas into a film. That's his USP.
Kheya is a very spontaneous actress. The characters she plays become so real... and that is a very tough thing to pull off. But she does it really well. In various walks of life, we see people going by maintaining various equations. But Kheya is very genuine and upfront. She expresses herself in the way she feels. I really like her… This is my second film with Anirban… we were in Satyanweshi (directed by Rituparno Ghosh)… Anirban has this lovely personality… and he sings really well.
Arjunn: Anirban sang on our sets too!
Arpita: Which I missed! In Abyakto, I play a housewife in a north Calcutta household and her life revolves around her child. It is like the boy is the only reason for her existence. The film covers a span of 20 years. The way the story unfolds is really interesting. She used to sing really well, she was a trained classical singer… she could have had a career as a singer. After the birth of her child, her son became everything to her… he was her world. Anubhav plays my son.
Now, he was born and brought up in Delhi. And Abyakto is steeped in Bangaliana, it is very rooted, so before the shoot, I was slightly worried as to how Anubhav would play this character. But soon the worry dissipated once I got to know about his background. I realised only he would be able to do full justice to the character. He was brought up in a rich, Bengali cultured family. He has been doing theatre for the last 15 years. And theatre completes an actor. He is very serious and dedicated as an actor. Anubhav deserves the appreciation that he is getting…. He has done justice to the character.
The music of Abyakto is classical-based and Soumya Rit has done wonderful work. Arjunn himself is new to the industry… and he has shown immense courage in bringing together such a talented, young bunch of people. It shows that he is really confident as a director… and we have got enough proof to show that he was right in taking those decisions.
Arjunn, tell us about the casting decisions…
Arjunn: For the mother Sathi, I wanted someone who would look the part both in her 30s and 50s. Arpitadi fit that description well. She is just terrific in Abyakto. I think it's her career best so far. As for the son, I wanted someone new who had this poise and at the same time was a strong performer. Anubhav is a theatre actor from Delhi and he knows his craft very well. He is also fantastic as the son Indra. Kheya is so real. I saw her in Projapoti Biskut, and found her performance to be really interesting. Her character Aditi is very important in the film.
What was Arpita's reaction when she heard the script first?
Arjunn: She loved it. Arpitadi is a keen observer. She plays a very strong character. Anubhav is very sincere, honest and hardworking… and he plays a very complex character. And Rit is a talent to watch out for. His understanding of Indian classical music is incredible.
How was Day One for you? Were you nervous?
Arjunn: Day One was fun, involving a sequence with Anubhav and Kheya.
Kheya: Arjunnda was like, 'Ami thakbo na, amar lojja korchhe!'
Arjunn: They needed to get cosy in the scene.
Kheya: He wrote the scene, but tarpor bolchhe, 'Lojja korchhe.'
The scene sets up the relationship between us.
Anubhav: Arjunn was very clear about his vision of Indra, my character. And Arpitadi is the sweetest person ever! She is very serious about her craft… and I felt inspired.
Arjunn, how was it like directing Adil Hussain?
Arjunn: I was in awe of Adil Sir! I had many conversations with Adil Sir over the phone and he added some lovely nuances to the character to enhance it.
Kheya, what are your fave memories from the shoot?
Kheya: It was an incredible experience. My character Aditi is like someone who protects Anubhav's character. We see many such relationships around us.