Tár to Archie'r Gallery: Films releasing in theatres this Friday
Cate Blanchett is nominated for an Oscar in the Best Actress category for Todd Field-directed Tar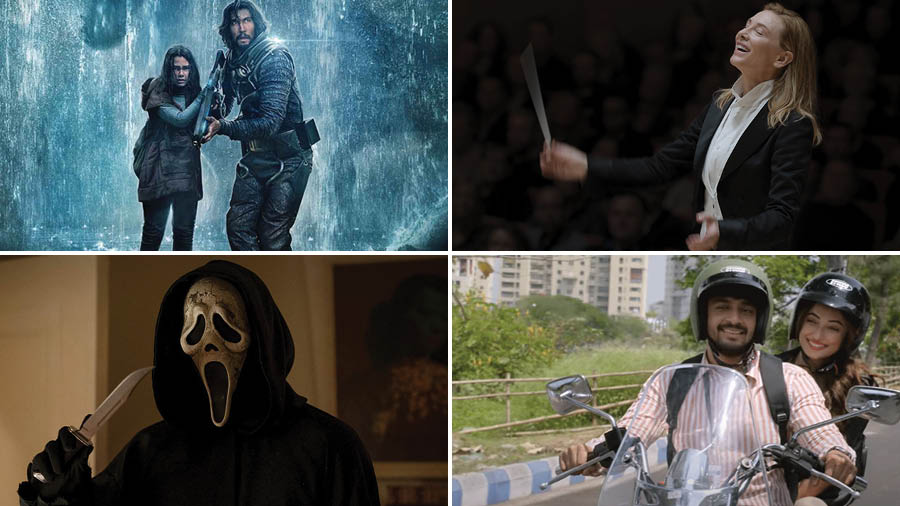 Stills from 65, Tár, Scream VI, Archie'r Gallery
IMDB, Facebook
---
Calcutta
|
Published 10.03.23, 01:38 PM
|
---
Even as Ranbir Kapoor-Shraddha Kapoor's Holi release Tu Jhoothi Main Makkaar continues to fare well at the box office, four new films —  three new English and one Bengali — arrived in theatres today. Here's a look at the films that released in cinemas this Friday. 
65 (English)
Directed by: Scott Beck and Bryan Woods
Cast: Adam Driver, Ariana Greenblatt and Chloe Coleman 
Commander Mills (Adam Driver) agrees to go on a space exploratory mission in exchange for money for his terminally-ill daughter Nevine's (Chloe Coleman) treatment. During the voyage, the spaceship carrying cryogenically-frozen passengers accidentally hits an asteroid and crashes on a strange planet. A young girl named Koa (Ariana Greenblatt) is the only survivor other than Mills. They soon realise that it is not another world after all. They travelled back in time, landing on earth about 65 million years ago when dinosaurs used to roam the planet. Together, they must battle it out in this dangerous terrain in order to survive.
Tár (English)
Directed by: Todd Field
Cast: Cate Blanchett, Nina Hoss, Noémie Merlant and Sophie Kauer
Lydia Tár (Cate Blanchett), the first female chief conductor of the Berlin Philharmonic, is on the cusp of creating history by orchestrating the live recording of Gustav Mahler's Symphony No. 5. Lydia is at the top of her game, working her way up in a male-dominated industry. Francesca (Noémie Merlant), her personal assistant, and Sharon (Nina Hoss), her wife and concertmaster, are Lydia's pillars of support. However, her moment of glory is marred in controversy as dirty secrets from her past crop up, jeopardising her career.
Scream VI (English)
Directed by: Tyler Gillett, Matt Bettinelli-Olpin
Cast: Melissa Barrera, Jasmin Savoy Brown, Mason Gooding and Liana Liberato 
Scream VI is the sequel to Scream (2022) and the sixth instalment in the Scream franchise. Sam Carpenter (Melissa Barrera), Mindy Meeks-Martin (Jasmin Savoy Brown) and Chad Meeks-Martin (Mason Gooding) — the survivors of the Ghostface murders — leave Woodsboro behind to make a fresh start in New York City. However, the gang soon find themselves struggling to save their lives when a new killer begins a fresh rampage across town. Mushrooming of Ghostface fandoms across New York City makes matters worse for them. Things take a turn for the worse when the gang receives calls from Ghostface and their roommate Quinn (Liana Liberato) is stabbed. The gang decides to bait Ghostface for a showdown.
Archie'r Gallery (Bengali)
Directed by: Promita Bhattacharya
Cast: Bonny Sengupta, Ayushi Talukdar and Rajatava Dutta
Young engineer Archie (Bonny Sengupta) lives in Kolkata with his father Amulya (Rajatava Dutta). He is a romantic at heart and is old-school when it comes to love. When he spots a girl (Ayushi Talukdar) teaching a street kid how to write her name, he immediately falls for her. Sensing his feelings for the mystery girl, Amulya encourages Archie to find her. Turns out, she is Archie's colleague. But Archie is unsure whether the concept of old-school romance will work in today's time.