Talat Mahmood: Rewinding to the voice of love when the heart is heavy
Here are five Talat Mahmood songs that you can listen to on YouTube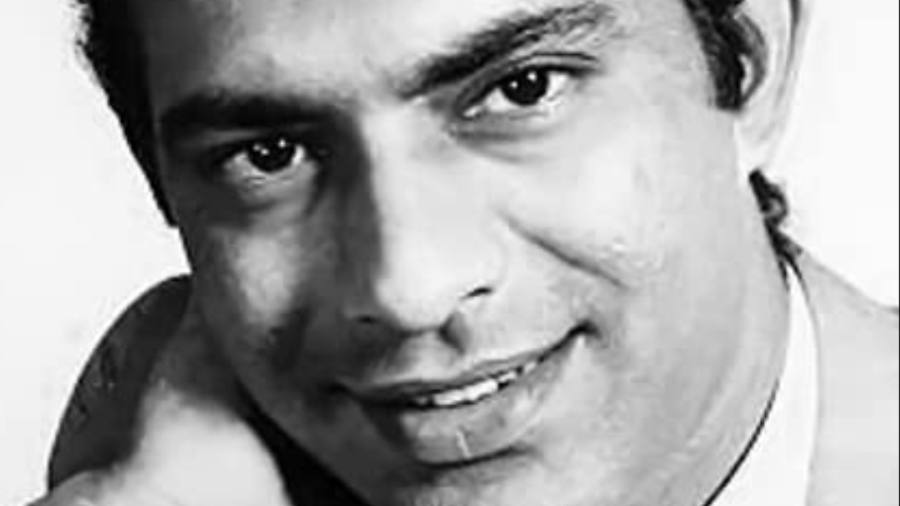 ---
Calcutta
|
Published 21.11.22, 11:23 AM
|
---
So then, have you heard of him? This Talat Mahmood? If you are above 60 and reading this, you will most surely remember him as a singer of ghazals. And that he was. A singer who sang of love. A love that existed before and is a far cry from the 'slam bam… ' kind of love that Tinder and its ilk has sparked off.
Perhaps young women of today still experience this kind of love, a yearning to be one with the beloved. One's not so sure of the young men, though; their macho self image cannot quite fit into the mood of a Talat song.
Talat's voice was of velvet timbre. It held the softness of the feather that Dilip Kumar stroked Madhubala's cheek with in the now iconic love scene from Mughal-e-Azam, as he crooned softly of despair and vulnerability, of surrender to the woman he sang to. Perhaps that is why, in a film like Devdas, where only the women were given songs to sing, SD Burman made one striking exception and gave Dilip Kumar Talat's voice to sing Mitwa in Bhairavi, as Devdas called out to the love he had once thoughtlessly spurned and was now lost to him. 
With Talat singing, you could imagine the liquid notes skimming across the wires down a telephone receiver, telling the listener that the song was just the answer for the dreams she held close to her heart. Hard to imagine the impact of such a song in these times when WhatsApp and emojis speak of love in stereotyped formats; but in his time, the song swayed many a maiden's heart, making her yearn for just one such lover. The only parallel in the new millennium is perhaps the emotions evoked in even much-married women's hearts by the eternal romantic played by Shah Rukh Khan in his films. 
Talat came to be known as the king of ghazals. He sang for the lover who stood with one foot in the door of his beloved's heart, hesitant to enter but unable to return. He sang of despair, he sang of a complete, all-encompassing love. Talat sang for the lover who suffered all for the sake of love. He addressed his songs to his beloved, and when she would not listen, to the elements of Nature, telling them of his sorrow and longing.  
The desperation of Aye gham-e-dil kya karoon, written by the poet Majaz in his own moment of despair, Kaifi Azmi's Shaam-e-gham ki kasam, Prem Dhawan's Ek main aur ek meri baquasi ki shaam hai were perfect for the tremulous quality of his voice. Yet when he sang duets like Tasveer teri dil mein, or Milte hi aankhen dil hua deewane kisi ka, whether his partner in song was Suraiya, Geeta, Asha or Lata, his voice made his protestations of love seem straight from his heart.
Despite his plethora of sad numbers, Talat Mahmood lived a charmed life. The only dilemma he faced was the early choice he had to make between his familial home and films, and of course he chose music. Success came soon enough with Tasveer teri dil mera behla na sakegi in 1944 and once he had recorded  Aye dil mujhe aisi jagah le chal jahan koi na ho for the film Arzoo, he became a national brand. 
If he failed as a hero, despite his genteel good looks, he won the woman of his heart in real life. To Talat too goes the credit for being among the first to sing at international stage shows, to full houses. And his list of non-filmi numbers include plenty in Bangla too!
The Sixties were a deep challenge to the star, and his style. The heroes had changed, their attitude to women they wooed had changed, the world was out of sync with the lover who could suffer the blows of love, articulating his pain in song.  
No way was the young man of the Sixties prepared to pine away singing sadly of lost love. He was more likely to reach out and grab the next available damsel by her arm, or at least follow her on a bike. The gusto the singing acquired to go with the mood that Shammi Kapoor had unleashed with his 'Yahoo' was beyond Talat's reach. 
His swansong came with Jahanara, set in Shah Jahan's court, with Bharat Bhushan and Mala Sinha singing of a love sacrificed at the altar of duty. Though he sang a few other numbers after Jahanara, the film with its array of soulful numbers by Madan Mohan was Talat's goodbye to his film-going fans. 
So why am I writing today, almost 50 years after his passing, of a singer whose songs have vanished from memory? Good question. 
Well, because when all the hurly burly of passionless encounters is done, when all is lost and nothing is won, maybe it's good to reflect on the many shades of love. 
When the heart is heavy, as it often can be in these troubled times when climate, corporate and everything else seem stacked against you, it may help to turn to YouTube and click on one of the many selections of Talat Mahmood songs. Let the dapper gentleman's dulcet voice wash over you, the words seep into the mind and wrest out the angst that lies concealed within, and maybe the tears will flow. Hai sabse madhur woh geet jinhe hum dard ke sur mein gaate hain, sang Talat. He knew what he was saying. Check it out.
You could start with any of the five of my favourite Talat Mahmood songs:
1. Aye dil mujhe aisi jagah le chal jahan koi na ho
I like this number because it tells me in moments when I feel unappreciated and forgotten in a world given to PR and easy fame, that such has been the way of the world. Duniya mujhe dhoonde aur mera nishan koi na ho… there's comfort in the line for me. It may comfort you too. 
Music: Anil Biswas; lyrics: Majrooh Sultanpuri; film: Arzoo
2. Gham ki andheri raat mein, dil ko na beqarar karThis brilliant duet sung with Mohammad Rafi brings in the light and shade of hope and despair as the voices contrast and act as a foil to each other.
Music: C Arjun; lyrics: Jan Nishar Akhtar; film: Sushila
3. Seene mein sulagte hain armaan…
Another beautiful duet, this one with Lata Mangeshkar. The music reflects the lyrics, the voices are soft and introspective.
Music: Anil Biswas; lyrics: (either) Prem Dhawan or DN Madhok; film: Tarana
4. Tasveer banata hoon, tasveer nahin banti 
The intense longing in this song is offset by the heavy percussion of what I believe is the ghatam or its equivalent instrument. Many years later a similar emotion would be evoked in Roshan's Taj Mahal, where Shah Jahan waits for Mumtaz while painting her portrait and the song Paon chhoo le jo phool follows.
Music: Naushad; lyrics: Khumar Barabankvi; film: Bara-Dari
5. Chali koun si des…
A beautiful to-and-fro 'bidai' duet with Asha Bhosle. Very visual lyrics that create the scene as you listen. 
Music: Shankar Jaikishan; lyrics: Shailendra; film: Boot Polish
Sathya Saran is a veteran writer and editor who has acclaimed biographies to her credit.