Taking a look at Mani Ratnam's epic classic Iruvar
Aishwarya Rai marked her debut with a character that resembled Jayalalithaa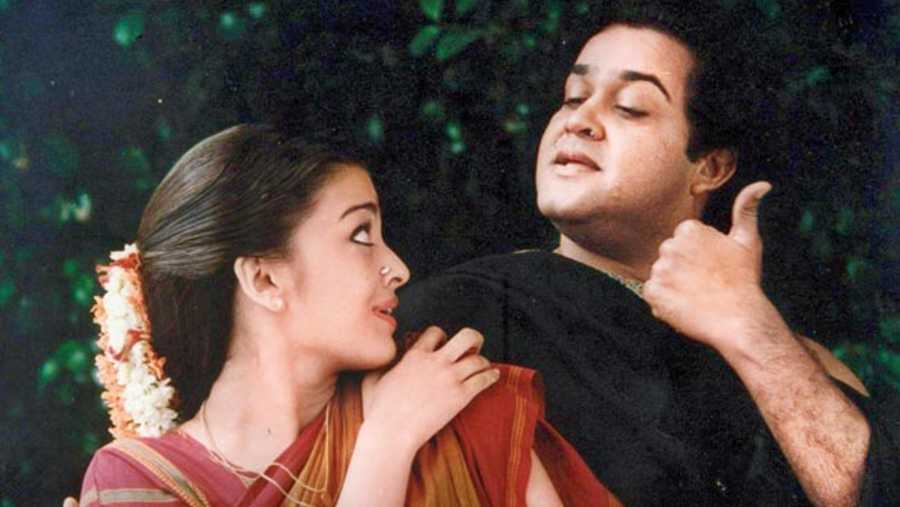 Aishwarya Rai with Mohanlal in Iruvar
File Picture
---
Published 28.09.21, 11:24 PM
|
---
Thalaivii, starring Kangana Ranaut as actor-turned-politician Jayalalithaa, released earlier this month to mixed reviews. The life of J. Jayalalithaa, who made her way from one male-dominated industry to another, makes for a fairly engaging narrative. With Thalaivii inclined completely in deifying Jayalalithaa, one cannot help but revert to another film that had represented her in a different light. That was way back in 1997 and it was Mani Ratnam's Iruvar.
Aishwarya Rai marked her debut with a character that resembled Jayalalithaa. In more ways than one, Iruvar posits itself as a wholly reticent predecessor to the glossy convenience of Thalaivii. Yet, in more ways than one, it stands way above the reach of the recent release.
Still considered as one of Mani Ratnam's finest works, Iruvar is a fictionalised account of the friendship and political rivalry between M.G. Ramachandran and M. Karunanidhi. Ratnam acquaints his audience with the characters before they become known influential figures, allowing their dreams and ideologies to develop within Anandan (Mohanlal) and Tamizhselvan (Prakash Raj). It is through the eyes of Anandan that we first meet Pushpa (played by Aishwarya Rai, whose introductory scene is a thing of beauty in Santosh Sivan's inimitable camerawork), who he agrees to marry after initial doubts. She passes away shortly after, leaving a perennial mark in Anandan's life.
Later when he becomes a successful star, Anandan auditions a new actress to become the heroine of the film. Here, Kalpana (Aishwarya Rai again) arrives and disorients Anandan with her startling similarity to his late wife. The Pushpa/Kalpana dichotomy strictly appears through the eyes of Anandan, interestingly reminiscent of the James Stewart/Kim Novak relationship in Alfred Hitchcock's Vertigo.
Yet, miles away from the overblown theatrics of Thalaivii, Iruvar's magnificence relies on churning out the truths behind celebrity cult and misplaced idealism with depth and nuance.
Iruvar is interested in presenting the friendship between these two men who came from a completely different perspective (the visual motif of Anandan and Selvan wearing white and black respectively) and became intertwined within the framing of a larger identification. Anandan becomes a hugely popular movie star, whereas Selvan is known as a scriptwriter. After the passing away of the party's leader Annadurai (Nassar), both Anandan and Tamizhselvan find themselves vying for the top position in the party. This clash between Anandan's popularity and Selvan's politics reveals facets of 20th century Tamil history and is followed by several subplots, which tend to extend the thread of continuity but neatly culminates into an interwoven parallels of sorts.
Masterfully shot by Santosh Sivan, Iruvar matches its ambition of chronicling five decades of Tamil Nadu politics and cinema with elaborate style and design. Iruvar is consistent in finding visual poetry even in the smallest of scenes, reflecting character growth and development through framing and composition.
Then there is A.R. Rahman's music, which extends from the Carnatic-style rendition in Narumugaye to the rock-influenced Hello Mister Ethirkatchi, and adequately syncs the essence of the music with the times.
Inarguably, the biggest strength of Iruvar lies in the performances across the board, with even the supporting characters matching the main players beat for beat, and Mohanlal and Prakash Raj delivering some of the best work of their careers.
However, Iruvar is not bereft of irregularities, with certain sequences tonally inconsistent and its central voice falling short of all the assertions within the plot. Still, what is particularly resolute and unique is how Ratnam is able to respond to the intimate and personal truths amid the sweeping scale of melodrama that pervades the runtime of the film. Ratnam reveals truths about the politics between ideology and lived experience without shying away from responding to the weaknesses that abide by these public identities. So, if there is grandeur, there is truth; if there is ambition, there is also reality. That makes Iruvar, which you can stream on Amazon Prime Video, a timeless classic of Indian cinema.