t2 checks out Dariole — the latest sweet-and-savoury den in the city
Read more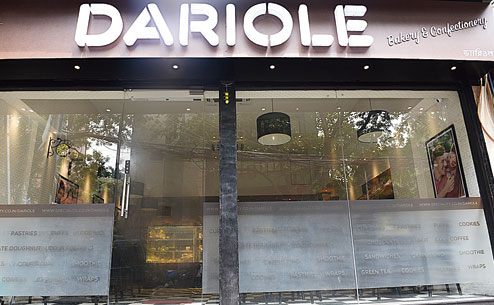 ---
Published 13.09.17, 12:00 AM
|
---
While driving down Rawdon Street, there's little chance that you would have missed Dariole — a new patisserie that has joined the confectionery block on the street, a new neighbour for Kookie Jar and Cakes. This sweet-and-savoury den that opened doors last month is the latest gift from Speciality Restaurants to Calcutta, the "sweet city". Speciality chief Anjan Chatterjee (inset) tells t2 all about his new baby and why Calcutta was his chosen city for it to be born.
The birth of the brand
I have grown up on Calcutta confectionery… Nahoum, Flurys… even now whenever I am in Calcutta I still carry stuff back from here. So we were thinking about a confectionery in Calcutta. We have a catering school which already makes these stuff… and it is important to have a very good back end in this business. Since we had that already, we thought of opening a confectionery. Then we got a consultant from England who had come for my son's restaurant in Bombay… a very experienced chef. We worked on this for six months, there were trials for six months.
So this is our pilot store… we have got a very competent team, but we are not historically a confectionery brand, so from the pilot store we will learn what not to do. All our chefs have contributed… like chef Subir (Deb, from Oh! Calcutta) did the Bengali flavours, chef Pandey (Mainland China) did the Chinese flavours.
What does Dariole mean?
For the name I wanted a French hint yet not a typical name. So we got different name suggestions and I did a bit of research and came up with Dariole, which is a French cake mould... and it's a different kind of name, so people are asking what it means….
What makes Dariole different?
In the savouries we looked at fillings that are not available elsewhere… because with our kind of expertise why will I give stuff that's otherwise available? So we have Kosha Mangsho Puff, then a filling with a variation of bhapa aloo, because potatoes and mustard will always taste good… so there are different flavours that have been taken. See, Calcutta has very good quality mutton patties and chicken patties, so we thought we will do something different… and this has resonated very well with people… people are liking the different tastes. We have got a very, very good response in the beginning.
Even confectionery, of course there are the common things that will always move, like the chocolates, the pineapple, the black forest pastries… but apart from that we have done a few experiments as well. The croissants are absolutely five-star quality because good buttery croissants are difficult to find… our croissants, when you break them, they melt in the mouth. Then we are also doing printed cakes, like if you want your face printed on the cakes…. So it will be confectionery and savouries in a 70:30 ratio. We also have a small seating area of about 18 people, so that helps because a lot of people want to come and hang out.
Why Calcutta?
Because I personally feel that we have been given a lot of respect in Calcutta and we resonate with foodies in Calcutta. Of course there are so many respected brands in Calcutta and there are so many options, but it's all about products and pricing at the end of the day… these are the first two Ps of marketing. Then the location… so we don't want to expand quickly and spread ourselves thin, we want to be stable first, like we did with all our brands.
Also with Calcutta becoming so cosmopolitan, the celebrations are big here… I hear that between December 15 and 31, the consumption of cakes and pastries here is phenomenal… of course Christmas is celebrated all over the country but in Calcutta the Boro Din is phenomenal… like all Bengalis will cut a cake on Boro Din, even the middle class and the lower middle class. Also cutting a cake on birthdays has become a tradition today in all socio-economic levels… and cakes and pastries have really gone down the middle and lower middle classes. So I think this market is a very large market.
So the idea was to start and give Calcuttans a taste that is slightly different from the traditional ones. You see here, from a Jolojog and Mio Amore to Kookie Jar and Flurys, everything exists and they are all rocking. My observation says that Calcutta can absorb many more bakeries with differentiation. I have a lot of respect for Calcutta's palate. Eventually it will go to the rest of India but Calcutta will be the hub… there will be 10-12 outlets in Calcutta in the next 18 months, that's the plan. Of course scalability is our strength.
Why beside Kookie Jar?
I was very particular about the location… I waited… I did not want to be on Park Street because we would get lost there… and I am very lucky to have got the exact location that I wanted. You know, where you have action in a particular genre, it's better to be there… you will find one shoe store next to another shoe store… so there is a captive audience which will grow over a period of time.
Smita Roy Chowdhury
Pictures: B. Halder