Swastika's shopping haul, Darshana's dance moves, Shreema's fashion label to Rituparna's love for saris: Tollywood update
Here's what has kept the Tollywood celebs busy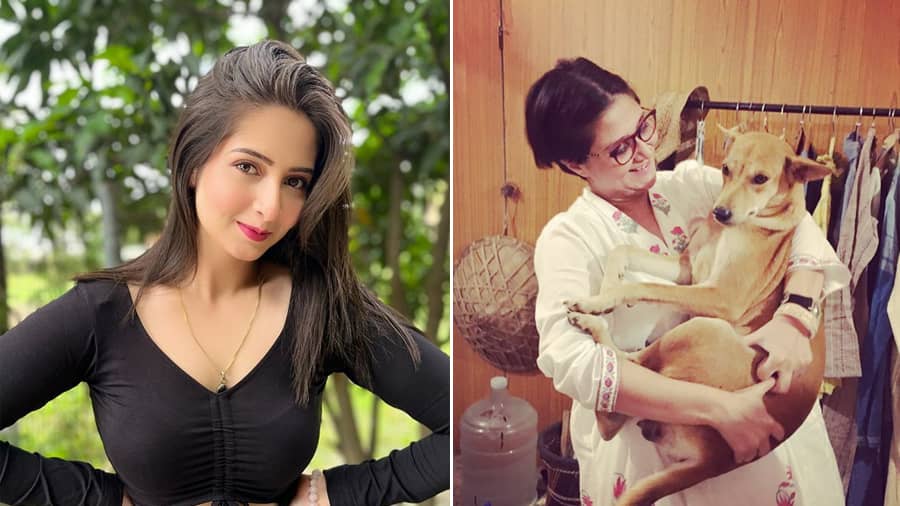 (L to R): Shreema Bhattacherjee and Swastika Mukherjee
Instagram
---
Calcutta
|
Published 21.10.22, 03:39 PM
|
---
Rituparna Sengupta's love for saris
The actress flaunted her love for saris in a fashion reel.
Swastika Mukherjee's fun evening
Swastika shared photos from her recent visit to the shop of the fashion label Dorji and some cuddle times with the fur babies.
Rukmini Maitra shares cute moment with niece
Rukmini Maitra, who is now back in the city from her recent Europe vacation, wished her niece Amaira on her eighth birthday.
Dev greeted by his pets at home
Dev is also back in Kolkata from his recent vacation. He is enthusiastically greeted by his dogs as soon as he returns home.
Riddhi Sen wishes 'happy birthday' to mum
Riddhi wished his mother Reshmi Sen on her birthday with a photo of the mother-son duo and penning a heartfelt note.
Get, set and groove with Mir
Mir's latest video on social media will have your head spiralling.
Nusrat Jahan gets a sip stop amidst work
Once a coffee lover, always a coffee lover. Nusrat shared a photo of her with a cuppa during a work break.
Anindita Bose's Diwali fashion pointers
If you are looking for a glam but casual lookbook for the Diwali party, Anindita's new video is a must to bookmark.
Darshana Banik's 'Kinna Sona' moment
Darshana showed her moves to Kinna Sona in a black slip dress.
Anamika Chakraborty and Swastik Ghosh
"On-screen enemy, off-screen buddy" Nisha and Arjun from Zee Bangla's Uron Tubri posed together for fans.
Anandita Raychaudhury-Antaraa Pakira Nandi's IG routine
The two actresses shared a blcak-and-white photo together on social media.
Shreema Bhattacherjee sports black from her own fashion label
Shreema posted a picture wearing a black top from her fashion label NUD.
Swastika Dutta: Soaking in the vacay mode
Swastika takes the mercury a few notches higher with her pool click, sporting her tattoo.
Anushka Goswami: Bridal glimpse
Anushka shines in her bridal OOTD.