SVF will screen 7 of its old Bengali hits at cinemas from December 2 to 8
Tickets are priced at a flat Rs 50 for this Bangla Blockbuster Bonanza campaign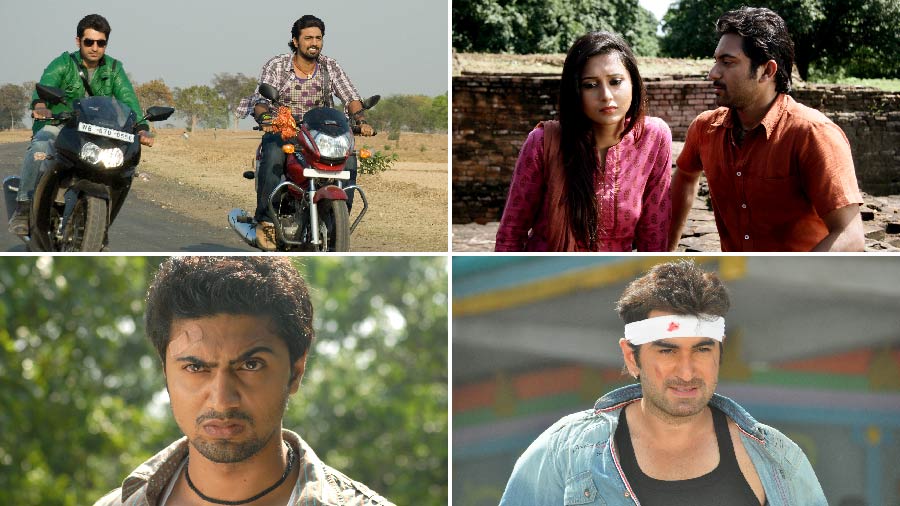 Stills from Dui Prithibi, Bojhena Shey Bojhena, Challenge, Awara.
IMDB
---
Calcutta
|
Published 29.11.22, 12:21 PM
|
---
Bengali film buffs have a reason to cheer this weekend. Tollywood production house SVF Entertainment has lined up re-releases of seven of its box-office hits from the recent past. The films will be screened at various SVF Cinemas across West Bengal from December 2-8 as part of 'Bangla Blockbuster Bonanza'. 
The list of films include Dui Prithibi (December 2), Poran Jaye Joliya Re (December 3), Awara (December 4), Bojhena Shey Bojhena (December 5), Chirodini Tumi Je Amar (December 6), Prem Amar (December 7) and Challenge (December 8). The tickets for these shows have been priced at Rs 50.
This initiative is more to do with nostalgia attached to these films than the commercial aspect of it, according to Mahendra Soni, co-founder and director at SVF Entertainment and SVF Cinemas. "The thought came into our mind after the success of the Amitabh Bachchan film festival. Unlike that festival, where several parties were involved in getting the festival rolling, for us, it was a five-minute decision," said Soni.
"The films are produced by us, and SVF Cinemas – the second biggest theatre chain in Bengal – could get us showcasing. Many other theatres also have shown interest in playing the films. Hopefully, this would become a yearly ritual," he added.
Zeroing in on seven from the numerous blockbusters SVF has produced wasn't an easy task. "Eventually, the selection became somewhat technical, depending on the availability of these films in digital prints," Soni said.